Ask the experts
Here is a selection of Q&As from Your Herts and Beds Wedding magazine. If you would like your question answered by our experts, please email it to editor@yourhertsbeds.wedding.
To view more Q&A's on a different topic, please select one from the list below.
Hot topic: Keep calm & carry on
Local pros answer your big-day woes
---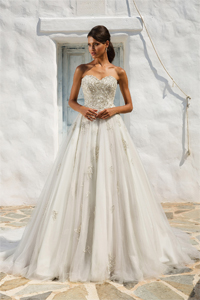 The long and short of it
Q. I'd love a princess dress but I'm really short and I'm worried I'll be swamped. What style should I steer toward to suit my tiny frame?
A. Nicola Harris says: Many petite brides are advised to look at tea-length dresses but don't settle for a short gown if that's not what you'd dreamed of. As long as the fabric has a good line and flow, and the body proportions suit your shape, there's no reason why you can't still wear a princess-style gown.

The secret to finding a dress that flatters your body type is choosing a design that fits your natural waistline. Ball gowns will frame a petite figure, they'll create an uninterrupted line that starts at the neckline and ends at the hemline. Having this continual line helps create the illusion of being taller without having to wear sixinch heels on your big day. Be sure to look for gowns with open necklines to elongate your décolletage and help create height.
---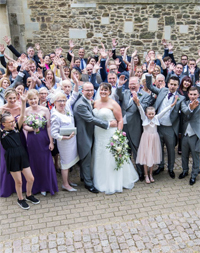 Big-day shoot
Q. We've got a big guest list and I'm concerned that we won't be able to capture all the special moments with so many people and so much going on – help!
A. Lewis Duncan says: If you have more than 120 guests during the day I'd normally advise to have a second photographer to allow the main shooter to capture the formal shots while the second captures the candid action.

We have an online planning tool that's available to couples, allowing them to let us know what group shots you'd like. Each one takes around four minutes so be sure to factor this in to your planning. We can normally complete even the longest list of group shots within an hour and love to have time with just the bride and groom for personal shots either before or even after your wedding breakfast. I'd advise to do the group shot with everyone first. That way you can separate the two families straight after and start whittling down until it leaves just the two of you at the end!
---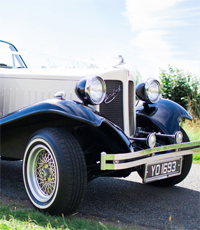 Rain or shine
Q. My hubby-to-be loves vintage cars so we're opting for an opentop classic. What should we do if the weather changes?
A. Louise Hollis says: Good reputable suppliers will do their very best to make sure your special day runs as smoothly as possible. While we are unable to control the great British weather, we are fully equipped to cater for all types of weather conditions. If rain should pay a visit on your wedding day, our beautiful Beauford looks just as elegant with its fully protective hood as it does without. I'd always suggest that you go and visit suppliers to view your chosen car and speak to them about back-up plans if the weather changes. Some couples choose to travel with the hood on but then take it off for photos – a good idea if you want your hair and make-up to stay put on the way to your ceremony!
---
Setting the scene
Q. Our venue's quite contemporary so it's pretty much a blank canvas, which is great but what can we opt for to create a wow-factor backdrop?
A. Sophie Clayton says: A statement piece such as your initials in lights will make for a perfect backdrop and will add warmth and a fabulous glow to the dancefloor. Ours are aluminium and powder-coated white so they won't show wear and tear like wooden options and will blend with any venue dressing. To complement the light-up letters we also suggest hiring something from our on-trend London Flower Wall Company range. These walls will create a stunning backdrop for amazing photos! Many brides are purchasing Polaroid cameras for their guests to pick up and snap themselves by the walls giving them a memory to take away with them. Flower wall selfie's are so on trend!

The one important thing to remember is that this is your day. Make it as special as you possibly can and always go for quality. Adding the perfect wow factor is not something you should scrimp on as it will show. The quality of our range is second-to-none and that's how we make your day extra special.
---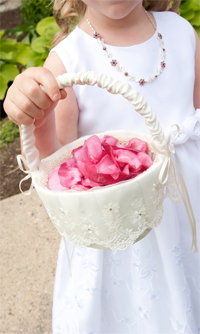 Perfect posies
Q. I don't think my younger bridesmaids will carry bouquets – what other ideas could I opt for?
A. Sam Roberts says: You could always opt for flower wands – your little ones will love the princess-look. Roses are perfect for these, as they last really well and smaller spray versions provide a prettier look. They're also sturdy for younger ones to handle – you won't have to worry about them waving them about and the heads falling off! Why not opt for a wrist corsage made with orchids, gerberas or roses so they don't have to carry anything at all? A flower or petal basket is another nice idea filled with blooms – these can be thrown down the ideal for the bride to walk on!
---
Contact our experts...

Lewis Duncan
Photographer

Louise Hollis
Transport expert

Nicola Harris
Bridal boutique owner

Sam Roberts
Florist

Sophie Clayton
Décor expert
---