Ask the experts
Here is a selection of Q&As from Your Herts and Beds Wedding magazine. If you would like your question answered by our experts, please email it to editor@yourhertsbeds.wedding.
To view more Q&A's on a different topic, please select one from the list below.
Hot topic: Splash of colour
Local experts advise on how to add a splash of colour to your big day
---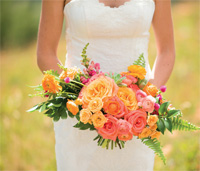 Pick of the bunch
Q. I really want to make a statement with my bouquet. What are the best options for Easter blooms?
A. Shane Maple says: Easter's a great time to get married and especially make a statement with your bouquet. There are so many spring flowers to hand and everyone will instantly think Tulips, so maybe stay clear of them to add a little more wow factor to your blooms.

Keep it traditional with a spring feel by adding hyacinths with roses for a lovely scent and add smaller flowers such as muscari. If you fancy being a bit braver then add a stash of colour using bold oranges and yellows with succulents. Don't forget you can use tulips and other spring flowers on your table arrangements.
---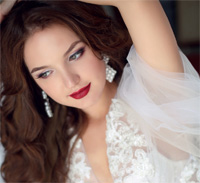 Natural glow
Q. I normally opt for subtle make-up but I want to look different for our big day. How can I inject some new shades without looking like a clown?
A. Ali Kynoch says: If you like a natural tone, I'd always go for a neutral eyeshadow but add a pop of colour with a bold lip so you won't feel too different, but your complexion will be brightened. A classic timeless red will stand the test of time and lift your skin tone or a lovely pink is a great way to freshen your look.

Depending on your colouring, your make-up artist will advise on the best shades to suit you and lift your skin tone so you feel comfortable. I'd always advise to have a make-up trial to get professional advice on colours and you'll know what look you're going for in advance so there are no surprises on the day – you want to look like you after all.
---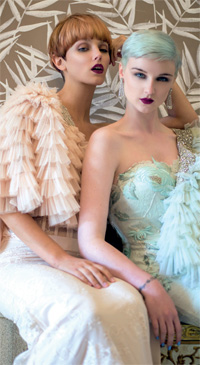 Here comes the bride
Q. I'd like to inject some colour into my classic bridal look without opting for a coloured gown – any ideas?
A. Joanna Southwell says: A great way to brighten your look is with accessories. By pairing your dress with bold shoes, jacket, headpiece or belt you can add a splash of colour to your day. The shade you choose could tie in with your bridesmaids or flowers or you could pick a completely different hue to really make a statement. The great thing about accessories is that you can put them on or take them off during the day allowing you to create two different looks. While walking down the aisle you could complement your gown with a coloured headpiece and just a subtle shoe, then add a dramatic cape for your outside photos.
---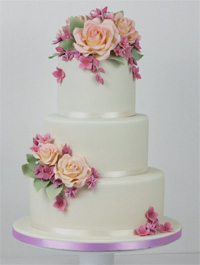 Bold bake
Q. We've opted for a simple cake for our special day but I'd like to add some brighter elements. What seasonal options are there for sprucing up our sweet treat?
A. Natalie Porter says: Consider a couple of big bright sugar flowers as a bold feature, while keeping the main cake plain and simple. This can be a great way of bringing your wedding colours into the cake design and creating something very striking, while also keeping things traditional. Also think about how you dress the cake table – a simple cake displayed on a bright tablecloth would make an impact without having an overly fussy or complicated bake. Or you could surprise your guests by having a coloured cake inside, for example, the bright red sponge of a red velvet!
---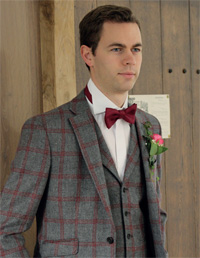 Groom's style
Q. A lot of focus is put on the bride's outfit but my hubby-to-be wants to feel special too. How can he accessorise to match our bridesmaids to make him stand out?
A. Sharon Cousans says: It's just as important for the groom to look and feel special on his wedding day and to have his own style. He can achieve this by choosing to wear a distinctive suit, a different style or colour of waistcoat or just by changing the colour of his pocket square. It can be very stressful trying to match the groom's accessories to the bridesmaids' dresses, so use a range of shades for a sophisticated look. Bear in mind that although pastels work well for bridesmaids it's more flattering for the guys to wear stronger shades. A groom can wear a cravat in one colour and have a pocket square in another. Complementary or clashing colours work really well in this instance.
---
Contact our experts...
Ali Kynoch
Make-up artist
Joanna Southwell
Boutique owner
Natalie Porter
Cake artist
Sharon Cousans
Groomswear specialist
---