Ask the experts
Here is a selection of Q&As from Your Herts and Beds Wedding magazine. If you would like your question answered by our experts, please email it to editor@yourhertsbeds.wedding.
To view more Q&A's on a different topic, please select one from the list below.
Hot topic: Love is in the air
Local experts advise on keeping it classically romantic
---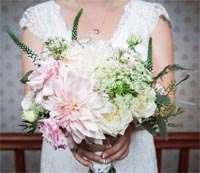 With this rose
Q. We're opting for a traditional day and I'd love my flowers to follow that theme. Roses are perfect for adding romance but what can I do with them to add a twist?
A. Rebecca Marsala says: Roses don't have to be red – there are varieties to suit just about any colour scheme and style. Coral's been very popular lately and looks fabulous with other bright tones. The round head of a rose can be complemented by having lots of other smaller flowers to break it up and stop it looking too solid. Blush and nude tones have been having a renaissance in a big way along with barely there shades. Why not try a different flower for your buttonholes? Eustoma also have a rounded head but a much less formal petal, perfect for barn style weddings. If you want a big bouquet, choose larger blooms. Peonies in early summer, Hydrangea in late summer and Dahlia in autumn, all have huge heads for impact. Lots of foliage is key for a relaxed style bouquet – it helps loosen the shape and gives movement.
---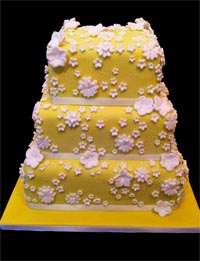 Tiers of joy
Q. We're in the process of deciding on a cake design and it would be amazing if it could have some elements of my gown featured. What do you suggest for a classic bake that'll take centrestage on our dessert table?
A. Sarah Poole says: You want people to talk about how beautiful your dress was, how amazing the cake looked and tasted and how you nailed every move in your perfectly choreographed endless love/thriller montage first dance.

To have a bespoke bake that's personal to you is a perfect way to make it stand out. When designing a showstopper I take inspiration from what's around me, whether it's a pretty pattern on a plate, a beautiful sunset or an elegant dress. A wonderful way to make it personal is by replicating your gown design. I saw a stunning lime green dress with a beautiful lace overlay a few years ago and just knew that I had to recreate that design in icing. So whether it's a stunning beaded and piped effect, sashes of sugarpaste or an edible lace overlay you can guarantee your cake will be perfectly yours.
---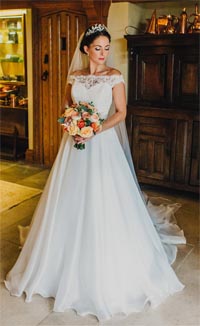 Believe in fairytales
Q. I've always dreamed of wearing a princess wedding dress that really stands out. Which designers and collections would be best for me to consider this season?
A. Nicola Harris says: A princess wedding dress always showcases elements of classic romance and I think that it's a stunning look that stands the test of time regardless of new season's trends. There are many ways to stand out with this look whether it's in a simpler clean cut and tailored gown or if you want to sparkle with embellished bodices and full tulle skirts. For quite some time brides have favoured a more boho look and whilst still popular, we're starting to see a return to the more classic styles. I opted for this look for my own wedding wearing a beautiful Suzanne Neville ball gown with a full silk organza skirt. Her songbird and portrait collections have incredible dresses that encapsulate a modern, crisp and couture feel whilst incorporating soft fabrics to make them really stand out.
---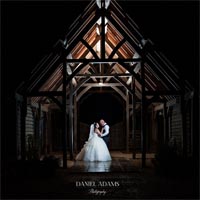 Every picture tells a story
Q. Our photographer has suggested we come up with a list of 'must have' shots before our big day. What are the most romantic parts of the day we need to capture on camera?
A. Dan Adams says: Capturing those key moments that you don't want to forget is fundamental to preserving your day forever. The first time you walk out in your beautiful wedding dress for all to see, the look on your fiancé's face as he turns to watch you walk down the aisle towards him, your first dance as husband and wife, holding each other close as your song plays in the background – these are just some of the treasured moments that need to be captured in beautiful, timeless photographs.

The most romantic part of the day that I get to share with couples is when I take them off to do their first portrait photos as husband and wife. This is when we create those special photos that you can cherish forever to remind you of this perfect moment.
---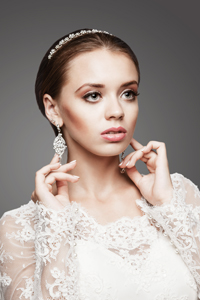 Blushing bride
Q. When it comes to my hair and make-up can you advise on how to create a timeless look for my big day?
A. Maria Hastings says: Classic doesn't have to mean the expected look of Marilyn Monroe or Madonna back in the 80's with hard lines, big hair and rosy cheeks. We can honour the timeless beauties of the silver screen with smooth waves, cat eyes and a bright pink pout and still have the lasting effect any bride would want to achieve on her special day.

Get this look by applying nude eye shadow, shimmer brow and add false lashes. With liquid liner, draw a line that wings out at the end keeping it as close to your lash line as possible. Soften the bottom line with a sweep of black shadow creating a smoky finish, then apply matte, pink lip liner and a lasting lipstick. As a final touch, dust bronzer along your cheekbones on top of a touch of blush.
---
Contact our experts...
Maria Hastings
Hair and make-up artist
Nicola Harris
Bridal boutique owner
---