Ask the experts
Here is a selection of Q&As from Your Herts and Beds Wedding magazine. If you would like your question answered by our experts, please email it to editor@yourhertsbeds.wedding.
To view more Q&A's on a different topic, please select one from the list below.
Hot topic: Timed to perfection
Our experts advise on your big-day timeline
---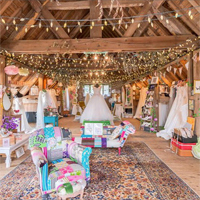 Gorgeous gown
Q. How far in advance should I start shopping for my dress to make sure it arrives on time?
A. Sam Newby-Ricci says: Shopping for your dress is one of the most exciting parts of the planning process but don't jump in too early. As a guide, the best time to start shopping is about nine months to a year before your date. This'll ensure that you're choosing styles from the most up-to-date collections and most bridal boutiques work on a made-to-order basis with designers so it can be a wait of up to six months after your order's placed before your dress arrives back in the boutique. You then need to allow time for the all-important tweaks to ensure a perfect fit. But if you haven't got much time don't despair. Most boutiques will have a rail of sample gowns that can be bought off the peg and taken home that day.
---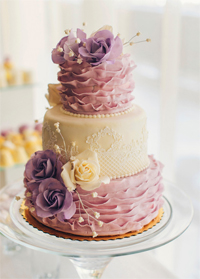 Have your cake and eat it!
Q. We've ordered a showstopper of a cake and want it on display for as long as possible. With this in mind, when should we cut the cake and offer it to guests?
A. Susan Halil says: The most common time to cut the cake is at the beginning of the evening celebrations. This allows you to have the cake on display right the way through the event until just before the dancing gets into full swing, unless you're planning to serve it as your wedding breakfast dessert of course.

Your venue will be able to advise where to locate the cake so it's displayed to the best advantage, bearing in mind that the cake should be somewhere that won't easily be damaged by heat or guests.

If you're opting for a naked cake special consideration should be given to timing as the less protection a sponge has the more quickly it'll dry out so these cakes shouldn't be left for many hours. On the other hand, a cake that's covered in marzipan or ganache and then sugarpaste is sealed and will keep for as long as needed.
---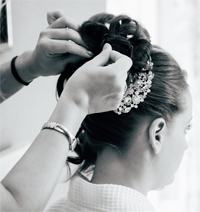 Bridal prep
Q. We're tying the knot at 1pm. When should we start our hair and make-up to be sure we're ready in time?
A. Gemma Furye says: Starting the day off in the right way is super-important, which is why I'd always suggest having a hair and make-up trial beforehand. It's invaluable for providing a relaxed atmosphere on the day and gives you an opportunity to try a few different looks before choosing what's right for you.

Ideally you should aim to be ready at least an hour before your ceremony. This gives time for you to spend a few precious minutes with the bridal party and photographer before the big day starts. Timings vary depending on how many people are in the party. I'd allow 45 minutes to an hour per person and it's always a good idea to start earlier than planned in case there are any last-minute changes.

The time goes so quickly on the day and this is the bride's time to be pampered so it's important not to rush the preparations to make it a stress-free morning for everyone and to create some special memories to cherish.
---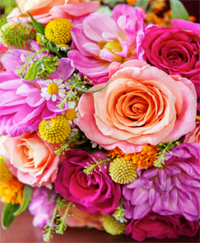 Flower power
Q. I don't want my flowers to wilt – how soon before the ceremony would they usually be delivered and displayed so they still look fresh?
A. Shane Maple says: Some florists create big-day flowers a few days in advance but we always work on them the day before your wedding and order them in from Holland so they're nice and fresh. When they're delivered very much depends on what time you're tying the knot and when the photographer is arriving at your house. It's good to have bouquets and buttonholes delivered early on the wedding morning so you can get some photos of them while you're getting ready. To keep them as fresh as possible we often deliver them in water and cut them down when we arrive. Your venue flowers should be delivered as late as possible – I'd suggest around three to four hours before the ceremony or reception takes place. Be sure to go through all your timings with your supplier and give them a contact at your venue so they can liaise with them directly.
---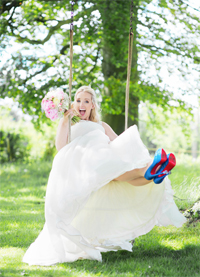 Big-day shoot
Q. I want to make sure we capture everything but I'm worried there won't be enough hours in the day – any advice to make sure we fit our must-have shots in?
A. Sophie Connell says: This is why you book a reputable photographer whose experience makes this flow naturally. When a client books me for their day we meet at the venue around four to six weeks before to run through timings and the shots that they really want me to capture. I then ask for a written version of this, which I have on the day. Most 'must-have' shots are on every couple's wish list and it's simply what you're paying your photographer to do – capture all the details, events and special moments to create a story through photographs. Weather and light can play a part in this but an experienced photographer won't let this get in the way of your key shots.
---
Contact our experts...

Gemma Furye
Creative director

Sam Newby-Ricci
Bridal Boutique Owner

Shane Maple
Florist

Sophie Connell
Photographer

Susan Halil
Cake expert
---