Ask the experts
Here is a selection of Q&As from Your Herts and Beds Wedding magazine. If you would like your question answered by our experts, please email it to editor@yourhertsbeds.wedding.
To view more Q&A's on a different topic, please select one from the list below.
Hot topic: Love is all around us
Keep it classically romantic with our stellar advice
---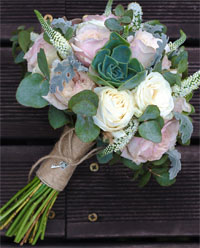 With this rose
Q. We're planning a Valentine's Day wedding but I don't want the obvious when it comes to our flowers. What can we choose other than roses that still symbolises love and romance?
A. Shane Maple says: I love the vanda orchid. It's a large headed flower that comes in lots of colours. It's quite expensive but looks gorgeous and it's your big day after all! I'd then use darker foliage to make the colour of the orchid pop such as hard or soft ruscus and bear grass to give it a free flowing feel as it's quite a structural flower.

Another option is to have roses but rather than the typical red you could opt for a different colour. David Austin garden roses in pink or white look gorgeous. They're much softer than the standard version, very romantic and have a lovely scent.
---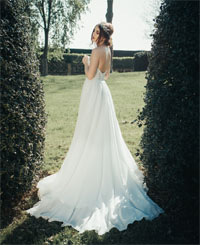 Believe in fairytales
Q. I'd love a floaty whimsical design for my dress. Which designers and collections would be best for me to consider?
A. Sam Newby-Ricci says: If you're looking for a dress that makes you feel like a woodland fairy then Willowby by Watters and Ti Adora are go-to designers. We stock these at Heritage Brides and they're extremely popular for those wanting something different. These styles are perfect for brides who want to swish and swirl and not be confined in a structured gown. They give a relaxed feel and the mix of fabrics from light-as-air lace to soft and romantic tulle with a delicate sprinkling of twinkle makes them a standout choice. Toyah by Ti Adora (pictured) has floating chiffon skirts with a lace sweetheart bodice that's sheer at the back. Effortlessly romantic these styles will never go out of fashion.
---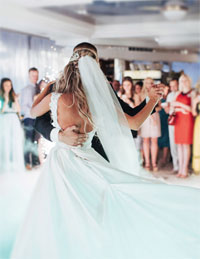 Set the scene
Q. I want to go all out to make our first dance one to remember. What can I do to create a romantic atmosphere?
A. James Norgate says: Your first dance as a married couple is an unforgettable moment and one to never be forgotten, so helping create the most romantic scene is incredibly important. We love to welcome our couples in to a twinkling cloud of floating dry ice to help create a stunning visual spectacle. Our white LED dancefloor below and slowly rotating disco lighting all adds to your unforgettable first dance.
---
Every picture tells a story
Q. In your opinion what are the top three must-have romantic shots that I need to capture on camera?
A. Davina Paterson says: My favourite kiss-capturing moment would be a kiss on the head. This is something I'll always ask my grooms to do. There's something so cute, loving and warm about it and seems to relax them – until the groom gets a mouthful of hairspray of course and that makes for a different kind of shot – but it does break the ice for those who don't like having their photo taken!

Another that can often give varying results is looking into each other's eyes. Some giggle like love-struck teenagers, some cry, some just simply beam with happiness. It's the cutest thing to witness.

My third option has to be tears. I find raw emotion such a romantic thing. It's showing true love for someone, somewhere or some time in their life.
---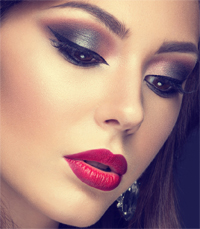 Blushing bride
Q. I don't usually wear much make-up and wear my hair down most of the time. Can you advise on how to create a classic timeless look for my big day?
A. Sophie Davenport says: Classic eyeliner flicks are the perfect way to create a timeless look without over doing it. A subtle smokey eye using browns and pale pinks with nude colour lips is a natural look for brides who don't usually wear make-up but for those that want a statement lip add a splash of red. Keep your foundation coverage light and dewy with a gorgeous blush to give a flawless bridal look.
---
Contact our experts...
Davina Paterson
Photographer
James Norgate
Entertainment specialist
Sam Newby-Ricci
Bridal Boutique Owner
Sophie Davenport
Wedding hair and make-up artist
---