Melanie and Steven's adventure first started back in year 11, when they realised they shared many interests and were instantly attracted to each other. Melanie says, "Our fathers are from the tiny island of Mauritius, and both of our mothers were born and raised in England. Funnily enough, both sets of parents met during nurse training many years ago." She adds, "We understood each other's cultures more than anyone else could – this created a lasting bond."
Within six months, it was clear that they shared something extraordinary and had an exciting future ahead.

Melanie had always believed she'd know when Steven would propose, but this was far from the case. She says, "We were on a road trip across the west coast of America where he'd booked a secluded log cabin in the middle of the Mojave Desert. We watched the sunset from the decking one day when he got out the most amazing ring – which he designed himself – and popped the question."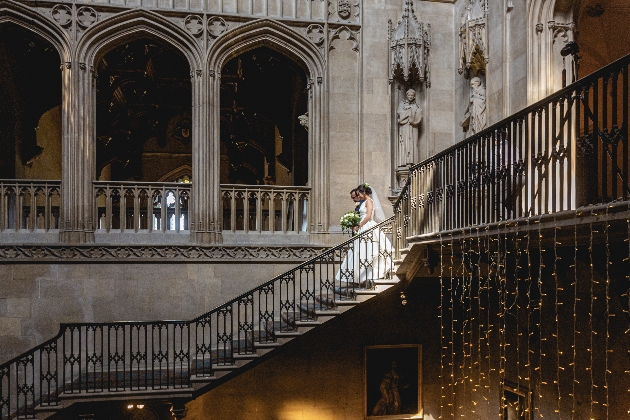 It was important for Melanie and Steven's day to be a beautiful mix of cultures, which felt and looked like a wedding should to them. Melanie says, "We made sure to include our parents in pretty much every step of the planning while still making sure it was exactly what we wanted. It made for an emotional and touching day."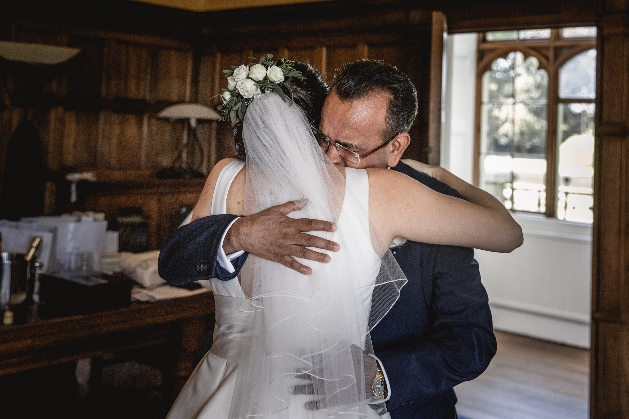 Ashridge House was the perfect venue for the wedding. Melanie comments, "Steve and I are fairly introverted, but the grand staircase and the idea of having a dramatic ceremony sold the venue to us instantly. We saw the venue last because it was technically out of our budget, but we just had to make it work!"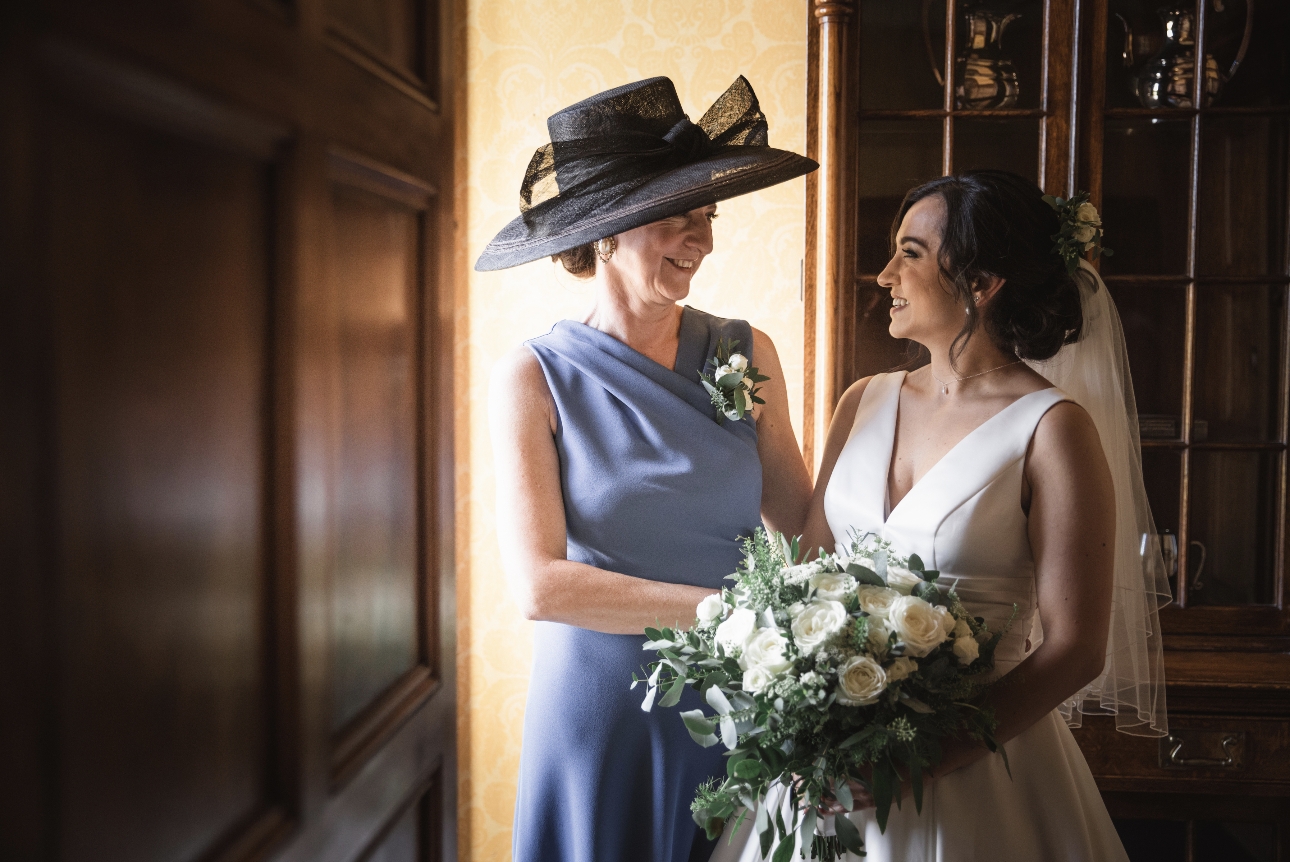 The nearlyweds didn't opt for a colour scheme but knew they wanted a clean, bright, tasteful feel that oozed luxury. The stunning staircase featured vines, flowers, candles and rose petals, which created a romantic atmosphere. Other floral touches include a flower comb, a large fresh bouquet, a white rose with foliage for the groomsmen and a rose pin for the couple's mothers.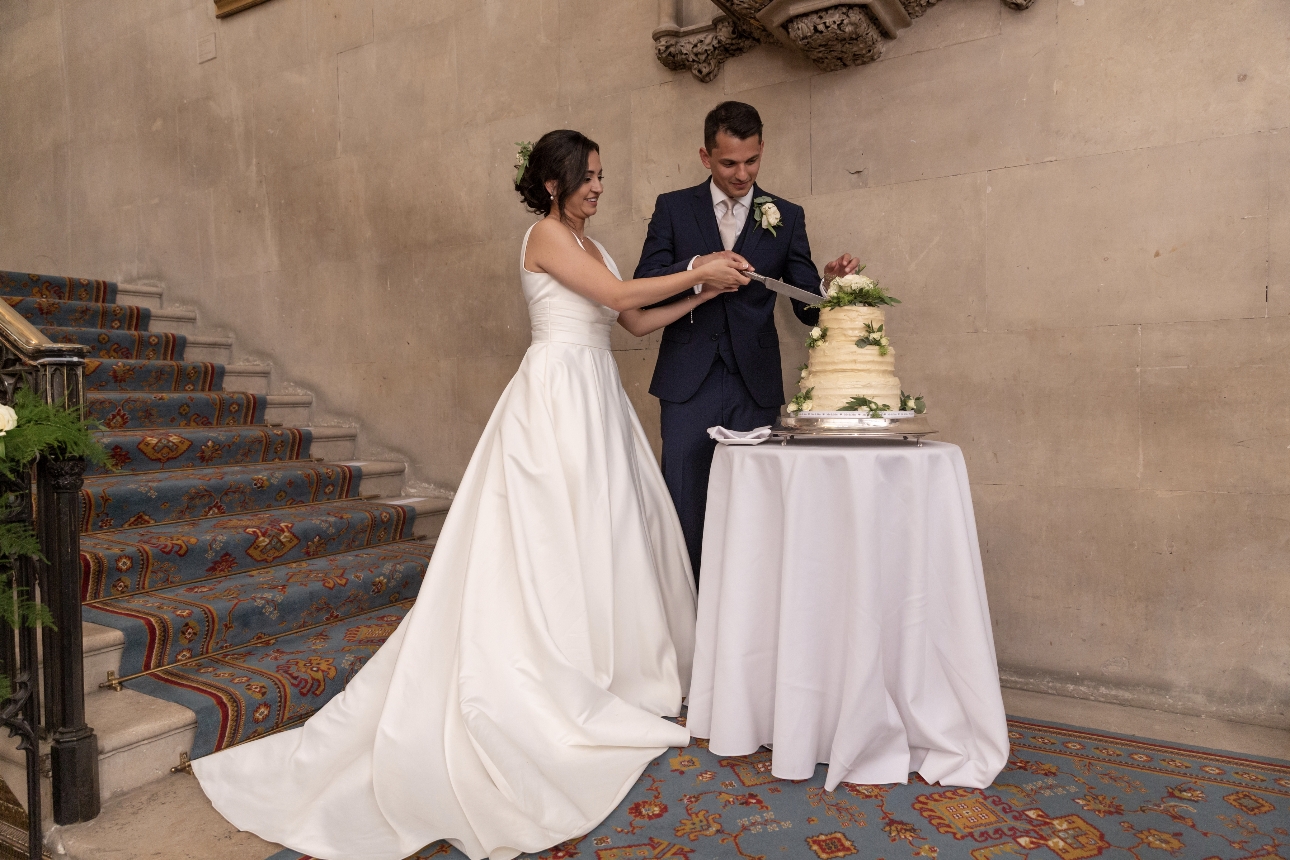 The three-tiered cake had chocolate fudge for the base layer, lemon for the middle and caramel for the top. This was covered in an Italian buttercream and had fresh flowers and foliage included. A lovely touch from the day was the favours that got everyone smiling. As the pair met in school, they decided to include two of their favourite childhood chocolates. Melanie's was a Kinder Surprise while Steve's was Cadbury Freddo Caramel Bar. Another treat was a sweet cart created by the groom's mum.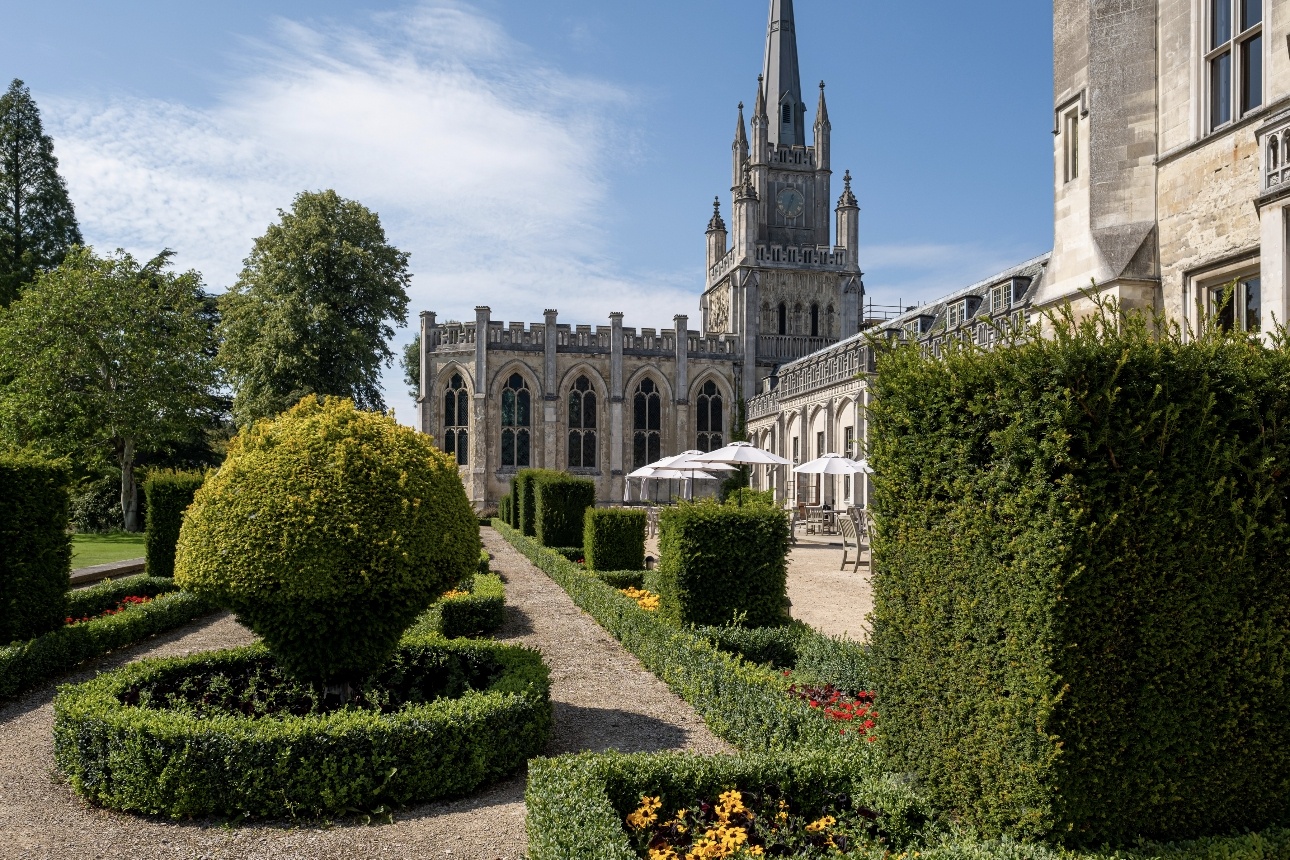 Melanie says, "Large gold mirrors were used for the table plan and welcome sign. With the help of our maid-of-honour, we wrote directly onto them with calligraphy chalk pen – it matched the venue perfectly."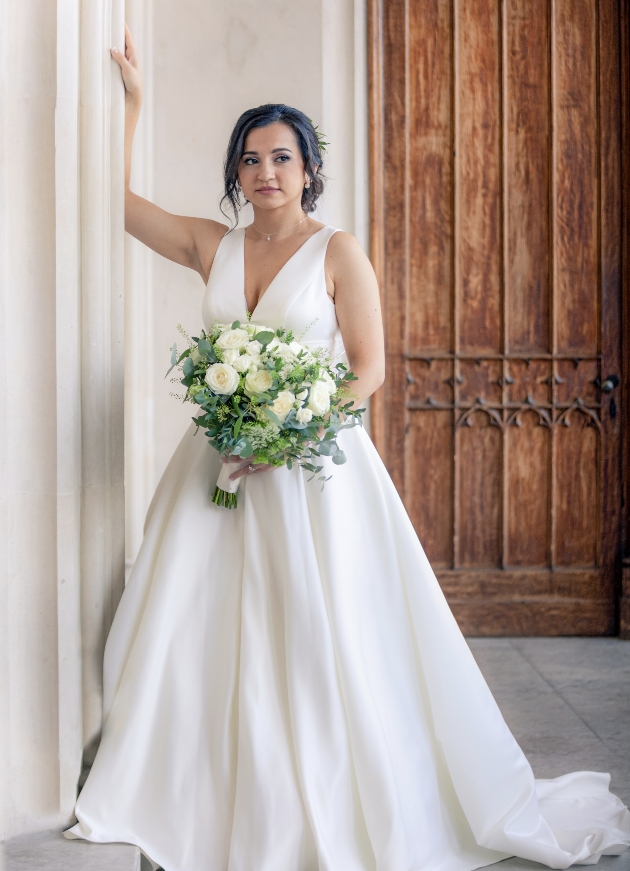 When it came to finding the perfect gown, the bride-to-be fell in love with an A-line ballgown and elbow-length veil. She says, "Everyone expected me in a fitted number with lace, but I wanted something that would match the drama of the venue and make me feel like a proper bride." Pearl studded shoes, a pearl necklace, earrings and bracelet finished off the look beautifully. She adds, "The earrings and necklace were a gift to me from Steve on the day, and the bracelet was from my maid-of-honour. I wanted to wear pearls because my mother wore them on her wedding day."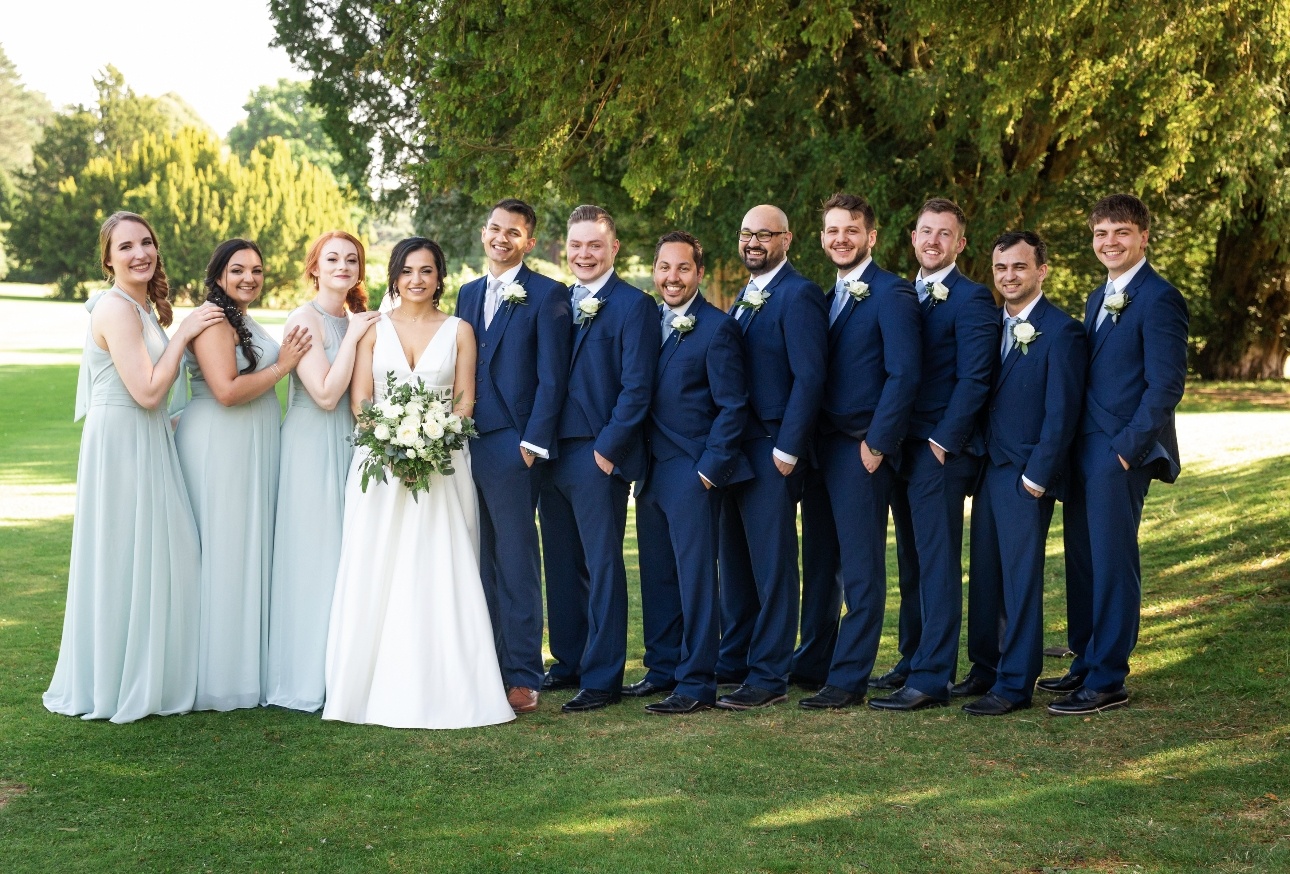 The groom wore a three-piece suit and a champagne coloured tie while the groomsmen wore the same but with dusky teal ties to match the bridesmaids' dresses. These were beautiful halter-style gowns, which tied up at the nape of the neck in a beautiful bow.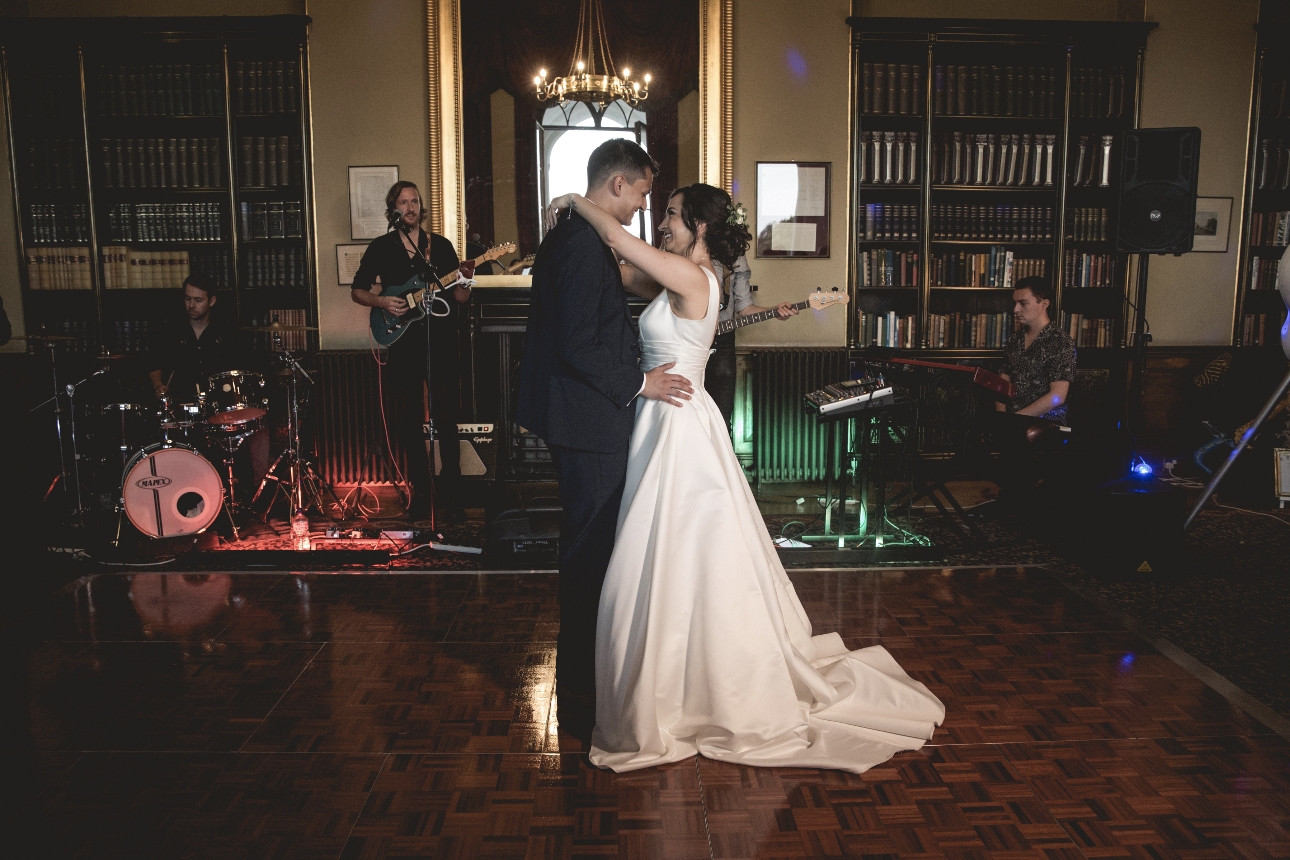 A talented harpist played as Melanie walked down the aisle and during the drinks reception to make the moment even more special. A live band played in the evening to continue the celebrations all night. The bride says, "They played mostly indie songs to match our taste and some wedding classics to get everyone dancing – they were a massive hit with guest!" When it came to the father-daughter dance, Melanie's mother started singing with the band as a surprise.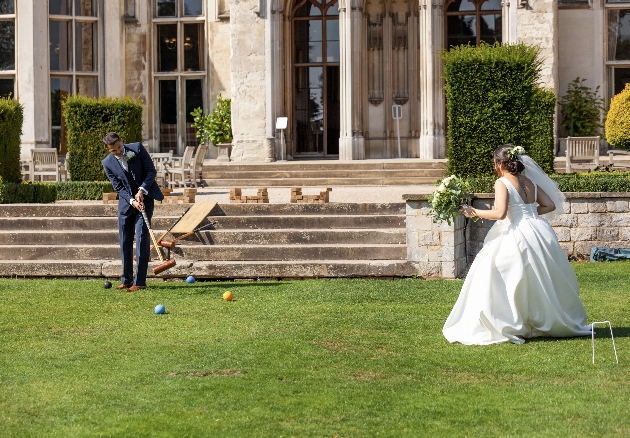 The pair felt very nervous on the day but that didn't stop them from having the best day of their lives. Melanie says, "A special moment was when I had the reveal with my dad. He completely crumbled the moment he walked in with floods of tears and told me how beautiful I am – every single person in that room was an emotional mess!"
Steve's favourite moment was waiting at the bottom of the staircase for his bride. He says. "All my groomsmen were grinning down at me and everyone behind was talking and whispering. The moment everyone fell silent stands out to me because I knew it was about to happen."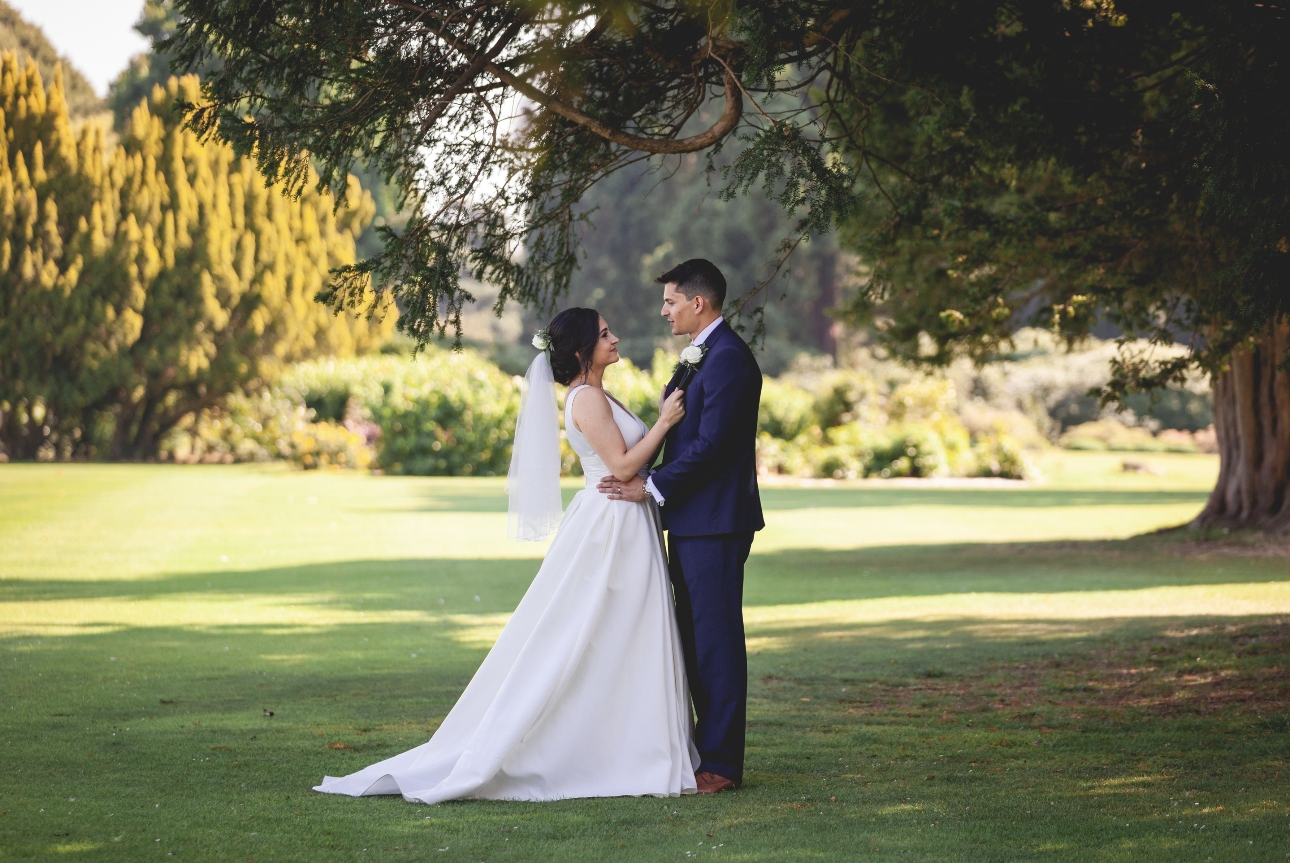 One of the groomsmen (Jack) was the toastmaster for the day, which made for plenty of entertainment. Melanie comments, "He announced every moment with a huge 'ding' of the little gold bell we gave him. We didn't want the overly formal language and style from a hired toastmaster, so we loved that he put his spin on the role with his Watford accent that we know and love."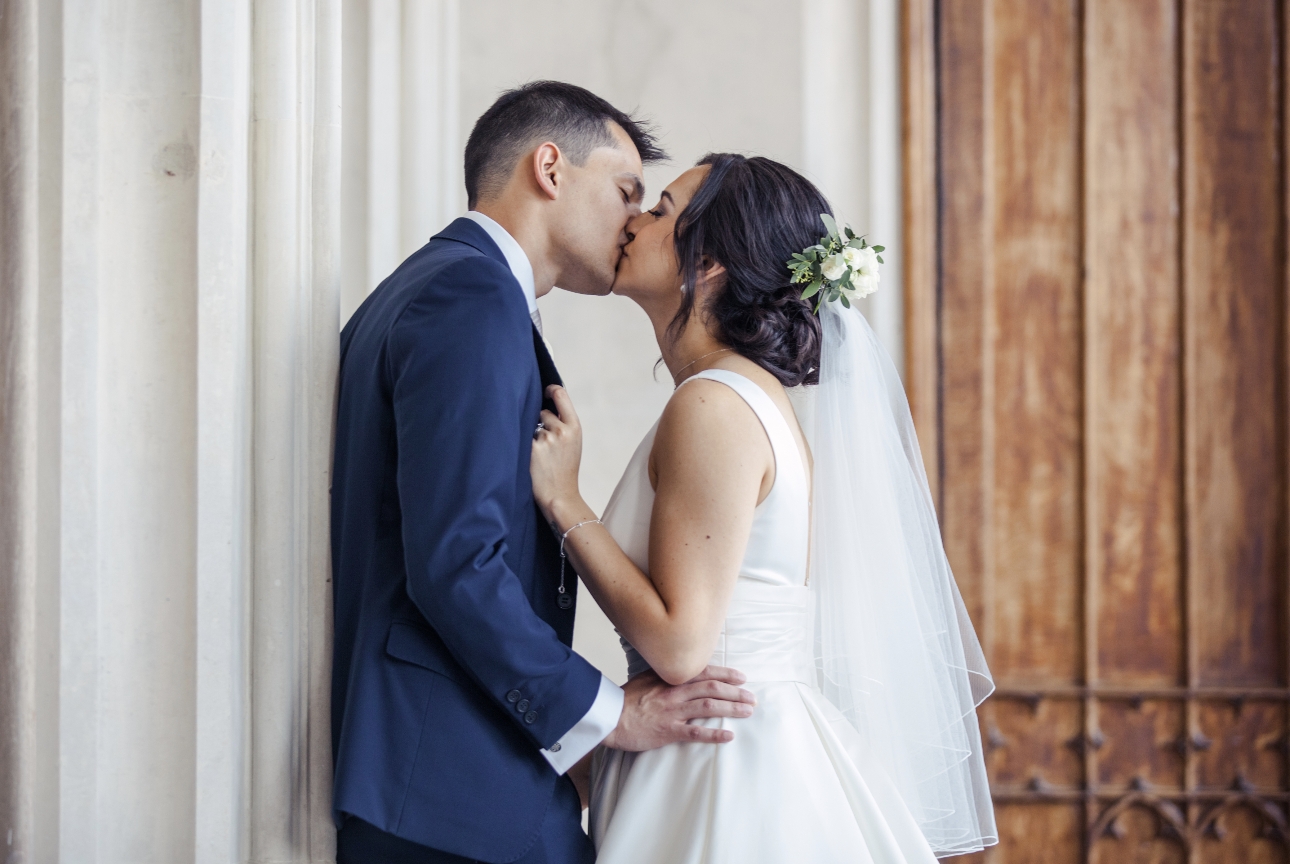 Throughout the day, many suppliers worked hard to create Melanie and Steven's perfect wedding, but one stood out to them. Melanie adds, "Our coordinator at Ashridge House (Ella) made sure everything ran smoothly – she was also in floods of tears at my reveal with my dad! What a lovely person inside and out."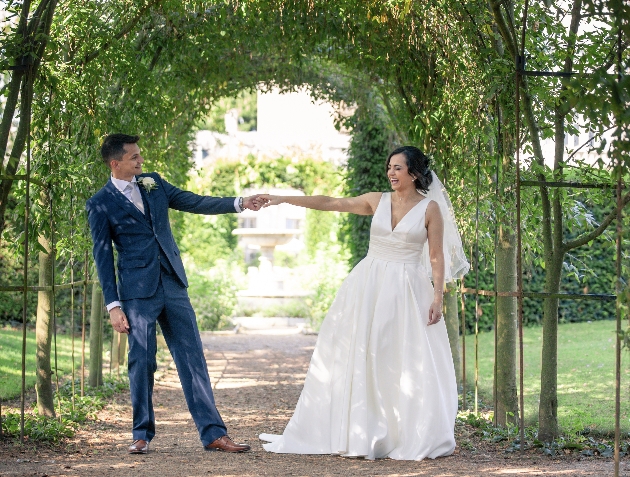 The couple jetted off to the Amalfi coast for a week to celebrate their wedding day. Melanie says, "We planned our trip and decided to travel in a tiny little car and stayed a night here and there. We enjoyed every minute and don't think we'll taste pasta like that ever again!"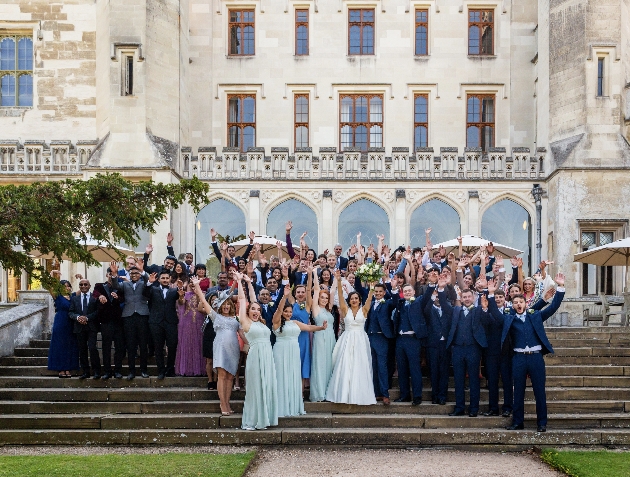 The couple shares their top tip saying, "Make sure to take 10 to 15 minutes at least to go for a walk with your new husband or wife across the grounds or duck into a room just you two. Steve suggested we do this just after dinner, it was so special and a perfect moment to be alone and reflect."
Melanie and Steven's contact book