The fact that this cute couple had the song Never Been Loved Like This Before as one of their First Dance songs highlight this true, classic romance of finding your soul mate.
"Paul is, hands down, the kindest and most hard working man I have ever met (apart from my daddy!)," shares Holly. "We have the same sense of humour. We were friends before we became a couple because I never dreamed he saw me as anything more.
"We were walking on a secluded beach when we had our first kiss. It was beautiful because we had waited so long for it! I felt like a film star and Paul was my hero. As he wrapped his arms around me, I never wanted him to let go. I thought, 'You are the man I have been looking for my whole life, you are the one'."

Clearly, love blossomed for these two, leading to the perfect proposal. "Paul proposed to me in Telford at the British Veterinary Nursing Association Conference 2019 – in the very room where we had first met!

"I was dressed in casual clothes as it was the last day of conference, Paul looked lovely in a suit but he always looks dapper when he is attending meetings – which he was that day. He took me into the conference room, I had no idea, I said, 'Why are we here?'.

"He started saying some lovely things about how much he enjoyed dating me. I tried to shut him up as we had had a similar conversation the night before. Paul then told me he was hopelessly in love with me, got down on one knee, pulled a ring out of his pocket, and said, 'Holly, will you do the honour of marrying me?' – I cried and kissed him and managed to blub yes somewhere along the line!

"Apparently, Paul, not only had had the ring in his pocket all morning, he had it in the car the week before when we travelled 250 miles visiting another conference. Paul had already called my dad to ask for my hand in marriage. It was so romantic."

The big date was set, Saturday 18th July, 2020, with Christ Church, Ware, Hertfordshire setting the scene of their unqiue, romantic, socially distanced day...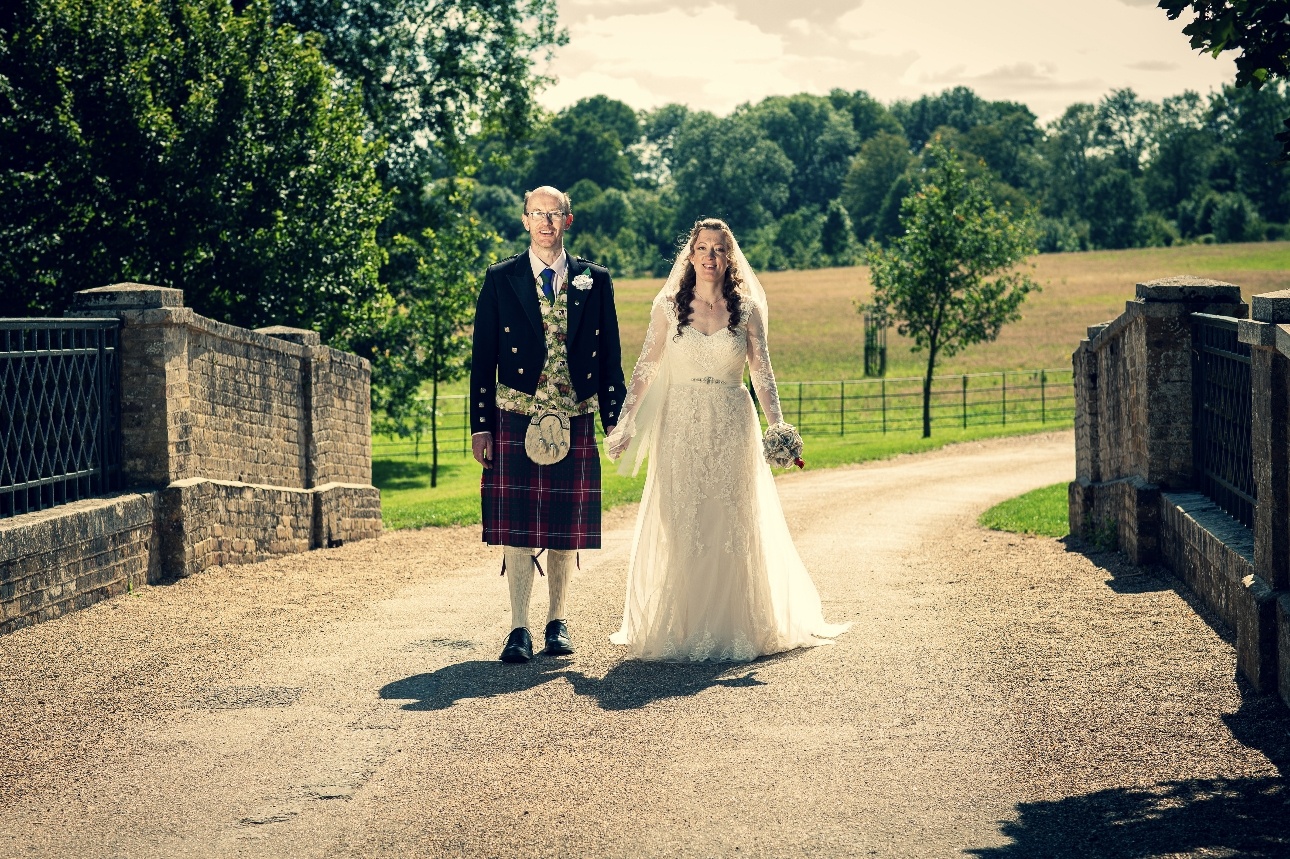 When Covid-19 happened, Holly and Paul's original wedding plans for 2nd May had to be postponed. When restrictions lifted, they decided they just wanted to be able to get married in a church with at least our immediate family and a few guests. "We didn't want to wait until next year. so we had to halve the guest list and adhered to the restrictions such as putting out rings in isolation!" shares Holly.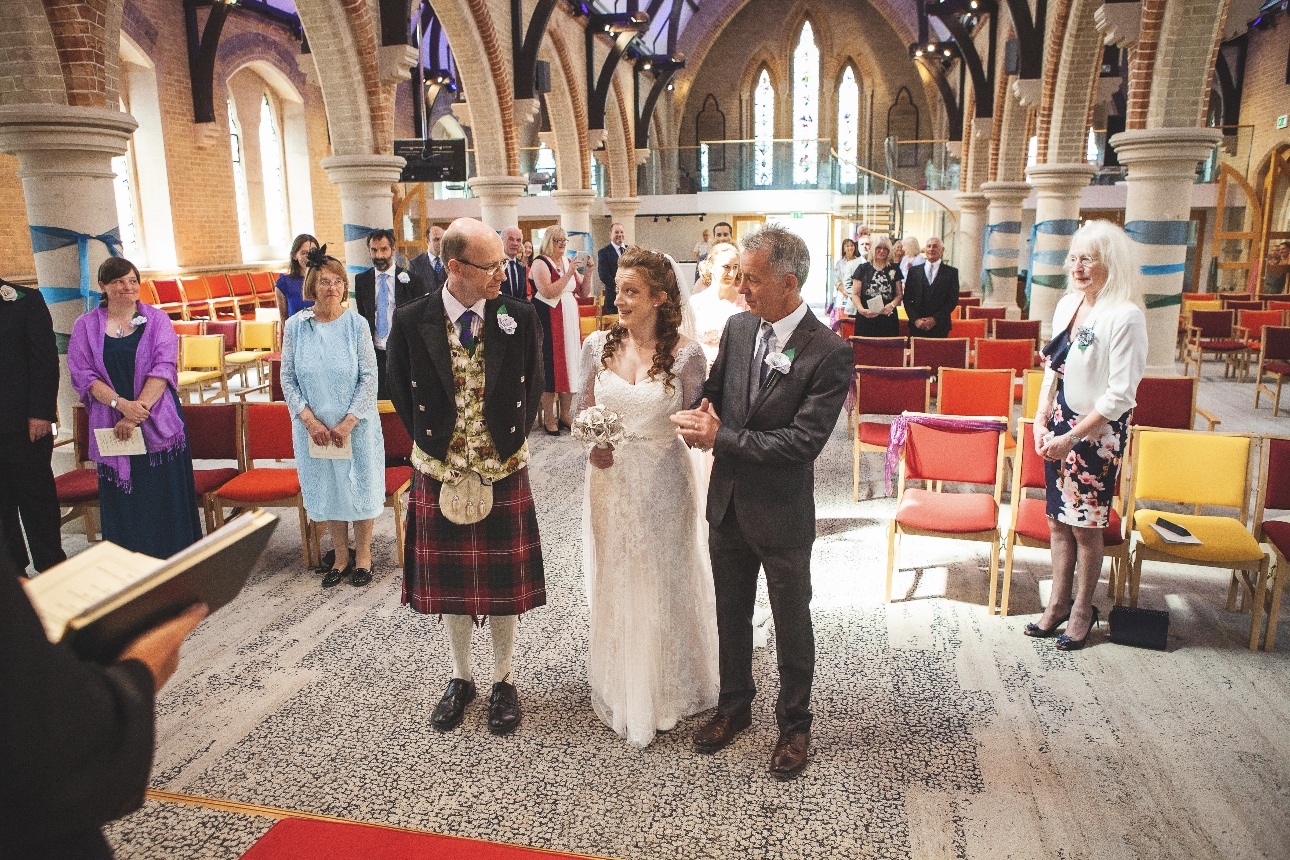 Having been worshipping at Christ Church in Ware, Hertfordshire for about a year it was an obvious venue choice for Holly. "It's such a stunning building with a lovely atmosphere and the Vicar and congregation are so kind and welcoming."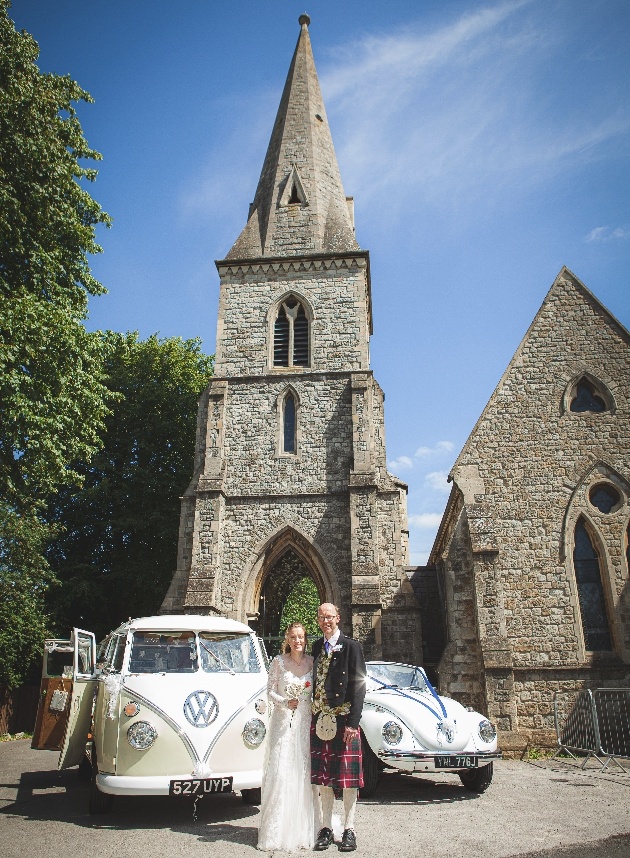 For the flowers, Holly opted for paper blooms made from the pages of an old copy of Jane Eyre reflecting her love of writing and books. All of the buttonholes were paper too, the father-of-the-bride's was that of Winnie The Pooh reminiscent of bedtime stories he used to read to her; while Paul and his friends had buttonholes made of paper with a farming theme due to him being a farmer and vet, Holly's mum's was made out of crossword squares and the mother-of-the-groom's was a paper buttonhole made of an old music score as she was a music teacher.

Keeping in theme with the complete personalisation of the day, the cake topper was models of the happy couple in their wedding attire complete with sheep, "Everyone loved it. The detail was amazing, the groom even had a replica tartan kilt!"

A gorgeous classic VW Beetle called Billy took the bride and her father to the church, and the the newlyweds to their post-vow photoshoot. "I also hired a lovely Classic VW Campervan for the bridesmaids," shares Holly. "I love the 1960s set television show Heartbeat and the cars were a nod to that. Also, Paul and his family spent many holidays in a Campervan, so that was for them too."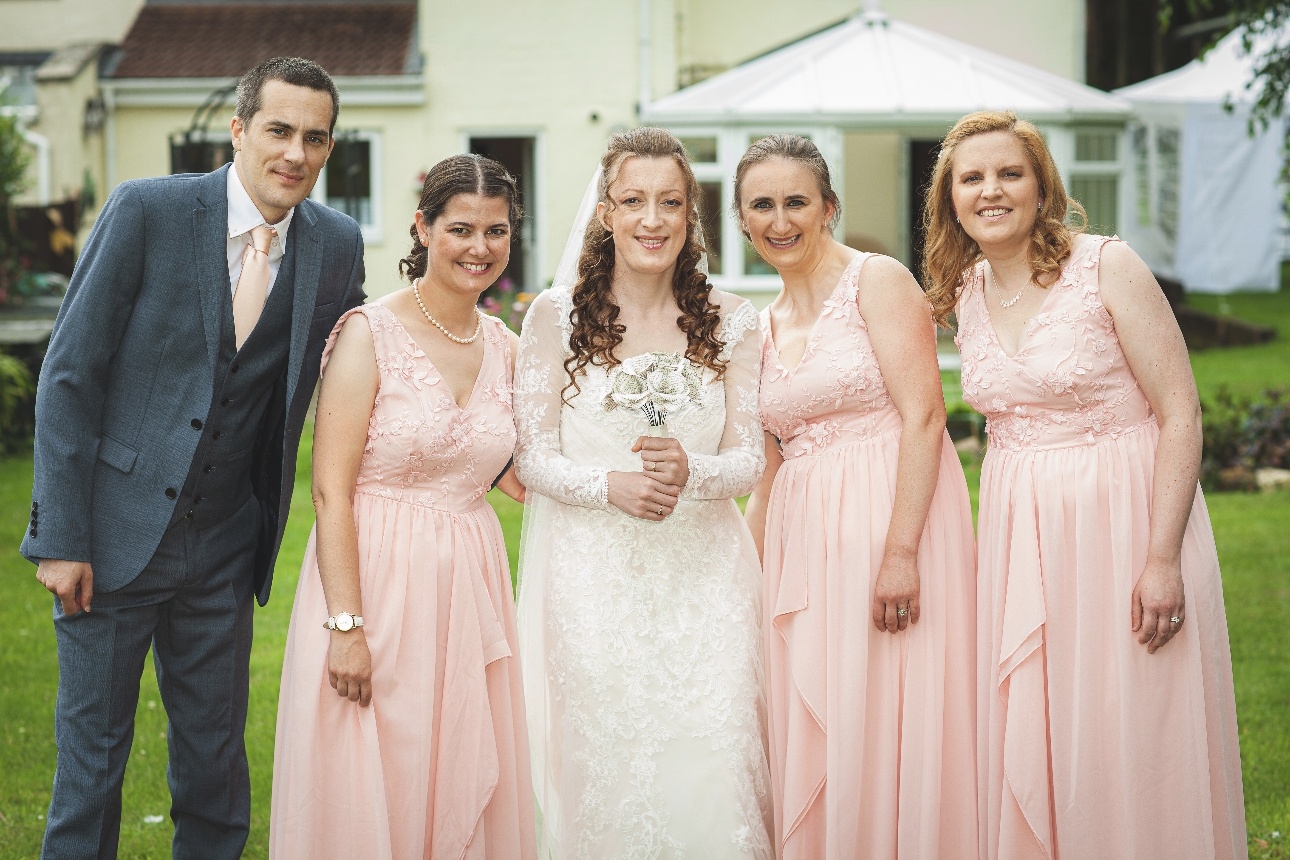 "I wore a gorgeous gown from Oliver's Bridal in Hoddesdon, Hertfordshire" shares Holly. "I wanted an amalgamation of styles and as soon as I saw this dress, I knew it fitted the bill. The dress had Spanish and Medieval elements to it: Spanish-style material and fishtail skirt, while the train, full skirt and corset style were Medieval elements. However, it also looked a little bit vintage in terms of colour, with a Grecian style overlay which was peachy in colour and really made it stand out – I had never seen anything like it before. The belt gave it a 1920s style and there was something about it that looked like it was from World War Two, too. I am a bit of a retro girl at heart and it ticket all the boxes."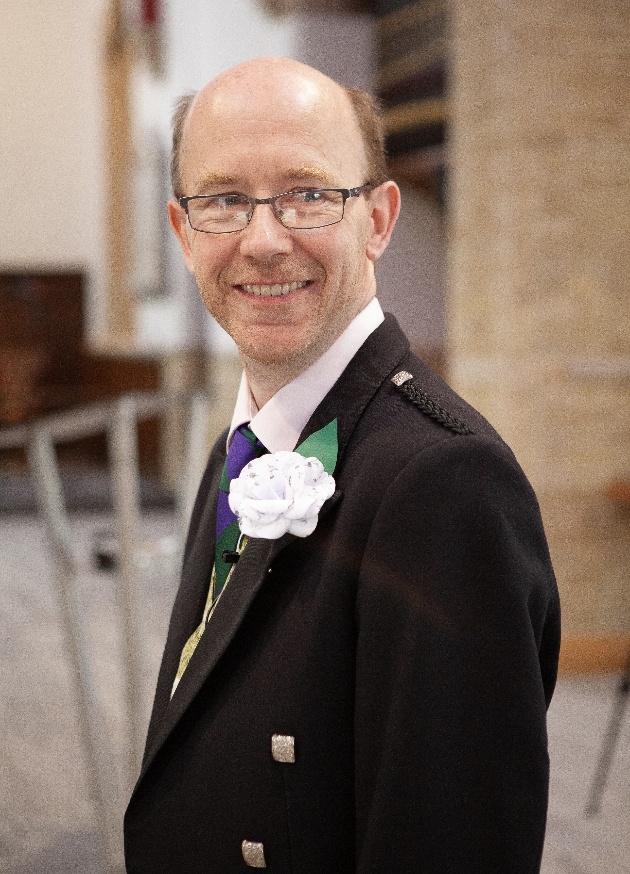 "Paul looked very handsome in his outfit which included a kilt made from the Crawford Clan material," adds Holly. "He also wore a sheep waistcoat, as he owns sheep and is a vet."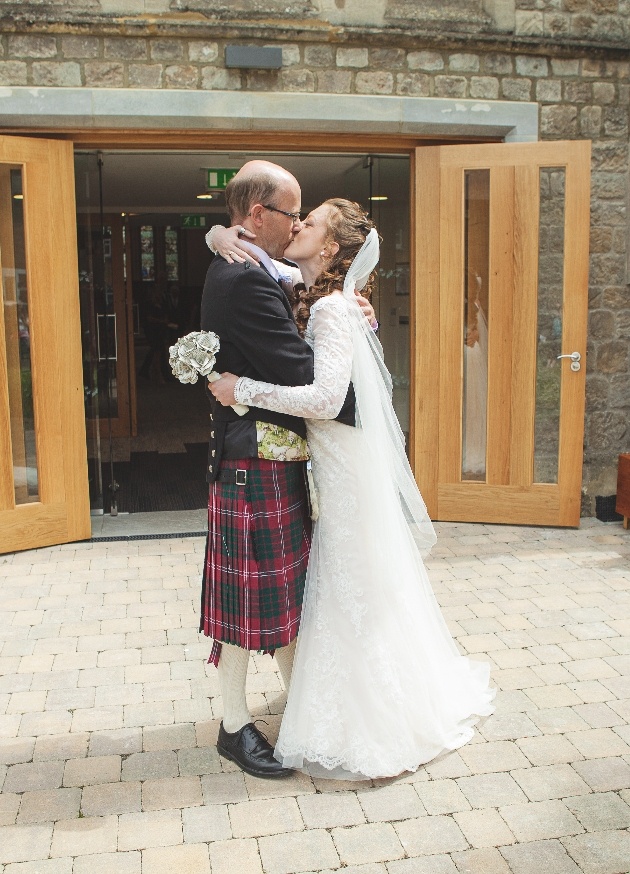 Holly's bridesmaids wore gorgeous pink Grecian-style gowns from Debenhams in a colour that matched the tones of the bride's wedding dress and complemented its Grecian elements.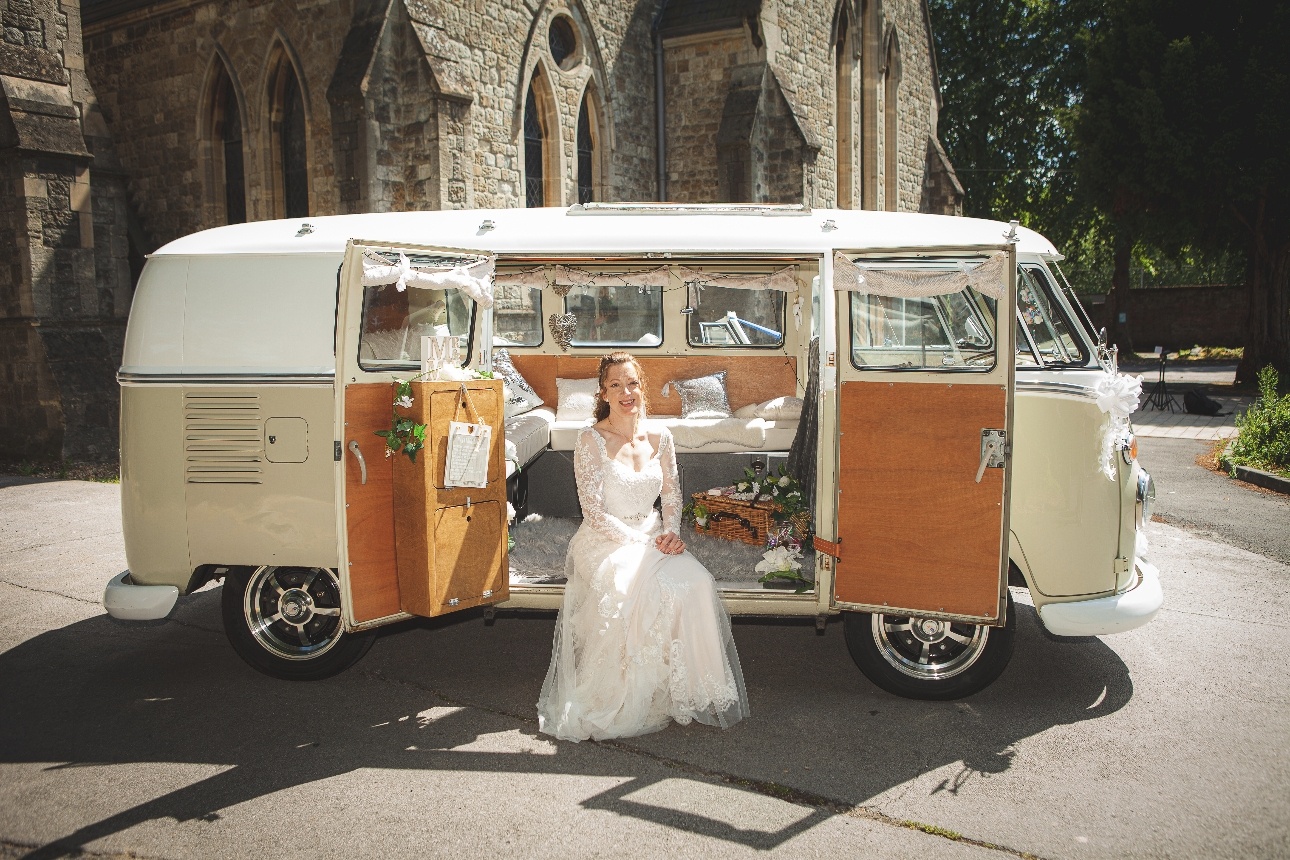 "I was in an almost dream-like state on our wedding day," recalls Holly. "I had tried not to get too excited beforehand until the day had actually dawned, just in case we had to postpone again!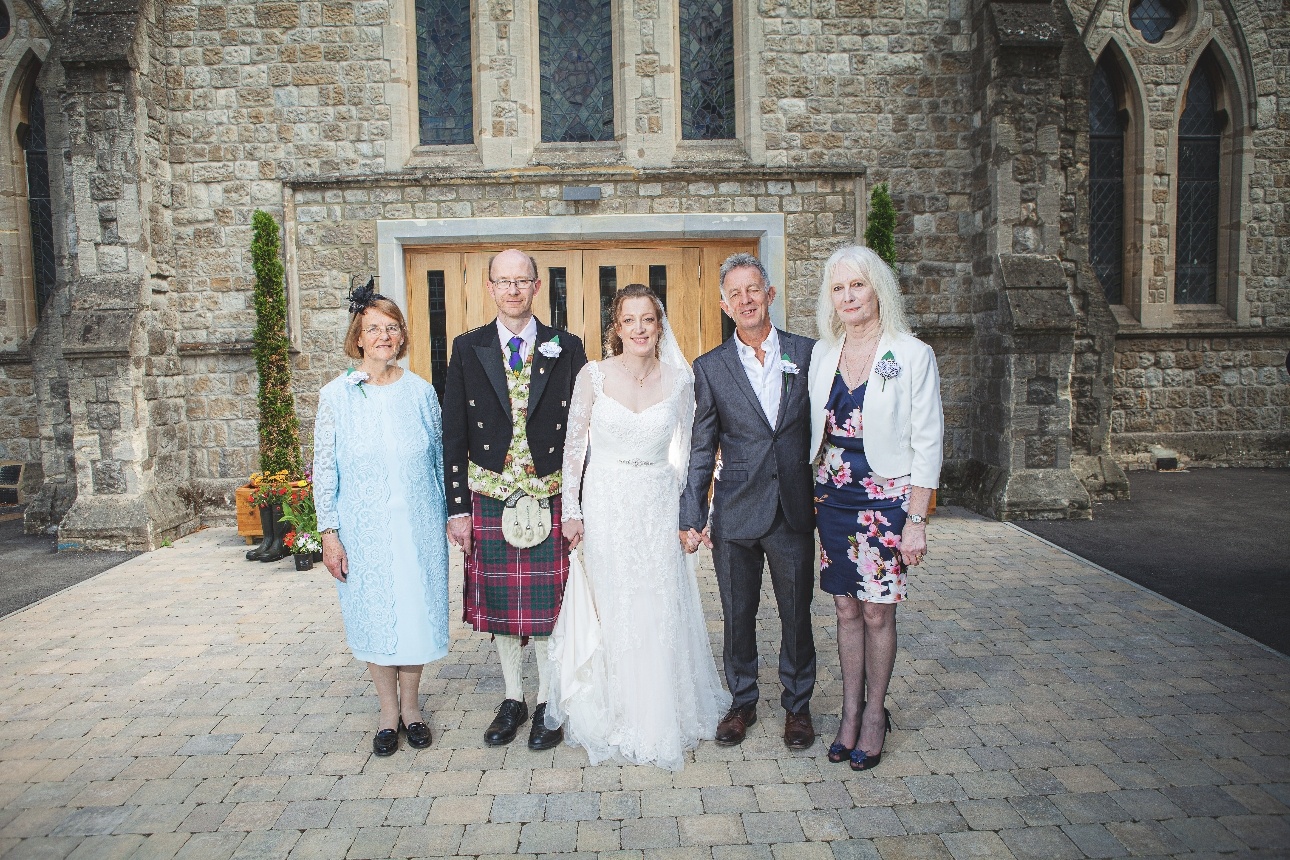 "I was very emotional because my parents and I are very close and it was a big day we had dreamed of for so long, but it also felt like the end of an era. I always wanted my parents to see me get married and the day had actually arrived! My mum looked beautiful and my dad very handsome. They were finally attending their daughter's wedding! It was amazing."
"When I looked in the mirror, it didn't look like me. I felt beautiful – like I had just stepped out of a bridal magazine! I kept thinking, 'I am going to wake up in a minute, aren't I?'. I couldn't wait to get to the church and for Paul to marry me!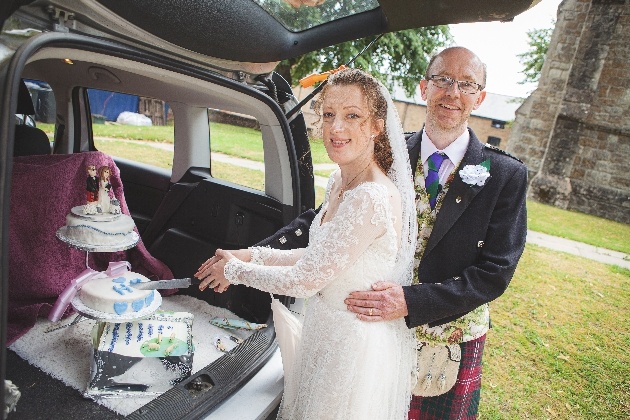 "When I saw Paul waiting for me in church, he took my breath away. Walking towards him, with my dad by my side walking me down the aisle and my mum and mother-in-law looking on, was the stuff of dreams."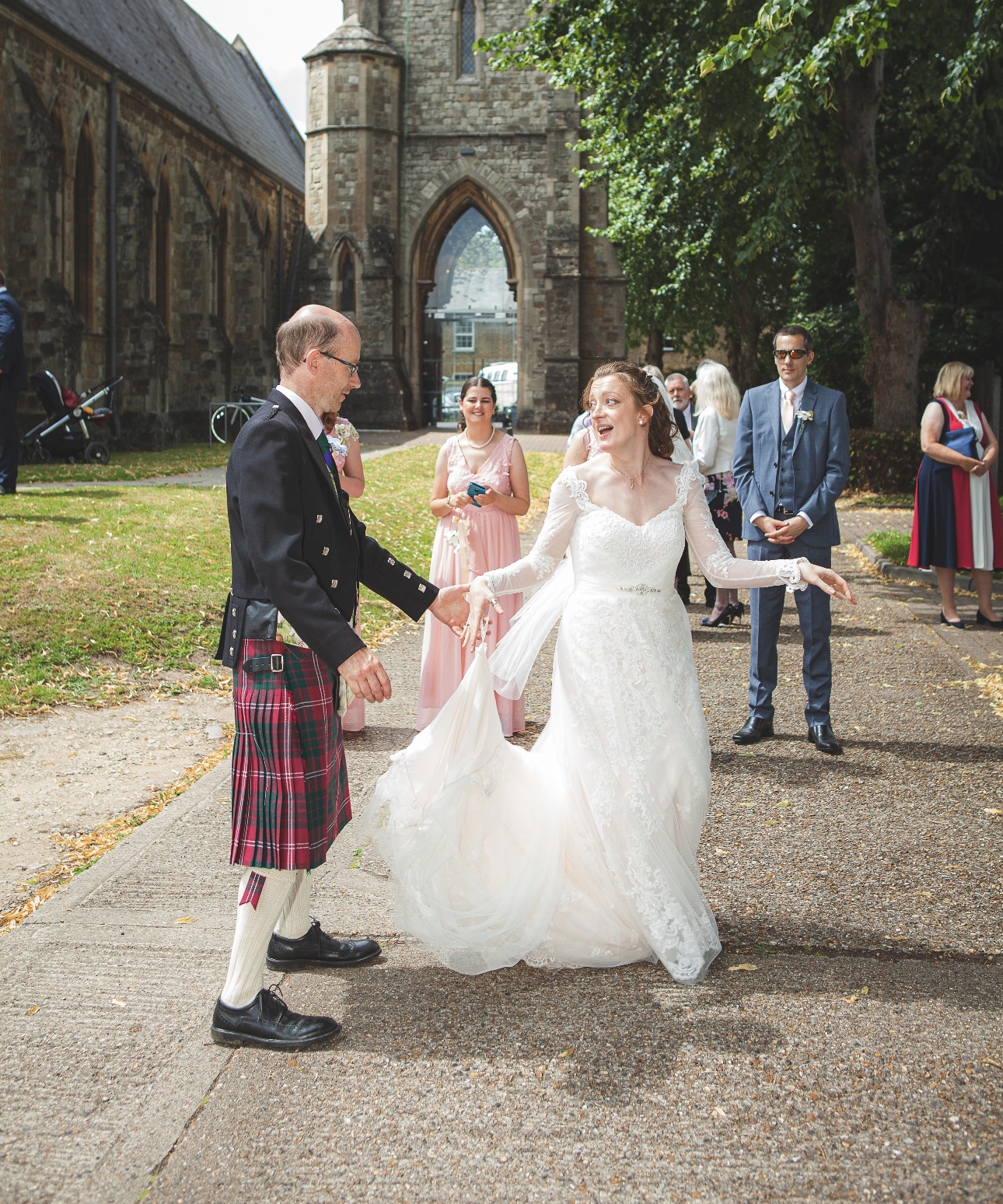 Although the couple couldn't have a reception that certainly made sure they could make the most of everything they could do! "We did cut our wedding cake from the boot of the groom's car and had our first dance in a car park," recalls Holly. "It was to a mix-tape of Brian Adam's Everything I do and Rock Me Gently by Andy Kim.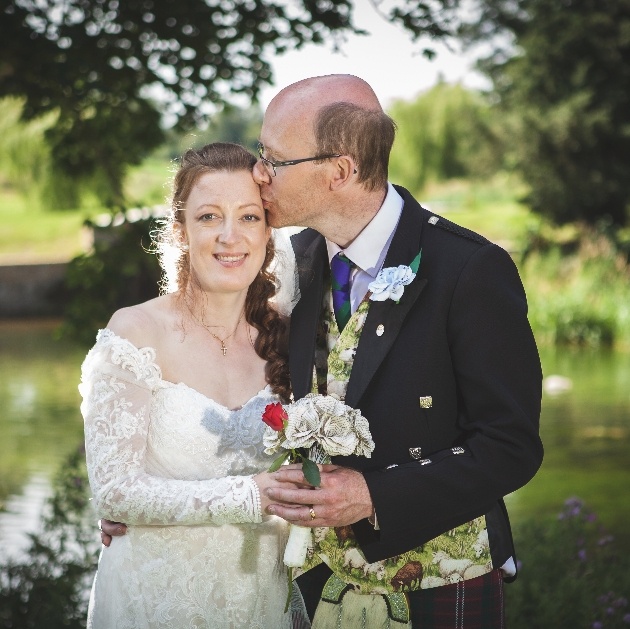 "Driving down the high street after the wedding in our open top car, waving as passers-by! I felt like a princess with my prince!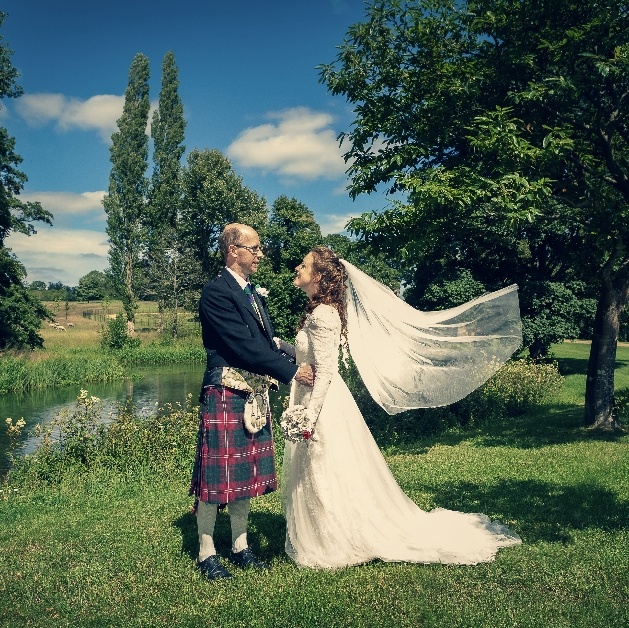 "One of our guests said, and I quote, "It was the best wedding ever and just goes to show all you need is love, and a bit of imagination!'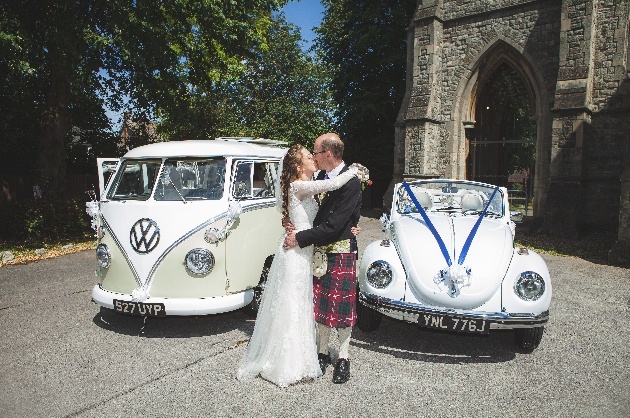 Holly and Paul adapted to restrictions to have the perfect day here's how...
The wedding service was socially distanced and I was worried it would look odd or have a strange atmosphere. But I can honestly say it did not impact on the service. It was intimate and special and so lovely to share with our nearest and dearest.
We also had to scrap the hotel reception and have our first dance in a car park, where we cut the cake from the boot of the groom's car, but I can honestly say it was a stunning day.
Our photographer/videographer Antony ensured our photos and video were available just hours after the service. This was so important to us, as so many people could not attend due to restrictions, but they could still see the service on the day, which was amazing. Many people who watched online said they felt like they were there!
We were also grateful to staff at Woodhall Estate who enabled us to have photos in their grounds – and the photos are stunning, so thanks to them!
The Christ Church band allowed us to use pre-recorded songs during the service and Paul recorded my Mother-In-Law, Monica Crawford played the organ in Second Presbyterian Church, Islandmagee (where Paul and his family come from) while a friend (Roberta McMaster) sang the Aaronic Blessing (sung at Presbyterian weddings, thus they bought a bit of their home church to our wedding.
Because we could not have many guests, our
friends and neighbours gathered outside our house (socially distanced) to wave us off. They clapped as dad and I came out of the house. I was speechless at their kindness and the fact they had made the effort to do that. When we got to the church, more of my friends (including my former English teacher) were waiting outside to greet us. I felt like Royalty as I waved to them! It is at times like this that you see how kind and generous people can be.

Holly and Paul's contact book