Lauren went for a new job interview back in 2012 where Sid saw her in the workplace and jokingly said to a colleague that she would be the future Mrs Walters; little did he know this would be the case eight years later! After three months of working together, Sid plucked up the courage to ask her out during a Christmas party. Lauren says, "His pick-up line was something about New Year's resolutions and his one being to take someone called Lauren out to dinner. It was cheesy but I couldn't resist."
After just a few date nights and some wintry walks, Lauren and Sid made it official by the end of January.

Although Sid had been ready to propose for a while, Lauren had no idea and had been talking about switching up the tradition and proposing herself. But Sid got there first
and proposed in July 2019, with a ring he had helped make himself.

Lauren adds, "Sid had searched around for a jeweller willing to let him help make the ring and was recommended Harrisons Jewellers. He worked with the owner, Matthew, to design and make the item in the workshop. The ring was ready on Sid's birthday and he made an excuse to pop out. On his return, he snapped up his opportunity to propose – I was astonished and so excited as I hadn't seen it coming at all!"
Located in Hertfordshire, South Farm is a stunning wedding venue with beautiful gardens and charming spaces available for weddings. It's no wonder why this homely venue was the backdrop to Lauren and Sid's special day. The bride says, "We could see the venue had fabulous reviews and offered a stunning countryside setting for our photographs, which was important to us."The wedding was planned with only a few months notice and the farm provided the perfect location with ceremony and reception spaces all in one place, helping to keep the planning simple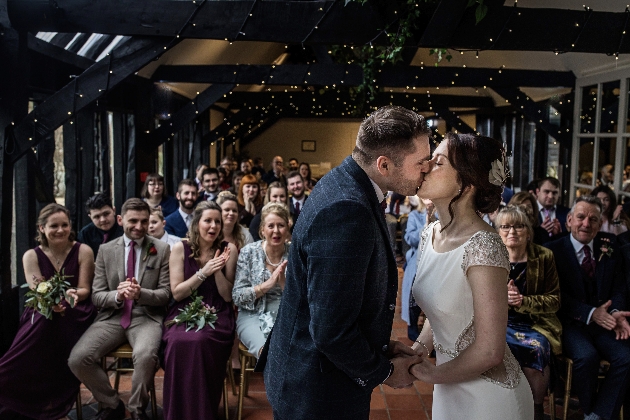 The couple wanted to create a warm and relaxed atmosphere on the day and chose a navy and burgundy colour scheme which was incorporated throughout the day. Each table was decorated beautifully with place names written in calligraphy, floral displays, romantic candles and burgundy petals. The bride says, "We wanted everyone to be 'table one' and as we had so many countries represented in the room, each table was named after the number but in different languages. This included Slovak, Welsh, Japanese, Spanish, English and elvish for The Lord of the Rings fans." Guests could find their seats with help from the table plan created on a burgundy card with paper butterflies.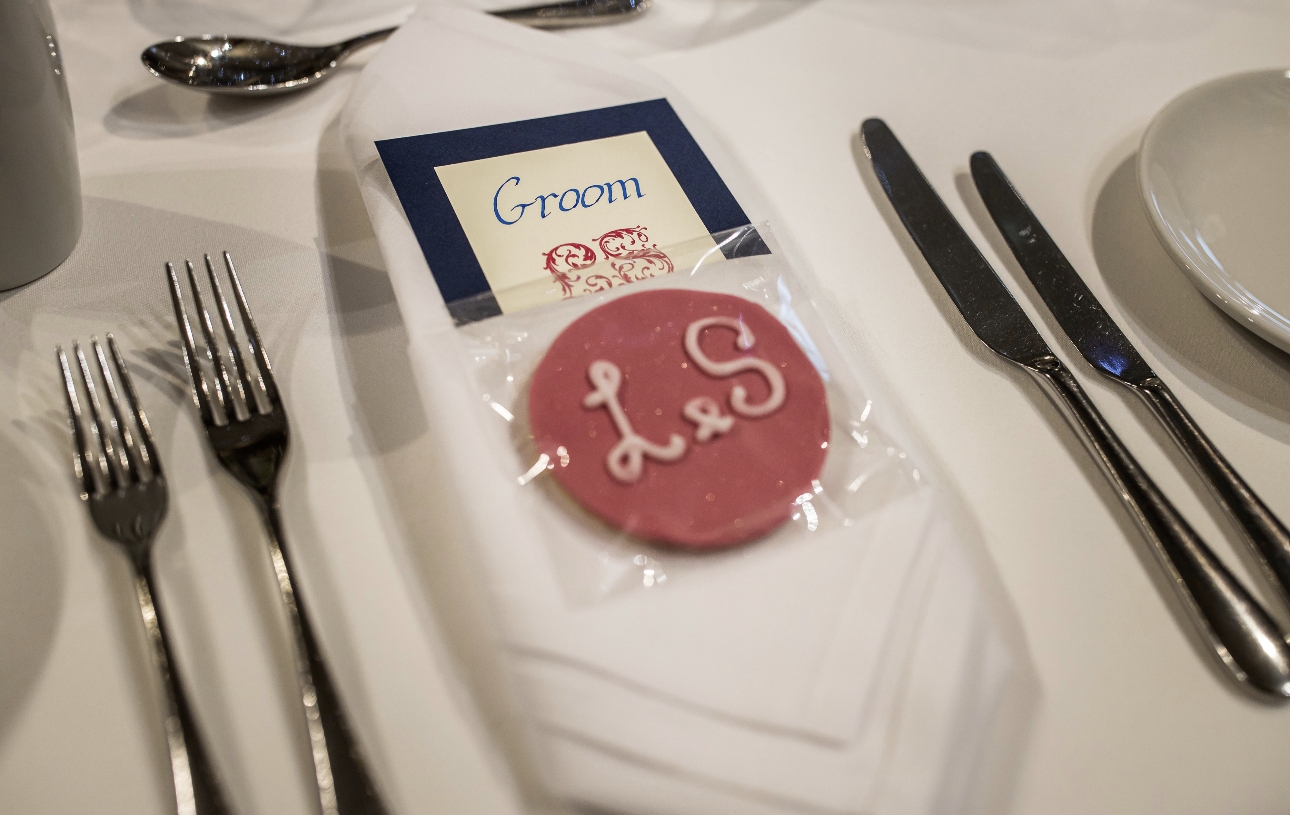 Delicious homemade iced sugar biscuits were given to guests as favours and in the evening they enjoyed the big-day cake. Lauren says, "The cake was simple with white icing, gold leaves and handcrafted sugar paste flowers. We had a rich fruit sponge which is my favourite and Sid picked a dark-chocolate flavoured layer."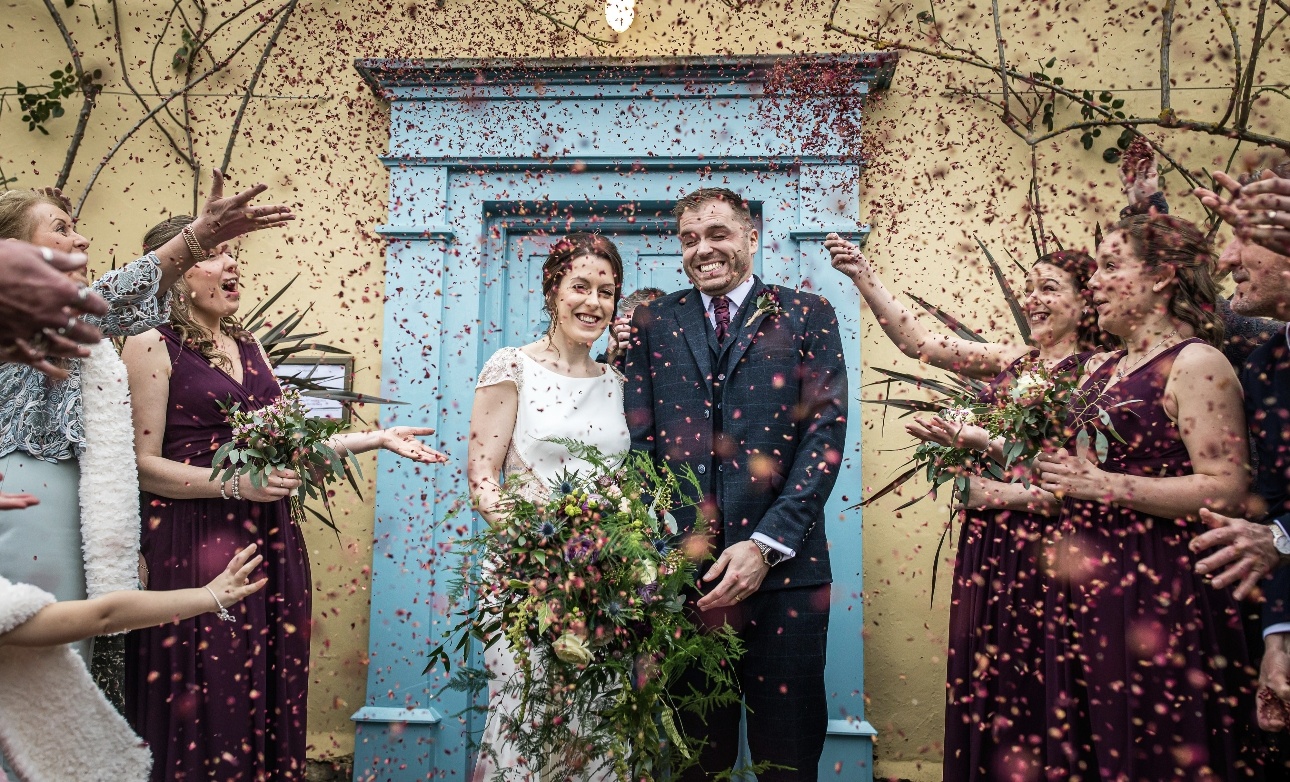 The bride looked stunning in a sheath-style dress with a lace back and jewelled shoulders. She says, "I'd seen it online and had fallen in love with the sleek but glamorous-style and knew it was perfect when I tried it on. I added sparkly heels, a silver bangle, simple hoop earrings and a feather and crystal hairpiece to finish off the look. My burgundy stole was made by my mum and I still keep it now as a cosy wrap. I was a little overwhelmed once I got into my dress on the day as I couldn't quite believe we were about to get married!"
When it came to finding the perfect bouquet, the bride picked a wild and relaxed trailing arrangement with burgundy and cream flowers.Sid and the groomsmen looked dashing in different navy suits, they could pick what style to wear as the couple wanted everyone to feel comfortable – it made for lovely photos. The bridesmaids wore floor-length burgundy dresses with a flattering band around the waist, and grey/pink wool wraps were given to them to ensure they all stayed warm during the wedding.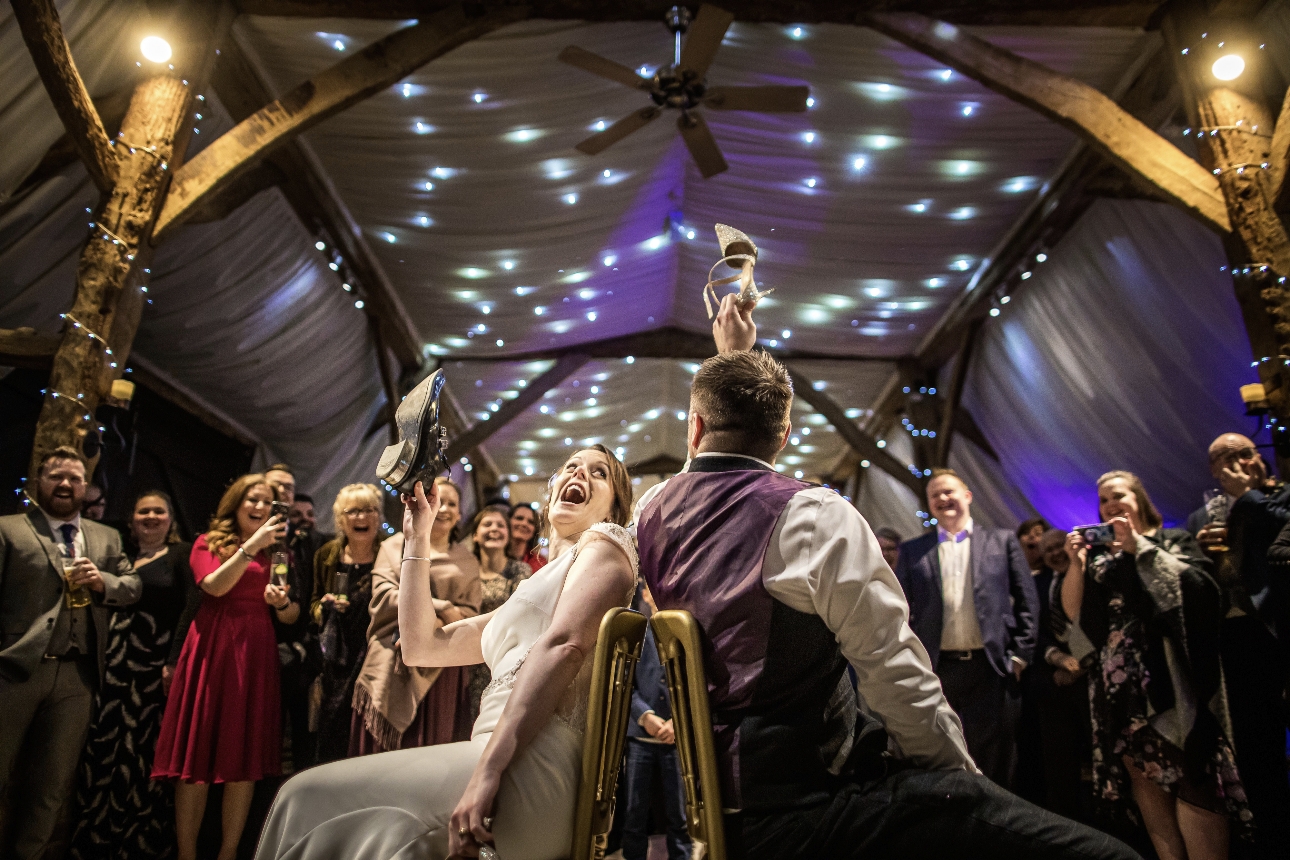 Instead of a first dance, something the couple never wanted to do, they opted for a game of Mr & Mrs instead. Lauren comments, "It brought everyone together with a lot of fun questions such as 'If your dog could talk, who would he say he loves the most' and 'Who is most likely to give the other food poisoning?' the guests loved it!"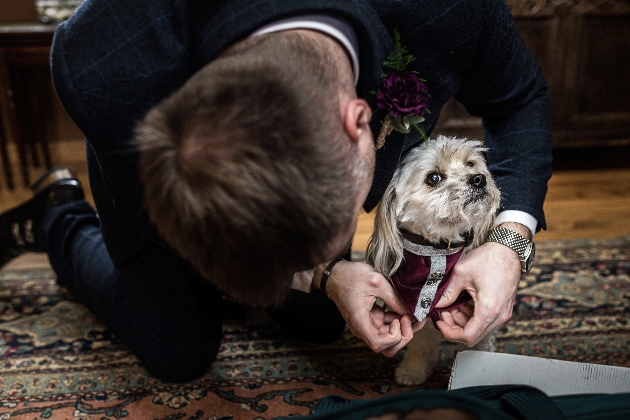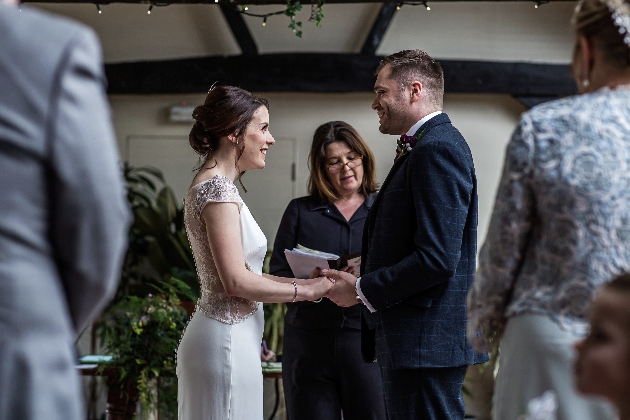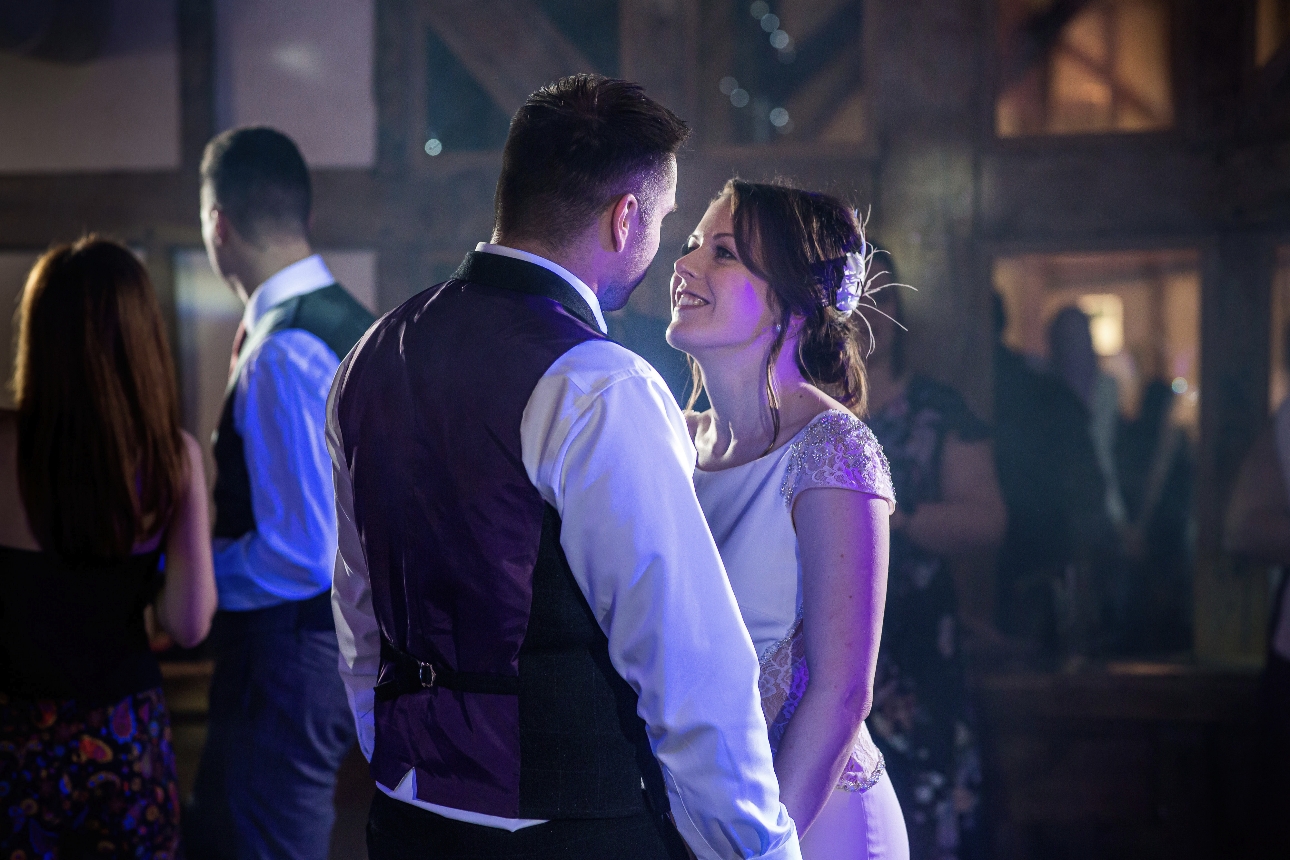 A DJ played during the evening to keep loved ones entertained and was a massive hit with the kids who were skidding across the floor. Even the adults were up on their feet having a great time!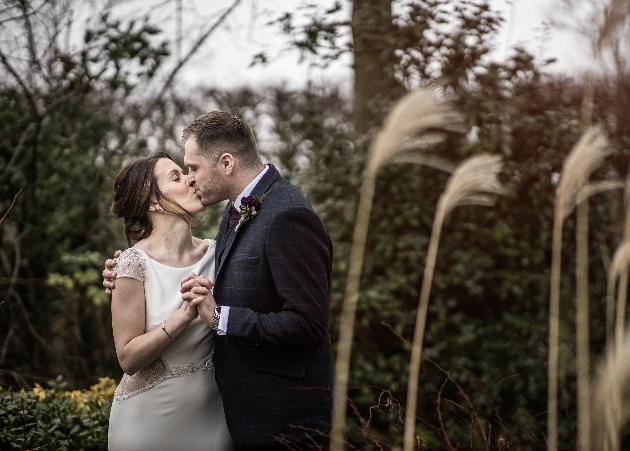 Lauren and Sid were blown away by the amount of love shared by friends and family during the day. The bride says, "Aside from the moment we became husband and wife, the best part of the day hands down was Sid's speech. He spoke from the heart and everyone was thoroughly enjoying his entertaining memories and anecdotes. Then you could feel the emotion in the room build as Sid talked about our very challenging year. We endured three rounds of IVF and everyone was captivated as Sid spoke about the run-up to the wedding and feeling utterly blessed to be able to announce our successful third IVF cycle and pregnancy! The room erupted with cheering and tears, it was the most incredible moment and our little girl arrived seven months later!"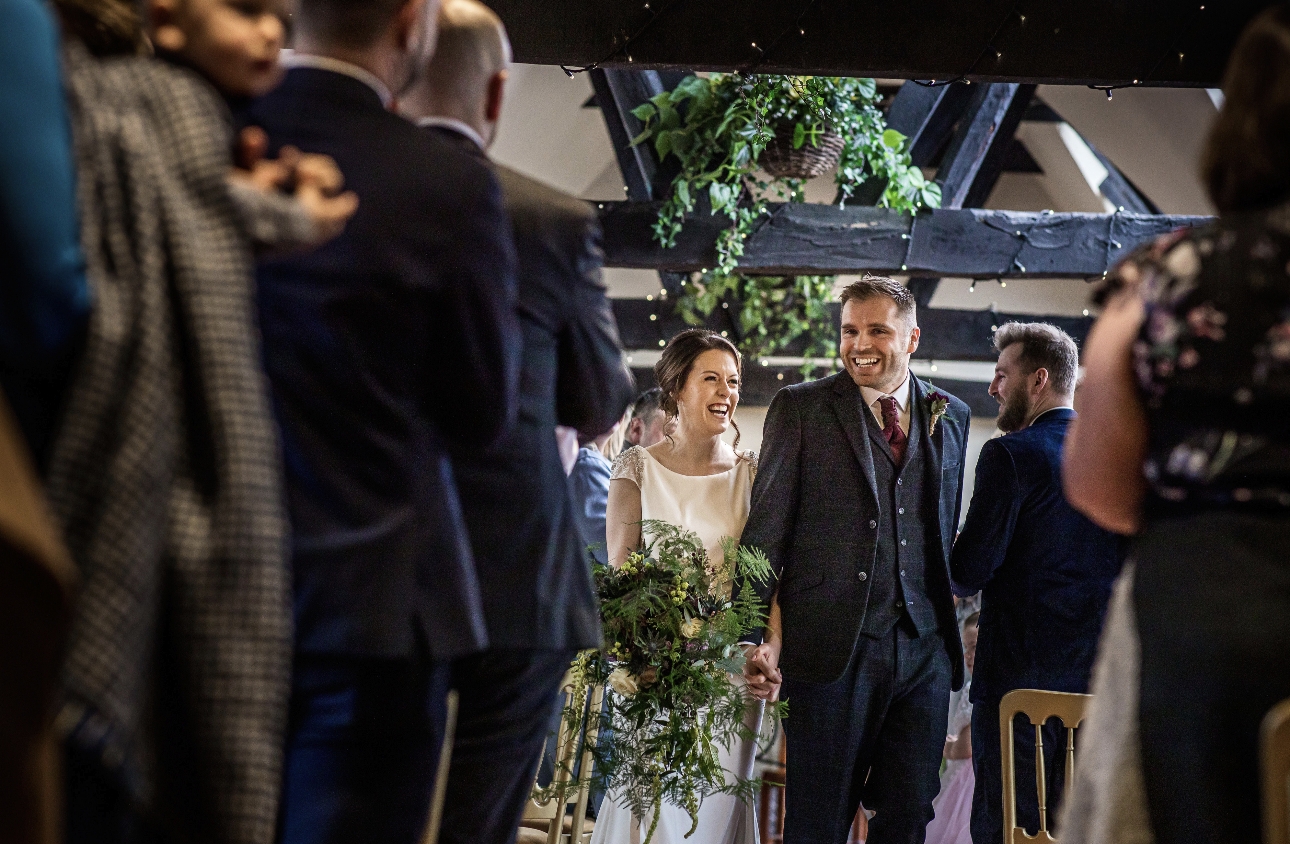 The couple visited Devon for their honeymoon and stayed in a beautiful cottage on the border of Exmoor. Here the pair relaxed in front of the fire and went on wintry walks, like they did when they first met.
Lauren and Sid's contact book