Stuart and Cheryl found each other through mutual friends and got on really well from their first meeting. The pair shared the same sense-of-humour and everything seemed so natural together. Cheryl says, "Not long after we started going out, I knew I had found my soulmate. Stuart makes me feel special; he's so supportive and is always there for anyone who needs his support."

During the lockdown, the couple were sitting in the garden enjoying the sunshine and a glass of champagne when the idea of marriage came up.
After looking at venues for Cheryl's special birthday, Stuart discovered that many spaces had already been booked for weddings. After playing around suggesting they get married to find a venue, Cheryl jokingly said 'maybe we should'. Stuart knew he wanted to propose and found the most beautiful engagement ring. Cheryl says, "Of course I said yes, I didn't realise how much I wanted to marry Stuart until that moment!" Here Cheryl shares details about their special day...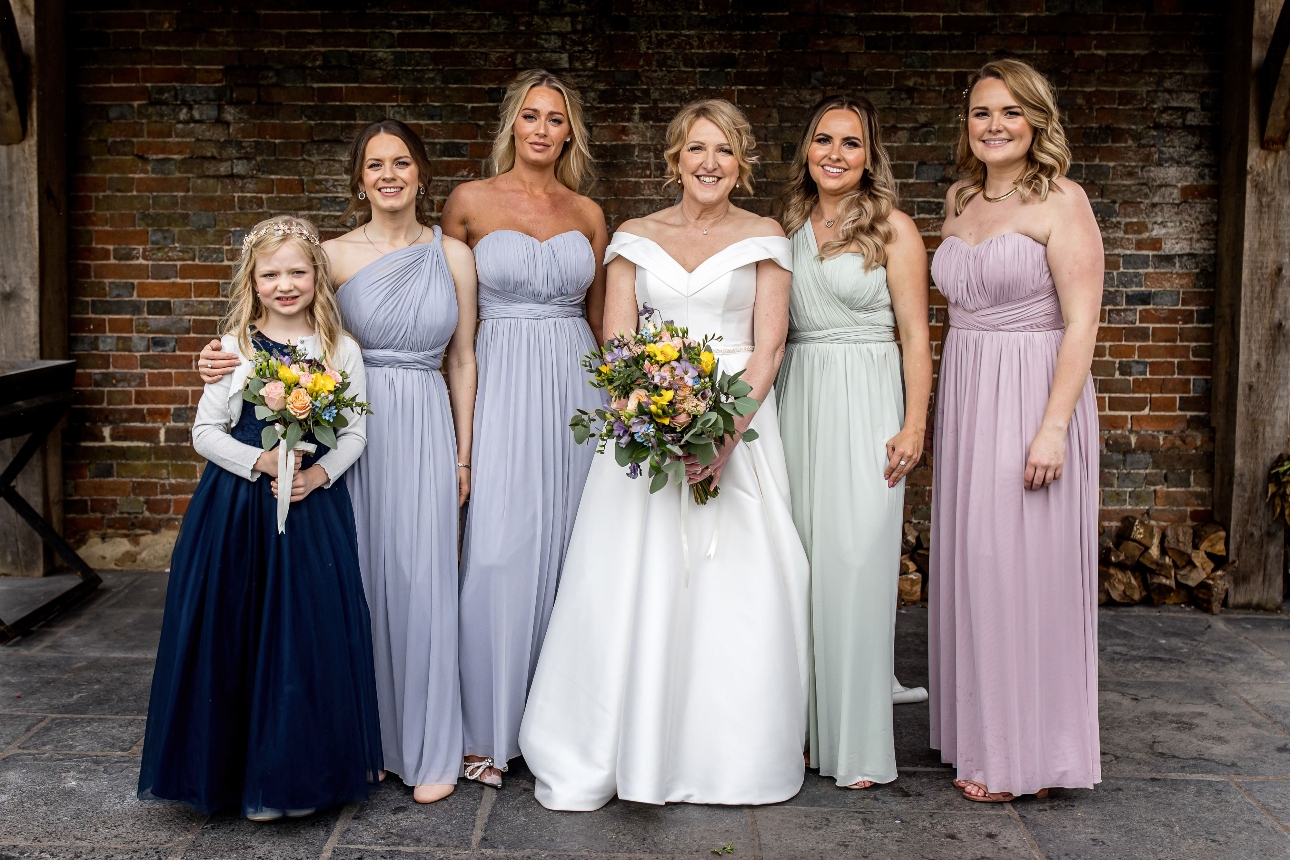 We knew numbers would be limited because of Covid-19 restrictions, but we knew it would be perfect as long as our children and grandchildren could join us. We were lucky enough to have 30 guests on the day!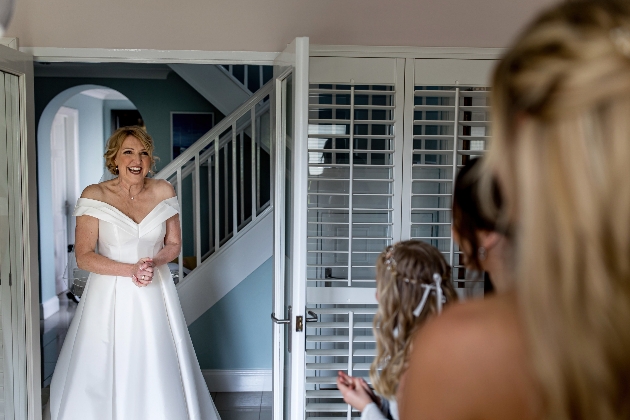 I wore a Stella York ballgown-style dress, which I accessorised with a veil, a simple drop-pearl necklace and matching earrings.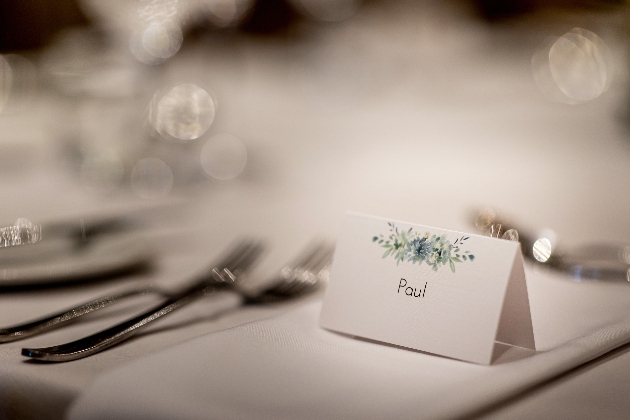 To match our pastel colour scheme, we had a simple leaf design for the table plan and place cards.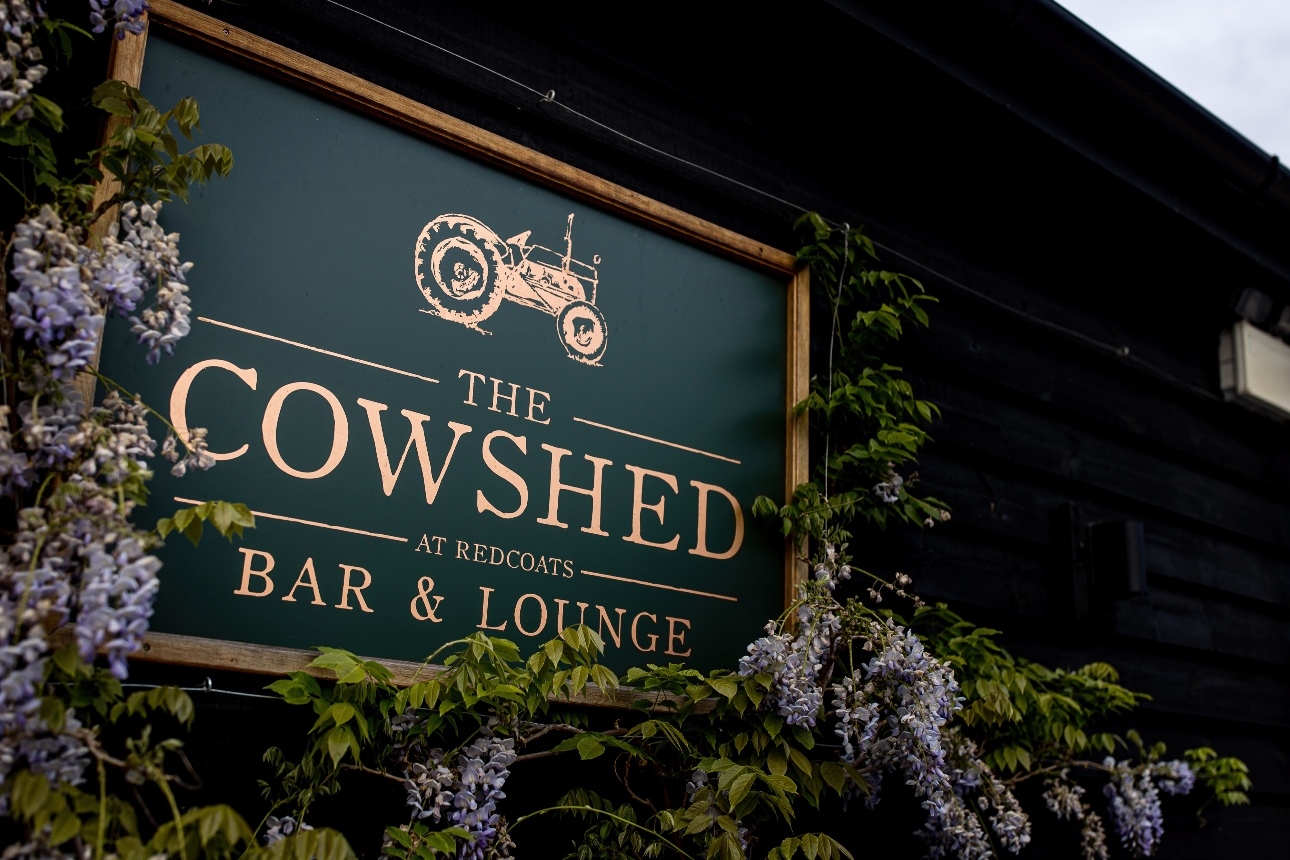 The Farmhouse at Redcoats is the perfect wedding venue, the staff were outstanding and nothing was too much trouble – Charlotte was fabulous and deserves a special mention.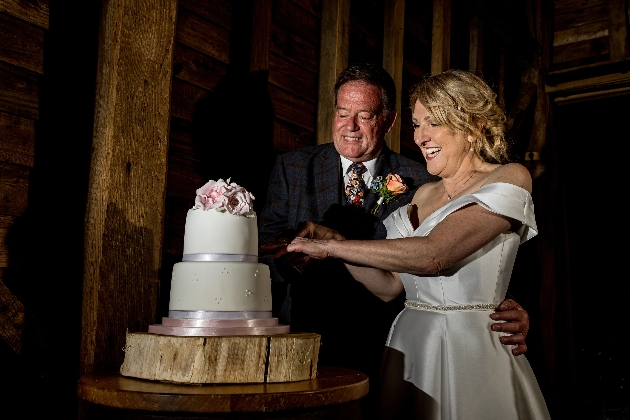 We opted for a simple but tasty two-tiered cake with carrot and Victoria sponge flavours.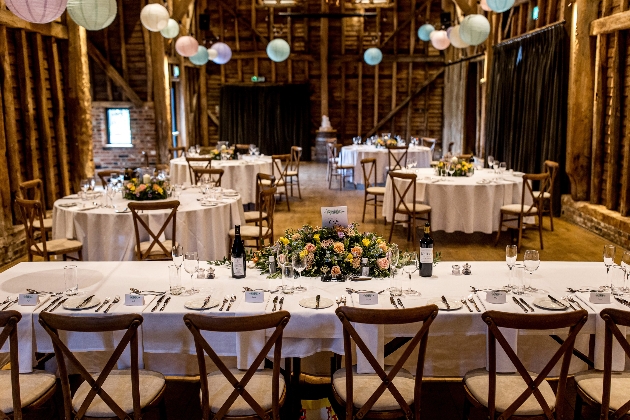 Each table was decorated with a pastel floral arrangement, hurricane lamps and candles.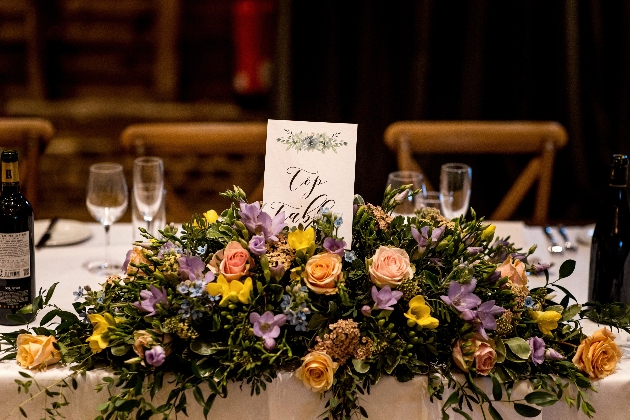 I wanted to incorporate yellow freesias as they were my mum's favourite flower and my dad's favourite colour.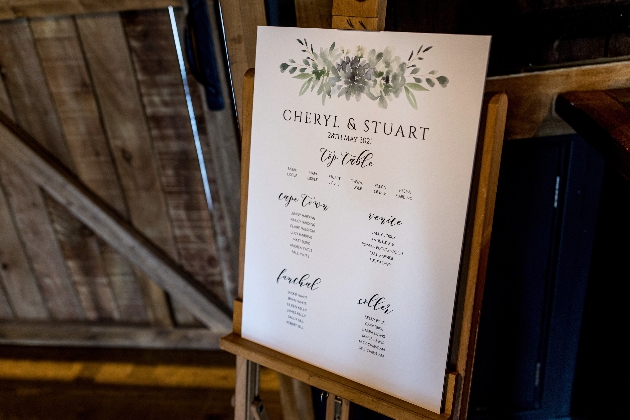 We named each table after places we had visited, including Rome, Cape Town, Funchal and Sóller.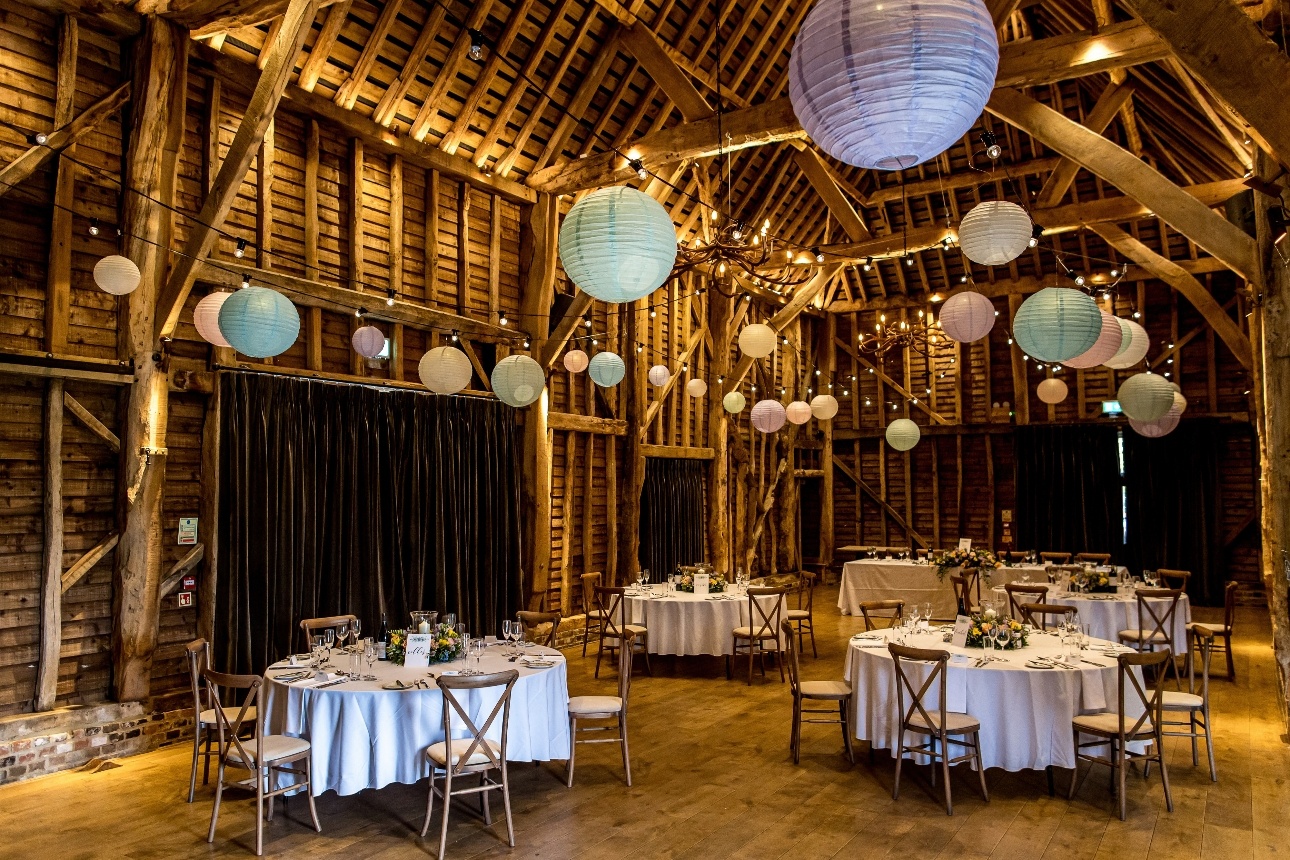 Pastel-hanging lanterns decorated our reception space and created such a beautiful effect.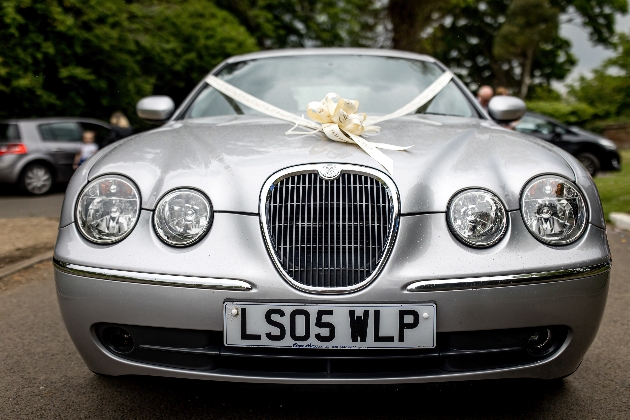 We had an amazing three-course wedding breakfast and a barbecue in the evening.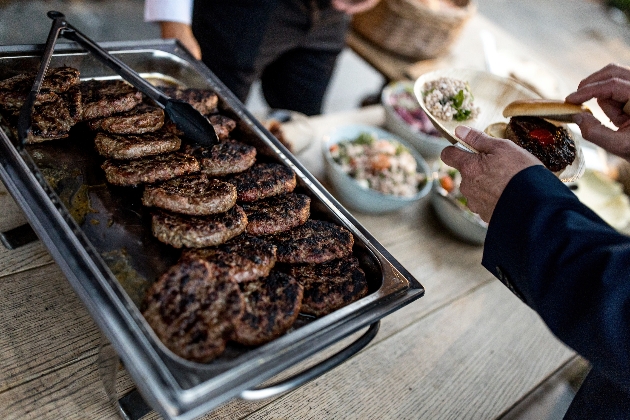 Our transport on the day was Stuart's late father's Jaguar; we wanted him to be part of the day and this was the perfect way.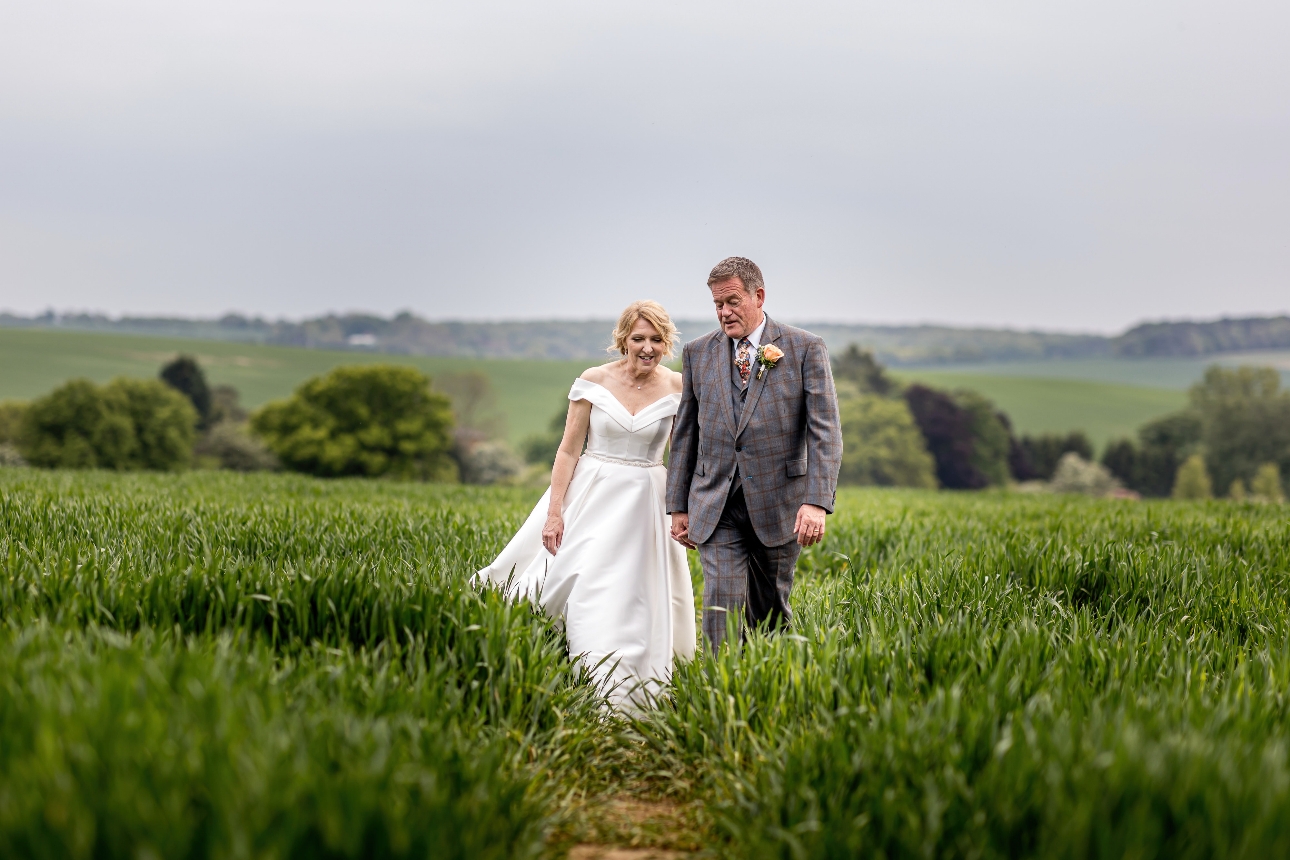 To ensure all our friends and family can be a part of the day, we're going to host the whole event again next year with the same suppliers.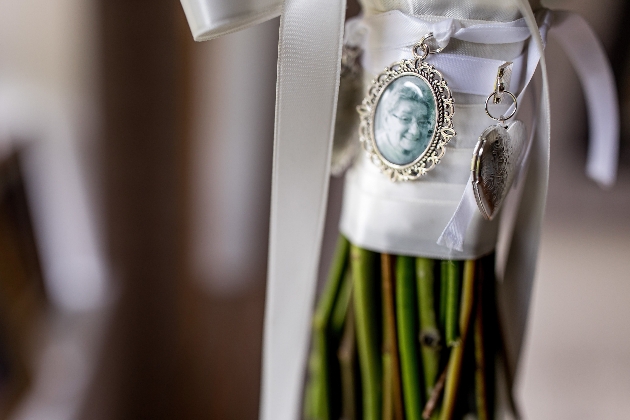 My daughters provided photos of my parents to tie around my bouquet.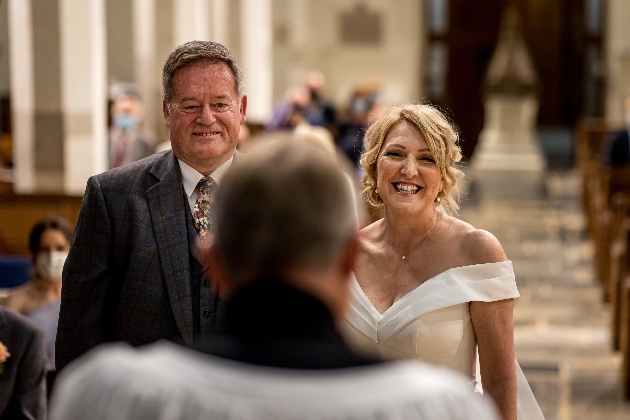 I just felt so special and didn't stop smiling the whole day.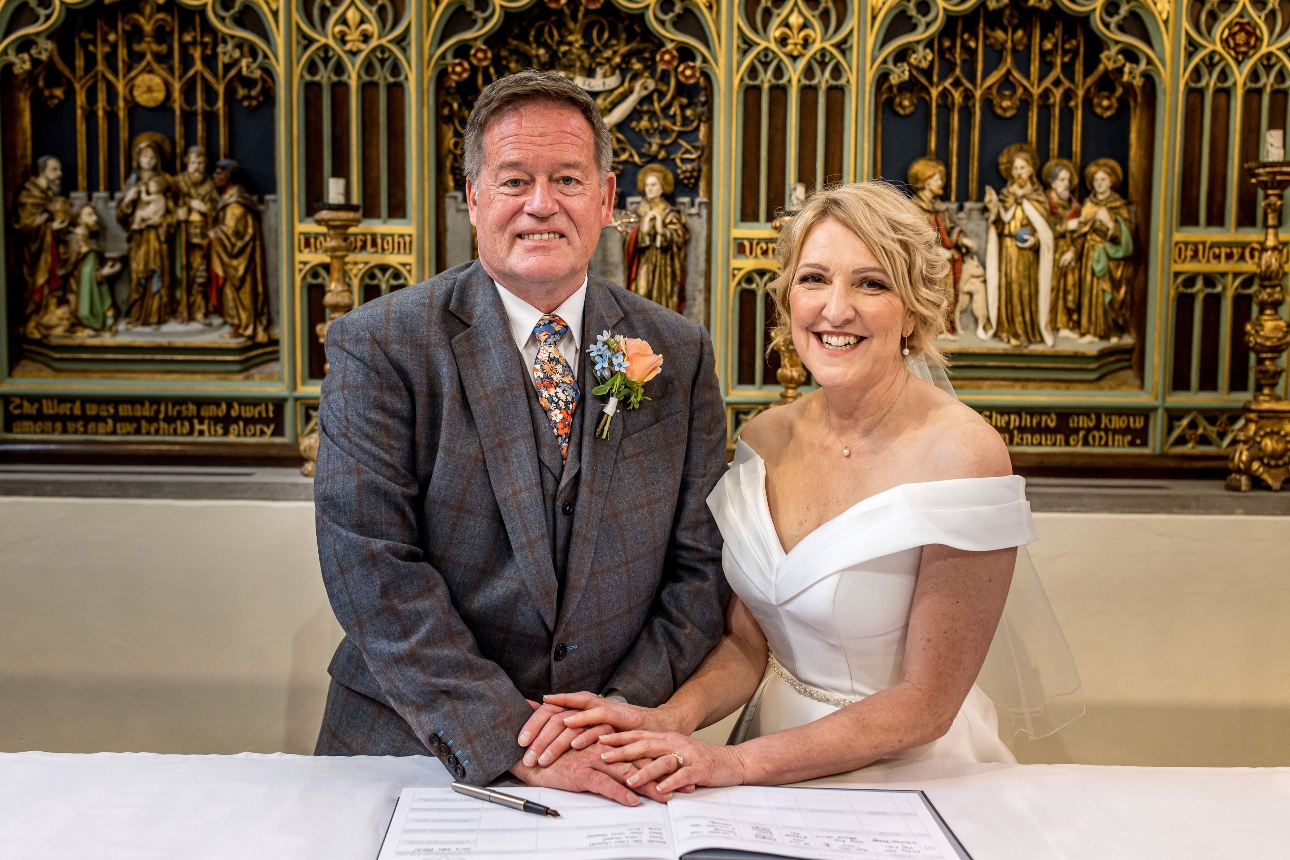 Stuart loves suits that stand out and spent a long time choosing the fabric, colour of the stitching, the lining, tie, shoes and socks.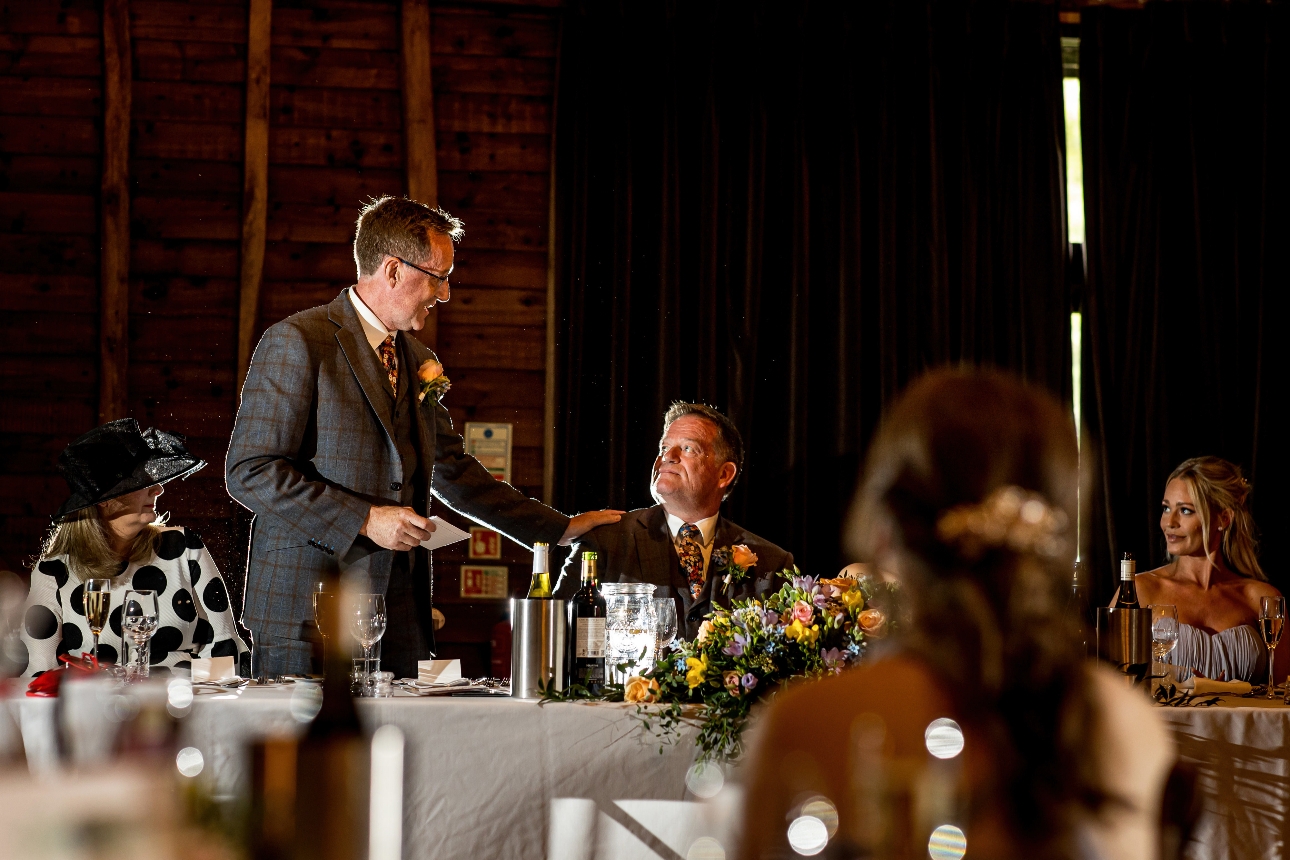 Stuart and his groomsman, his brother Mark, had matching three-piece suits as a tribute to their mum who used to dress them the same as children. Despite being on a tight schedule, HRH Holmes & Son turned the suits around quickly and they fitted like a glove.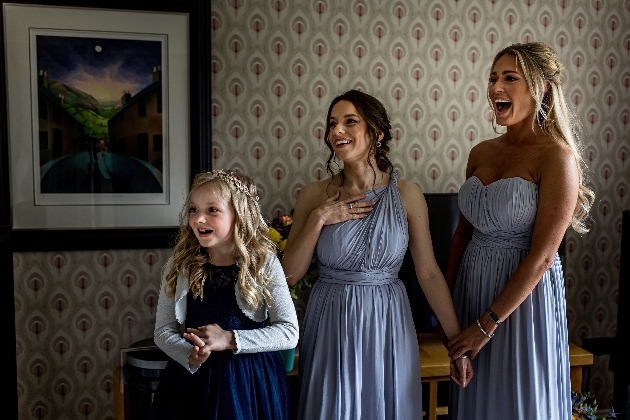 Our granddaughter was the only bridesmaid; she wore a navy-blue dress and a silver jacket. We had our grandson as the pageboy; he wore navy blue trousers and a waistcoat.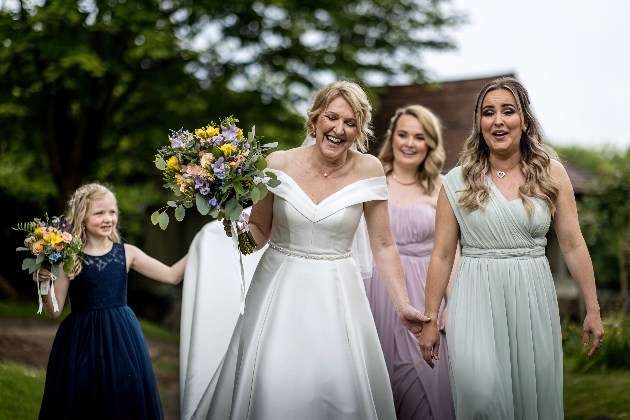 It was important that we included our four daughters in the day. That's why Lucy gave me away, Katie did a reading, Jenny was our witness while Sally was the usher and looked after all the guests.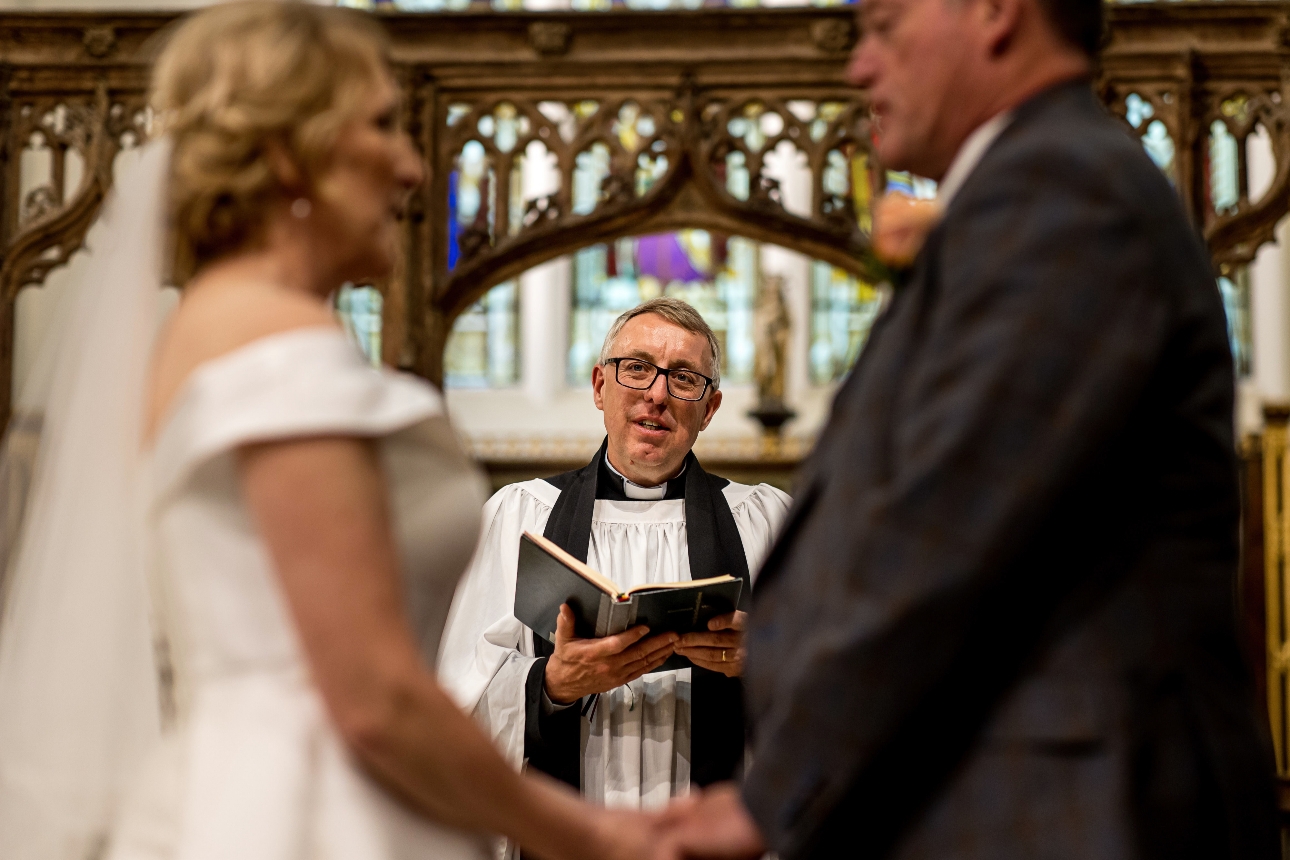 We both felt so happy and emotional on the day! Stuart was quite nervous before the ceremony and it probably didn't help that I was late!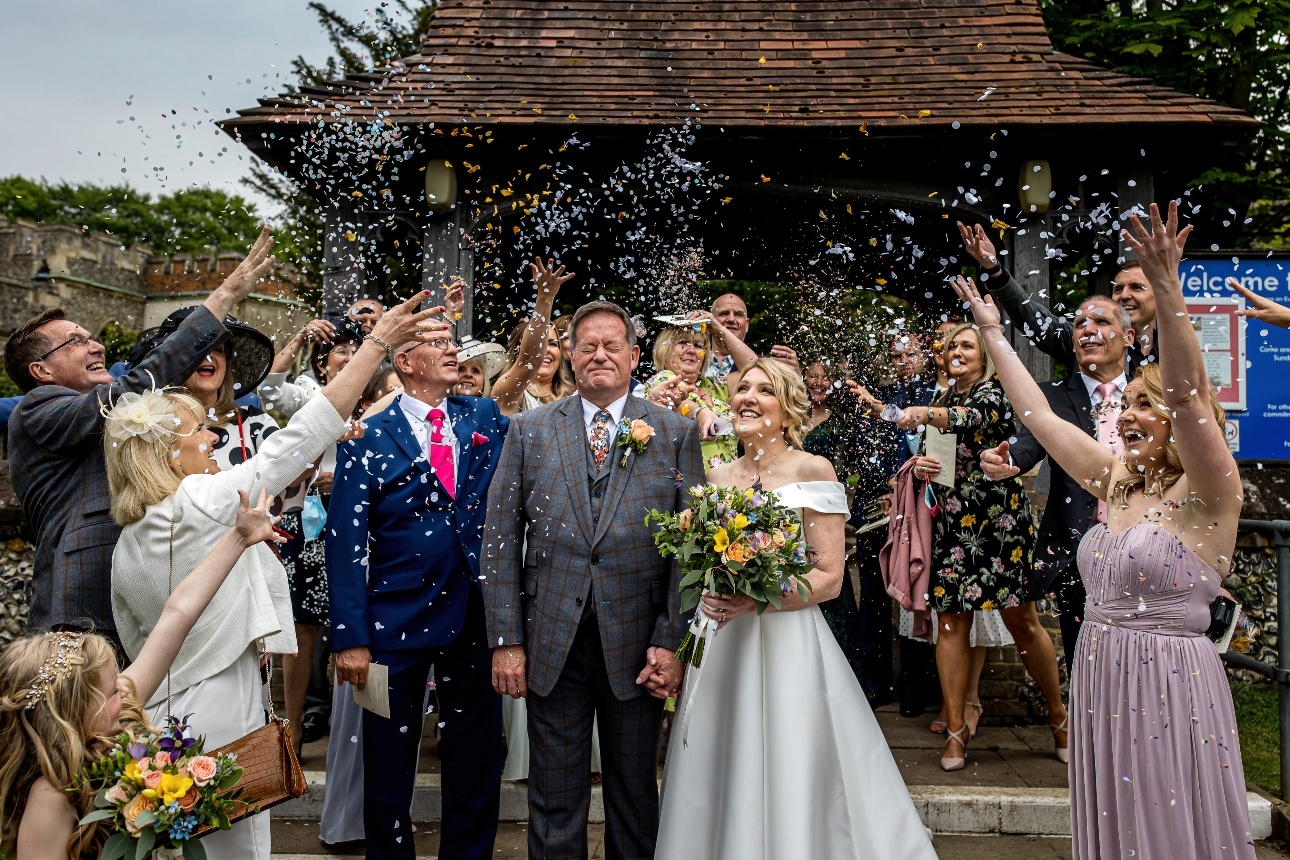 We were delighted to become husband and wife after being together for more than 20 years.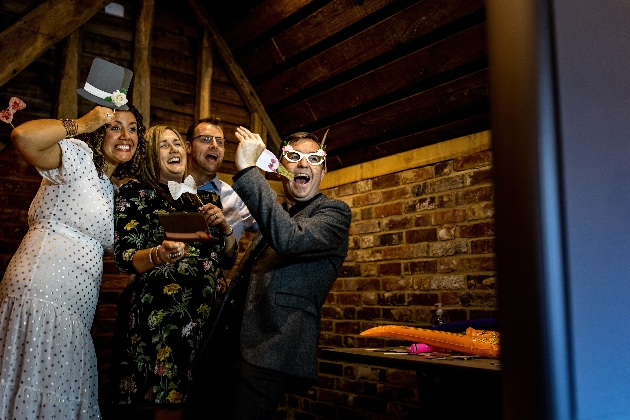 Using local companies really benefited our day; everyone was so easy to work with and accommodating when we moved our original date due to Covid-19.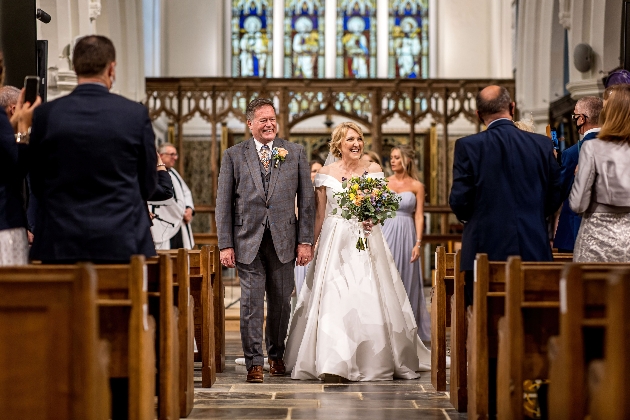 The church ceremony made us feel very special; we had a small choir and wedding bells chimed away. After months of not being able to do anything, it created such a special memory and feeling.
We visited the Lake District for our honeymoon and had the most fantastic time! We stayed in a small coach house and it was the perfect way to reminisce the day.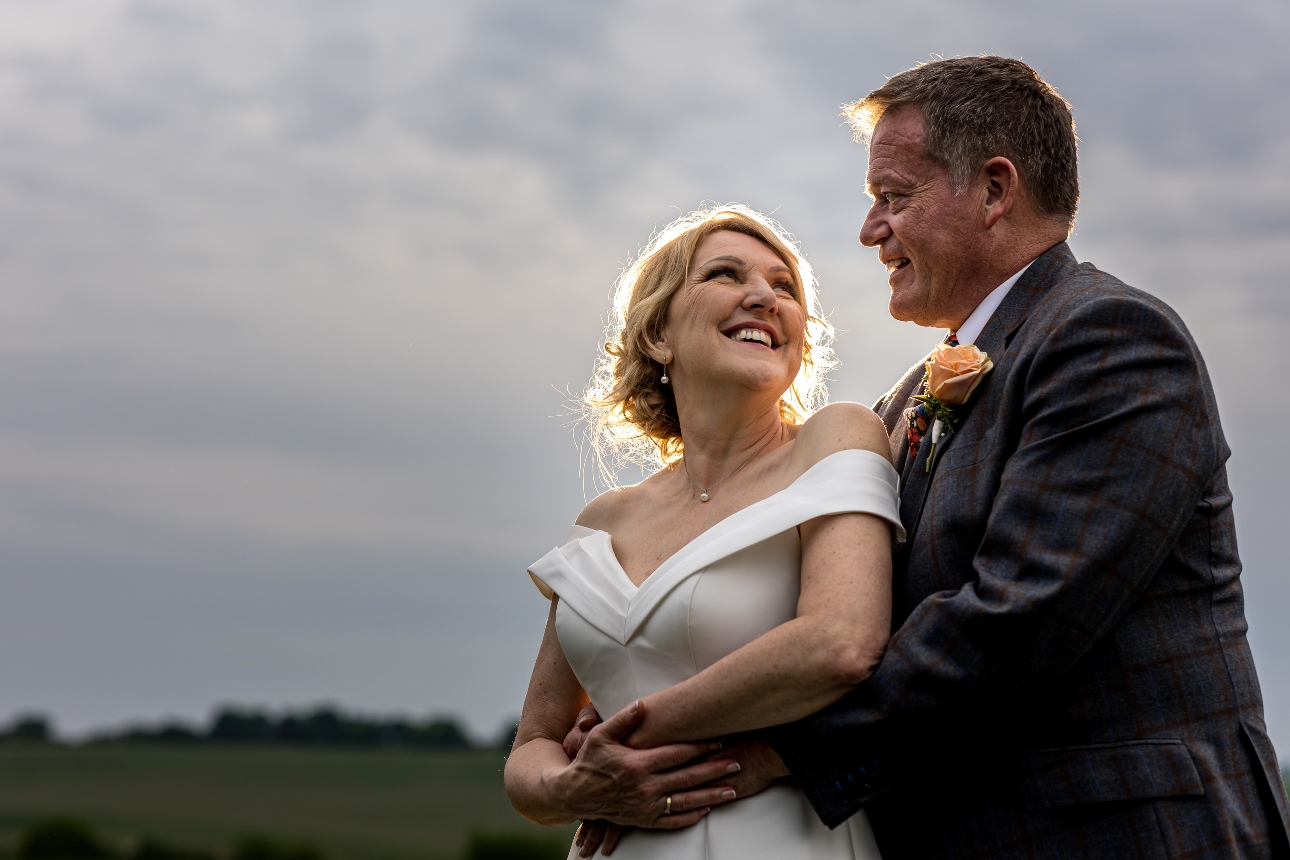 We would advise other couples to have the wedding they want and don't try to please others. Only focus on the important factors to you both and enjoy every moment because the day goes so quickly.
Stuart and Cheryl's contact book