Richard and Catherine met at university, where they were training to become actors. The pair reconnected a few years after graduation as they had lost contact, but this time saw each other in a new light.
It took a while to build up the courage to admit their feelings as they didn't want to lose their friendship if the feelings weren't reciprocated. It was no surprise to their mutual friends when they finally took that next step; it was the start of something special.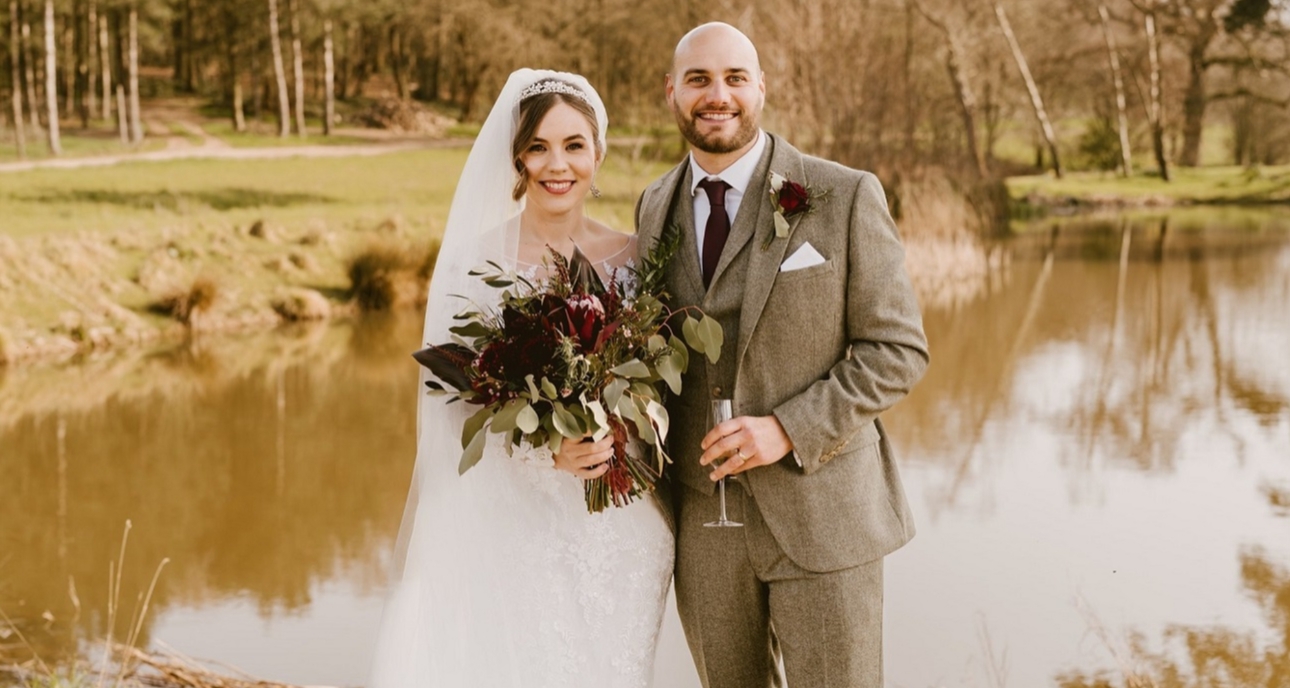 The couple had escaped to Cornwall for a week just before Christmas to attend a wedding, so love and marriage were indeed in their thoughts! They walked down to a secluded beach that Catherine had known since she was a little girl and admired the sea views when Richard got down on one knee.

He says, "We both knew we wanted to get married at some stage, but it still came as a surprise for Catherine! The pebbles were slightly uncomfortable, but it was worth it!"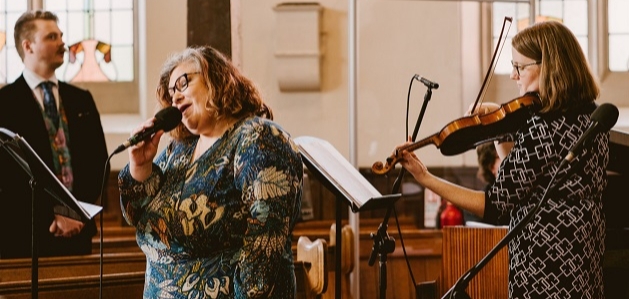 As the lovebirds were coming out of a Covid-19 lockdown when they started wedding planning, they knew they wanted a big party with as many loved ones as possible.

They exchanged vows in the beautiful Hertford Baptist Church before heading to their reception at Brook Farm Cuffley.

The venue created the perfect backdrop to their reception, thanks to the beautiful lake and gorgeous surroundings.

Richard comments, "We loved being outdoors and so close to nature, which inspired us when planning the big day.

We loved the freedom of tailoring every decision to reflect who we are as a couple."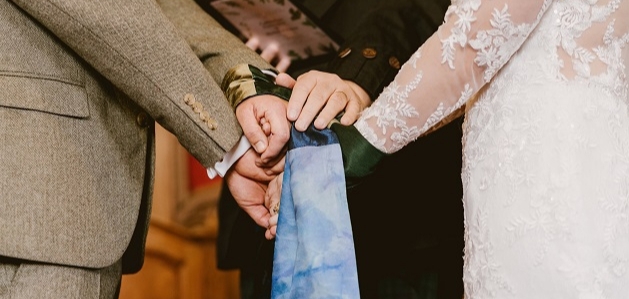 During the lockdown, the nearlyweds got into growing their own herbs, which became the inspiration for the wedding décor. They wanted the favours to be something people could use, so they gave out little pots of mixed herbs and strawberry jam.

When planning the table plan, the pair found it easy to group guests on big round tables. To help everyone find their seats, they created a gardening scene for the table plan on a hessian board plonked onto a wheelbarrow and covered in flowers. Each table was named after a location special to the pair and had a corresponding piece to match. For example, the 'Strawberry Field' table featured a punnet of strawberries, while the Cornwall table included some clotted cream fudge – all these things made great talking points for the guests.

The couple used mixed herb pots, which the bride's mother helped arrange to carry on the herb theme. Some guests were lucky enough to take them home.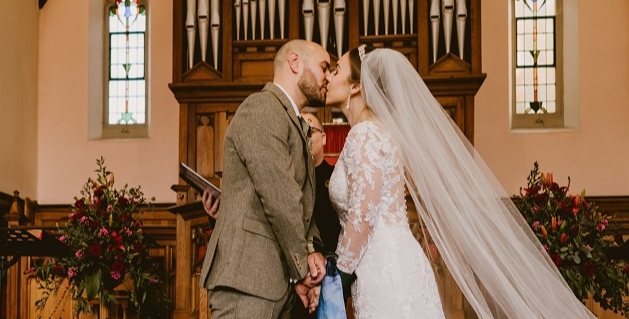 The stunning flowers were sourced and arranged by the wonderful Alison McCollum, and the blooms were exactly how the couple imagined. The deep reds worked well against the sage green colours.

The flowers for the ceremony were arranged by members of the church congregation, who also worked extremely hard to get everything right. After the wedding, the bride's mum divided up the arrangements and gave a bunch of flowers to various members of the church community.

The guests knew how much of a sweet tooth the couple had, so they were excited to see the cake. Catherine says, "I love icing, so there was no chance of a naked-style cake. We had a real showstopper with lemon, vanilla and orange flavours. The baker supplied us with a gluten-free chocolate cake for those with dietary requirements."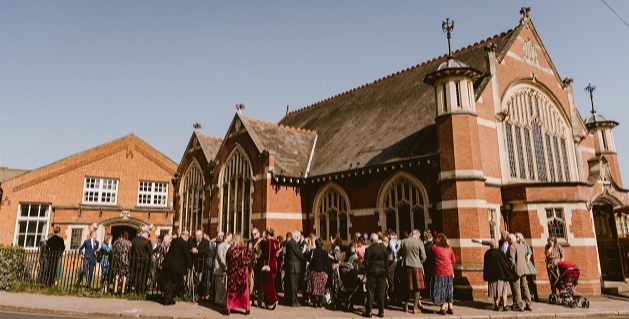 The couple displayed 300 pictures of loved ones around the marquee, which was a massive hit with guests. They included photos from their weddings, which was a great way to make them feel included.

It can be hard to cater for different tastes when it comes to keeping guests from going hungry. The bride comments, "We tried to have a good mixture of options for the food without forcing ideas or beliefs onto anyone. Kingfisher Caterers were great with this; the food was plentiful and delicious."

She adds, "In the evening, we provided a buffet with huge charcuterie boards so that everyone could pick what they wanted." There was also some locally sourced bread from a local bakery, Proto Artisan Bakery in Ware and Richard's parents bought a delicious cheese from The Mousetrap Cheese Shop in Ludlow.

Finding the perfect gown was challenging for Catherine, who had to shop around during a Covid lockdown and couldn't try anything on. She says, "I found my dress at Adore Brides, and the team were so helpful in letting me take it home to try on.

I tend to have a flare for the dramatic style, so I went with the longest veil I could find with a princess tiara." As the dress was quite long at the back, so the bride changed in the evening into something she could dance the night away in.

Her bridesmaid Alice found the perfect dress from Halston, who was famous for his 70s styles.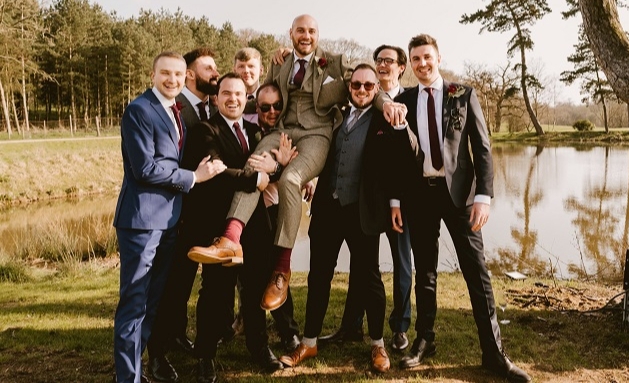 Richard wore a sage green tweed suit with a burgundy tie, brown brogues, a brown belt and burgundy socks. The groom comments, "We didn't request the groomsmen to wear a particular colour, so they could wear any suit that matched the burgundy tie we had bought for them."

Catherine had been a bridesmaid seven times before, so she knew what wearing many different styles and colours was like. She wanted the bridesmaids to feel comfortable and let them choose any outfit to match the colour scheme.

One bridesmaid wore a lovely vintage-style dress, while the other opted for a chic-oversized suit and a high-neck blouse – they both looked great.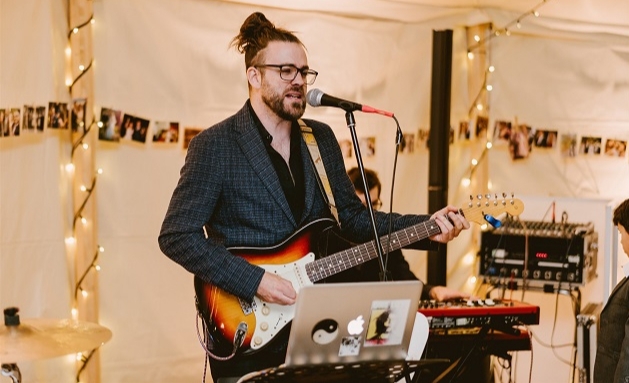 The lovebirds were thrilled to have booked the Tom Braggins Trio, a local band who regularly play in and around Hertford.

As their first dance track faded, the band seamlessly carried on the song and went on with their set.

Some of their guests stayed on the dancefloor the entire night, so they must have enjoyed the music!

The trio played lots of funky dancefloor fillers, and a few people stood in awe as they appreciated how technically gifted they were as musicians.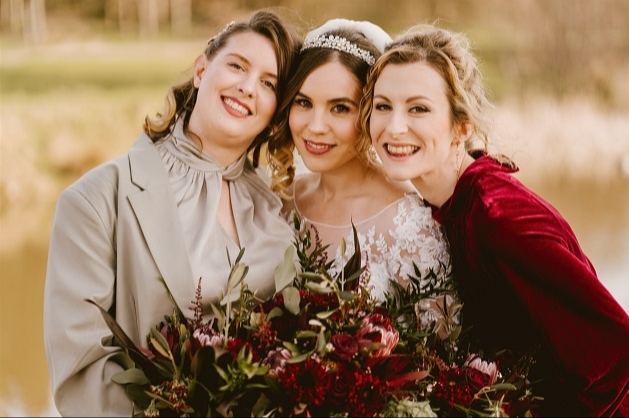 The couple experienced many emotions as the day went on.

Catherine says, "It's hard not to feel a little apprehensive on the day as there's a lot of pressure on the bride to look and be a certain way.

I felt relieved that the hard work was over and excited to see everyone."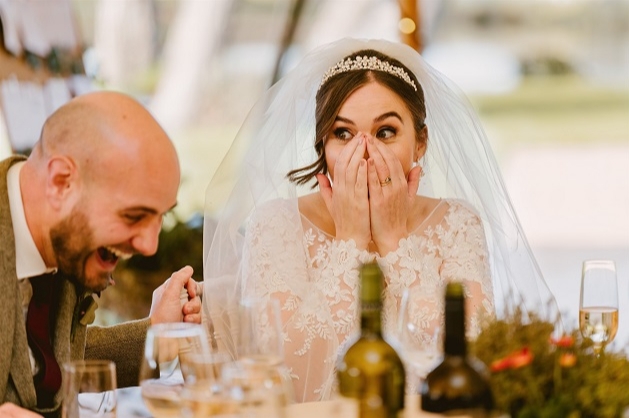 Richard felt super excited in the morning and couldn't wait to see his bride. He comments, "I was looking forward to seeing Catherine in her dress, and I couldn't wait to make that commitment to each other to spend the rest of our lives together.

I couldn't believe it when I woke up to clear blue skies and bright sunshine in March!"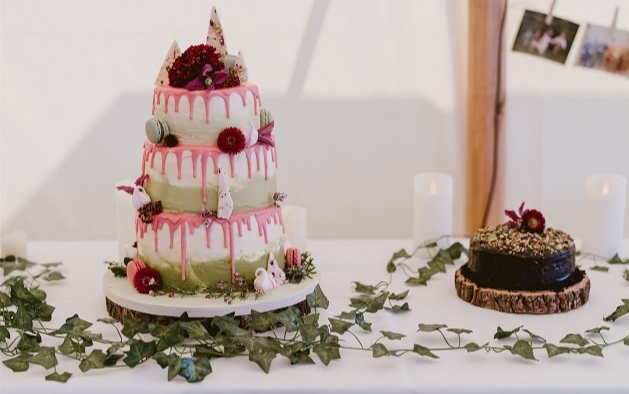 The lovebirds had a long ceremony full of readings, performances and even a video of themselves to show at the beginning. Different music styles were performed during the ceremony; the bride's best friend Jo played the oboe, a family friend Mike performed a folk song and another family friend sang Misty by Ella Fitzgerald and led the worship band.

Richard says, "We were taken aback when so many of our guests told us that the speeches were some of the best they had ever heard at a wedding.

A huge thanks to my father-in-law and my best man, Sam, who made us all gasp in shock at times and roar with laughter throughout."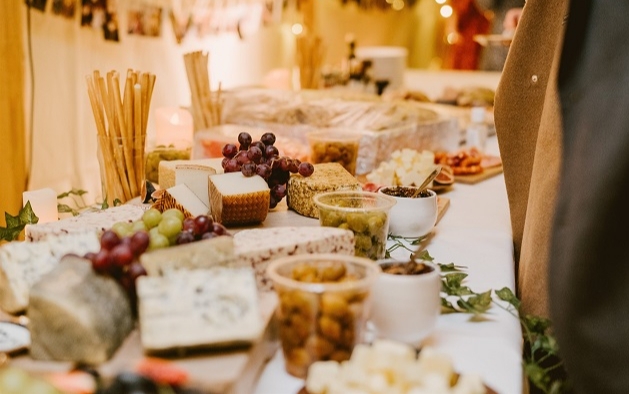 So many guests and suppliers made Richard and Catherine's wedding extra special. Catherine says, "Our parents were a great support, and we had an army of people at Hertford Baptist Church who gave up their time to assist us with the ceremony.

Our photographer Sharron did an incredible job with the pictures, and our friend Sean did a lovely video.

I must thank my bridesmaids for stepping up during the whole wedding week, from last-minute shopping trips to bossing around my brothers and painting picture frames."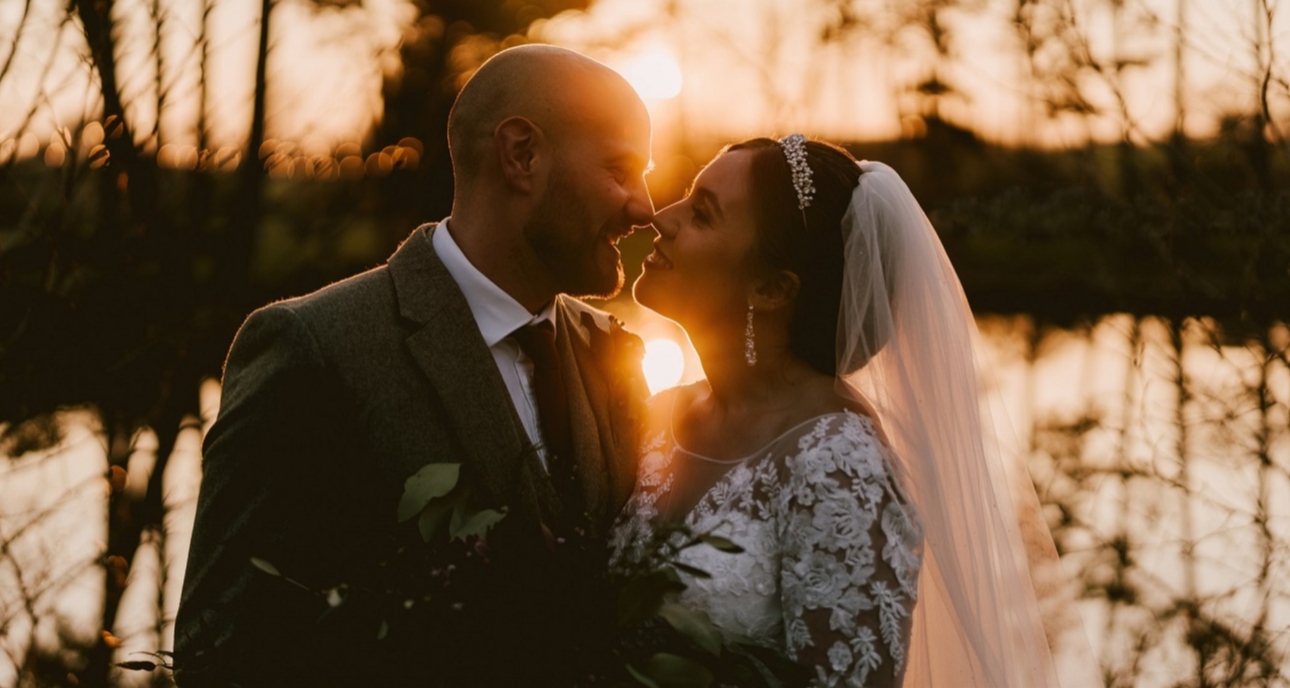 The couple wanted sun, sand, clear waters and plenty of cocktails for their honeymoon. What better way to escape the British weather than a honeymoon to Mexico for 10 days?

Richard says, "We didn't want the hassle of organising the trip ourselves, so we employed the help of a family friend who works for Travel Counsellors – she was amazing and sorted everything out for us!"

He continues, "It was an incredible getaway where we swam, snorkelled and saw the ancient Mayan ruins."
Richard and Catherine's contact book