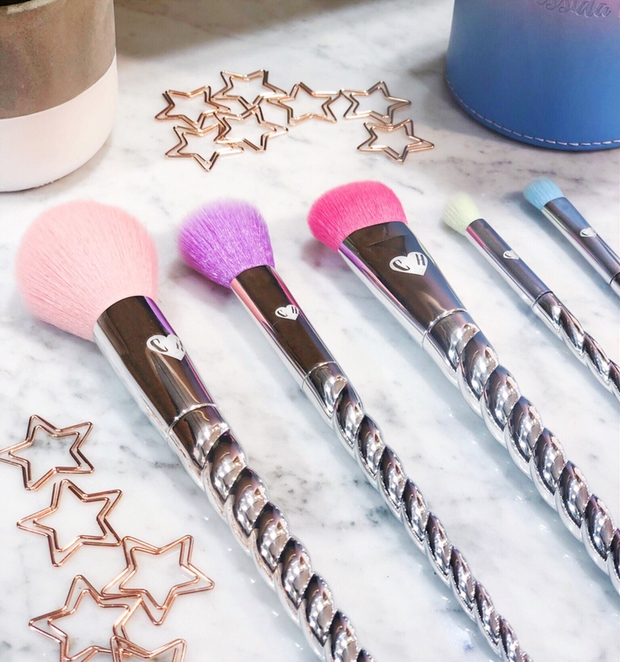 These new on-trend and super-soft Cressida Harte Rainbow Unicorn make-up brushes will brighten up make-up bags!

What's more, not only will they look stunning the make-up brushes are vegan friendly, using plush microfibre hairs rather than animal hair, kind and soft on the skin, allergy free and not tested on animals.

The colourful rainbow brushes include:
Large powder brush 21cm
Middle cheeks flat powder brush 19cm
Highlight brush 17.5cm
2 x Eyeshadow/Brow brushes 17.5cm
With molded magical unicorn shaped handles, anti-scratch and luxuriously heavier than most make-up brush handles, so it actually feels like you've got something in your hand when blushing, bronzing, highlighting and strobing your make-up on. Even the ferrules are each hand-engraved with the CH Cressida Harte logo.
Fans of Cressida Harte always compliment the brand for the soft brush hairs, that glide on the skin and which never malt out when washing and cleaning.
The cylinder tub holders that the brushes come inside of are spacious enough to keep your other brushes in too, or other cosmetics like mascara, lip gloss and liners, great for travelling on your hen do or away on honeymoon - the compact and durable holders fit easily in any holdall and are anti-crush - protecting all your cosmetics in transit.
This 5pc set comes with a pink and blue ombre embossed leatherette tub holder, currently on offer at £35 each from
www.cressidaharte.com