5 fabulous bridal boutiques from Herts & Beds to help you say 'Yes to the dress'!
Meet the talented teams behind these 5 popular bridal boutiques from Hertfordshire and Bedfordshire.

After the engagement, what's the first thing on a bride-to-be's mind: the wedding venue, the wedding flowers, the wedding cake? No! It's the wedding dress shopping! Possibly the one thing many a bride has thought about pre-proposal, possibly even before they've even met someone, is how they envision their big-day wedding look.

From layers of tulle to sleek A-line dresses, red gowns to multi-coloured, jumpsuits to a two-piece; there really is a wedding look for everyone.
When embarking on your wedding dress (or alternate) search, Your Herts & Beds Wedding is here with a helping hand.

In the latest issue, we've chatted to 5 local bridal boutiques to get to know the team behind the brand and find out more about what's on offer when entering one of their bridal boutiques... enjoy!

See the full Bridal Boutiques feature and more local features in Issue 89 of Your Herts & Beds Wedding magazine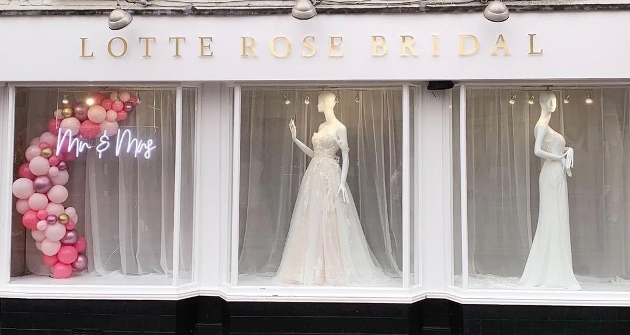 LOTTE ROSE BRIDAL
Lotte Rose Bridal is a modern studio in the heart of Bedfordshire, which offers a new and fun addition to the bridal scene. The small business has created the perfect space for everyone and when brides arrive at the store, they'll get to hang out in the pink Instagramable spaces that include dried flowers and comfortable seating. They then get to chat with the team about the special day and what they're after. Why not make the experience even more special with the company's Cakes and Cocktails Package and enjoy some delicious treats while searching for the one?

Every gown is handpicked by the owner Charlotte Izzard-Cook from certain designers and is perfect for modern and fashionable brides. There's also plenty of accessories to pick from that are all handmade by small UK designers. When brides-to-be find their dream dress, the company will plant a tree in each customer's name to thank them for their purchase while giving back to the environment.

The company stocks a range of designers include Vera Wang Bride, Pronovias, Morilee, Evie Young Bridal and Riki Dalal Bridal. The newest addition is By Watters, a brand that provides the perfect gowns for micro weddings and engagement celebrations.

The boutique also offers a small collection of ready-to-wear dresses, perfect for brides who don't havetime to order a gown. Sizes in the studio are between eight to 22, with orders available in sizes two to 30.

Check out: www.lotterosebridal.co.uk

TRENDS FOR 2022
The company owner Charlotte Izzard-Cook says, "Visible corsetry is going to be very popular in 2022 with a regal and Bridgerton-inspired look. Think dreamy yet refined gowns with layered ruffles and voluminous skirts. Another trend will be ballet details including, tutu-inspired skirts, sheer details and lots of bows and ribbons. High necklines will also be a hit with modern Grace Kelly vibes paired with a fashionable twist that looks regal yet romantic.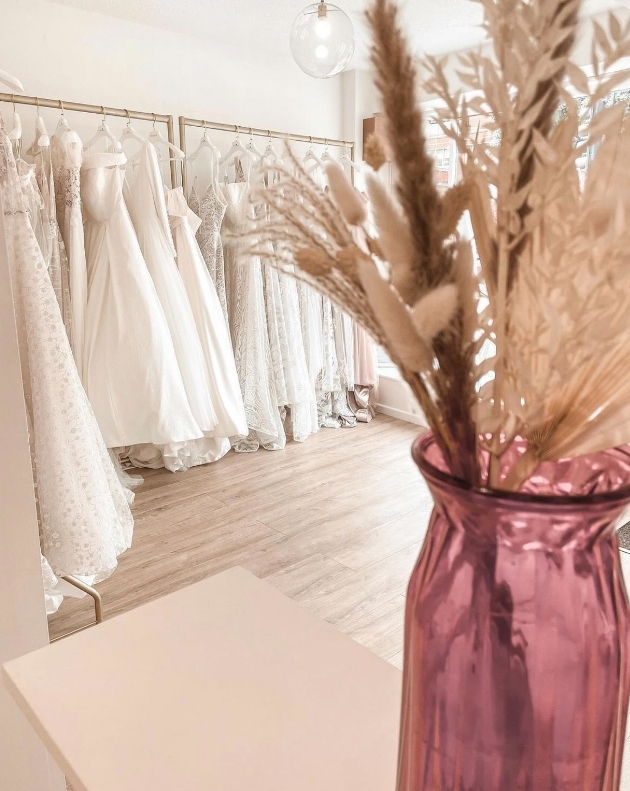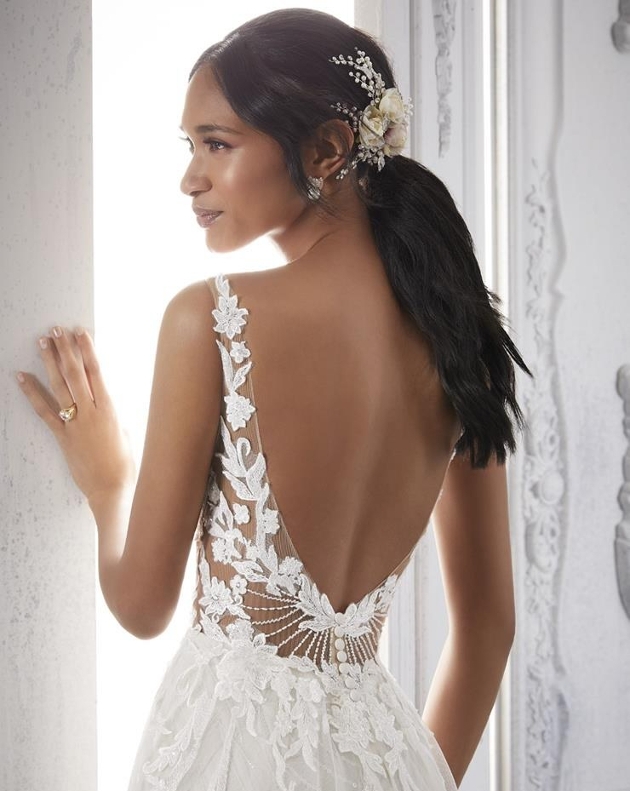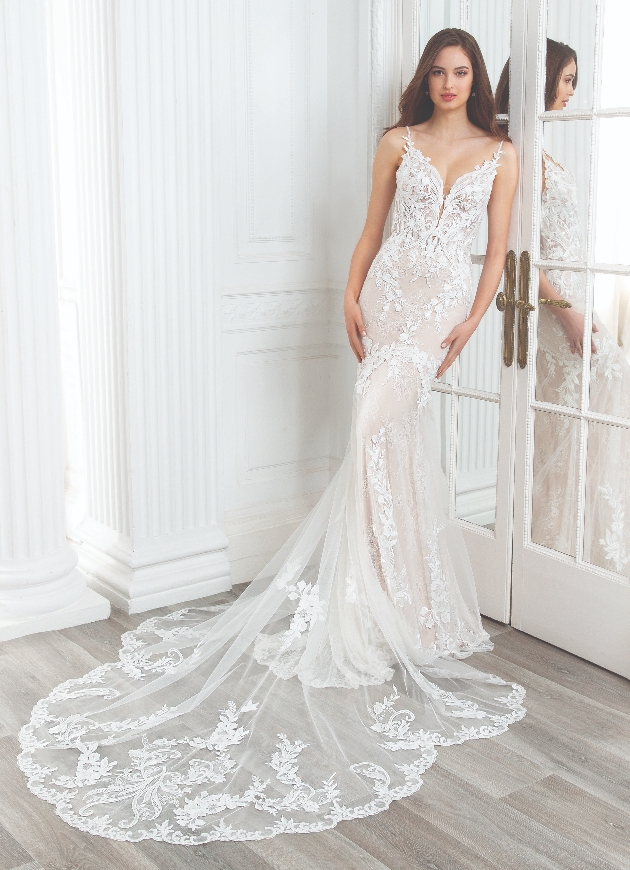 Dress credit: ElyseeHERITAGE BRIDES
Located in a magical woodland barn, Heritage Brides specialises in whimsical and boho-style gowns that are generally light, flowy and quirky.

After opening in 2014, customers are blown away by the beautiful space that adds to their magical experience. The company is of the elite retailers for Willowby and Wtoo by Watters, each of the romantic gown brands epitomising what Heritage Brides stands for. With a whole rainbow palette of colours and tones available, brides don't just have to pick ivory dresses as blush shades are very popular, and this will continue into next year.

For the sassy and daring brides-to-be, the Enzoani collections will be perfect. Many of these breathtaking gowns feature a statement train and will look so stunning in photographs.

All designers stocked at the Hatfield House-based boutique can be ordered in sizes to cater for all, and most of the gowns retail for less than £2,000. There's also a specific range of Watters gowns, which have been introduced for curvy brides too. Only one appointment takes place at a time to allow the team to dedicate their attention to one client without any distractions. The staff will offer exceptional customer service while focusing on everything brides want.

Check out: www.heritagebrides.co.uk

TRENDS FOR 2022
The company's owner Sam Newby-Ricci says, "Say goodbye to the plunging neckline and welcome in the squared-off bodice in 2022. Splits in skirts are staying on trend next year as well as puffy and detachable sleeves. Classic Mikado gowns will never grow boring, and with pockets and hundreds of buttons it will remain a staple style."
ENCHANTED BRIDAL BOUTIQUE
The team at Enchanted Bridal Boutique have a devoted passion and respect for all brides-to-be and will turn their fairytale dreams into a reality.

Each customer will have a one-to-one consultation in the beautifully converted barn to help them find the one, which will make every bride feel special.

The boutique stocks UK designers, including The House of Nicholas Bridalwear, Phoenix Gowns, Phoenix By Envy and Danielle Couture. There's also a selection of designers in the Ready to Wear Collection.

When it comes to style, price and collections, the staff have something to suit every bride-to-be and all budgets. Sizes range from eight to 30 and there's a wonderful in-house team of seamstresses if any alterations are needed. The company also stocks a beautiful range of accessories to complement any dress.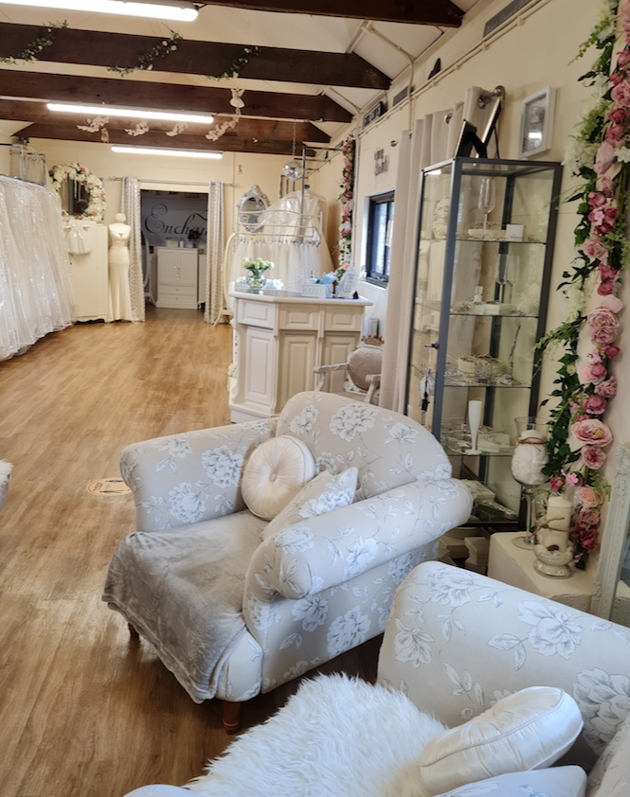 The team is committed to service, quality and reliability as they know that walking down the aisle will be the memory of a lifetime, and they would love to be part of that special moment.

Check out: www.enchantedbridalboutique.co.uk

TRENDS FOR 2022
The company owner Melanie Rich says, "The year 2022 will be amazing for weddings; there will be so much to celebrate for everyone. Bridal trends are like seasons, and this coming year is all about romance with a touch of classic elegance. Lace and tulle with soft, timeless satins, pretty straps, oversized sleeves and romantic ruffles are in. The backs of dresses will also be popular with cut-out details, beautiful corsets, and illusion panels with dressed buttons."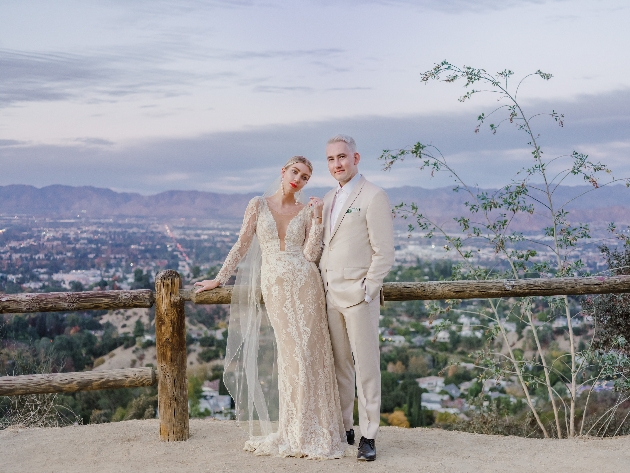 DAVID'S BRIDAL
For more than 60 years, David's Bridal has helped women shine for the special moments in their lives, and the team wants to make every wedding extra special by providing that dream dress.

As one of the world's largest bridal retailers, the company offers a wide range of styles and sizes at reasonable prices. Inside, customers will find more than just wedding dresses with lingerie, shoes, hair accessories, jewellery and bridesmaids and flowergirl dresses available too – it really is the one-stop wedding shop.

With a range of designers available, the business offers gowns to suit different styles and budgets. Make a statement with luxe fabrics, plunging necklines and bold details with designer Galina Signature. Or for the free-spirited bride who's all about dreamy boho and vintage vibes, look no further than Melissa Sweet.
A collection of timelessly elegant wedding dresses created by Oleg Cassini are also available; the designer gowns incorporate classic silhouettes with a modern twist, intricate appliques and sumptuous fabrics.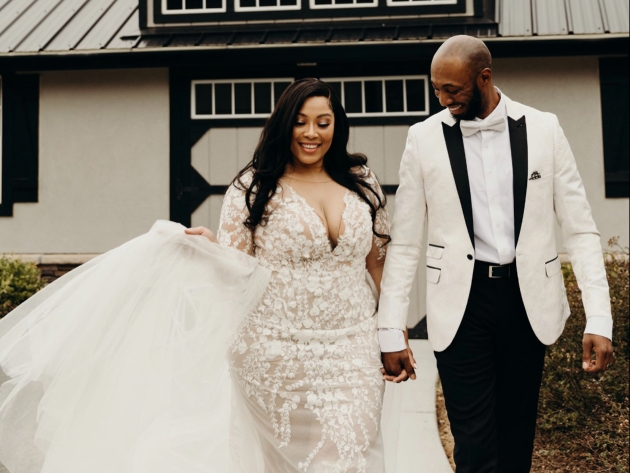 To ensure that every gown fits perfectly, the store offers sizes USO to US30 as well as a tall and petite range.

Bridal gowns range between £395 to £1,995 and £90 to £170 for bridesmaid dresses.

Check out: www.davidsbridal.co.uk

TRENDS FOR 2022
The company's UK marketing assistant Millie Cowell says, "After years of the traditional white wedding dress, there are some new contenders in the running for the perfect wedding look; from alternative silhouettes to bold and contemporary colourways for the 2022 bride. For those who still favour classic wedding designs and shapes, opt for a blush or champagne-toned gown for a subtle yet modern twist."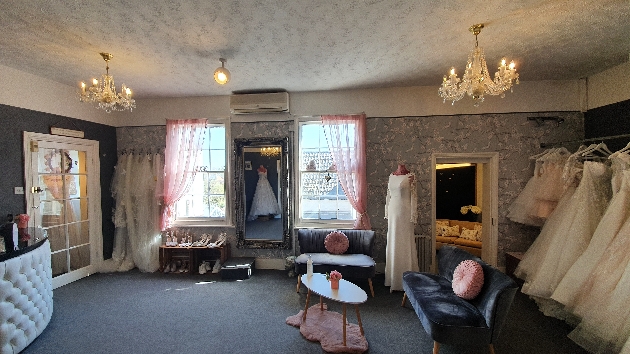 Shop: The Ivory WardrobeTHE IVORY WARDROBE
Located in Woburn Sands, The Ivory Wardrobe has been providing brides with stunning gowns since 2010. The team offer an appointment service to spend time getting to know each bride over the two-hour session.

The boutique's owner, Laura Buckingham-Brown, has more than 18 years' experience and is full of knowledge. She says, "The Ivory Wardrobe is my passion; I love getting to know my brides and sharing their wedding journey with them."

With designer gowns by Maggie Sottero, Rebecca Ingram and Kelsey Rose, the company can cater for all budgets up to £2,500 with sample sizes in 10 to 26.

Every bride is different, and the boutique focuses on this. The team works with brides-to-be from day one and offers free storage plus an in-house alteration service.

Check out: www.theivorywardrobe.co.uk

TRENDS FOR 2022
The company's owner Laura Buckingham-Brown says, "There's a real buzz for 2022 and 2023 weddings as things return to normal. Full skirts, lots of detail and some beautiful straps and sleeve details are my favourite trends. With more options to personalise gowns, brides are now able to get that bespoke look they've dreamed of."
Here's a few other Herts & Beds Bridal Boutiques that you might want to check out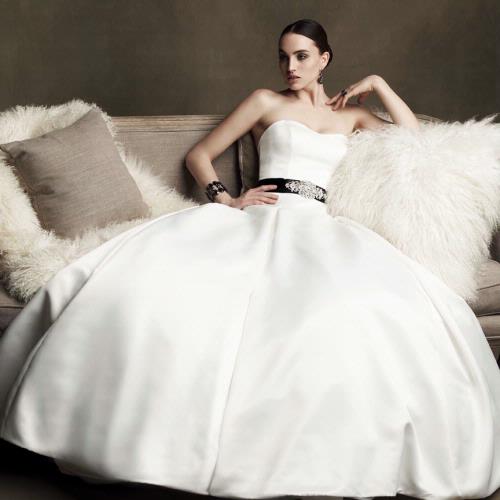 Credit: Brides of BerkhamstedBrides of Berkhamsted
Telephone: 01442 874006
Email: lucy@bridesofberkhamsted.co.uk
Website: https://www.bridesofberkhamsted.com

Mother and daughter team Julie and Lucy run Brides of Berkhamsted, a beautiful bridal boutique, offering some of the worlds most sought after designers in a luxurious yet relaxed surrounding.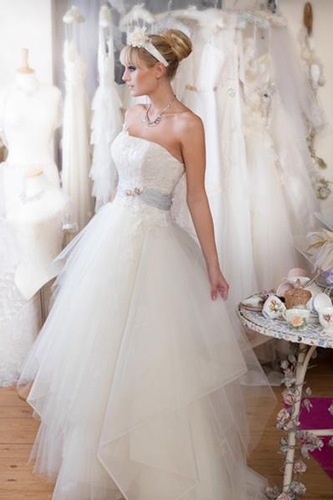 Credit: Heritage BridesHeritage Brides
Telephone: 01707 707842
Email: sam.newbyricci@gmail.com
Website: http://www.heritagebrides.co.uk

Our beautiful boutique in the historical setting of Hatfield House in Hertfordshire is now open!

Stocking some of the most sought after wedding dress designers in the UK, we know that brides who come to see us will not only be wowed by the setting but also the dresses.

So why not come and see our magical woodland barn for yourself? We promise you won't be disappointed.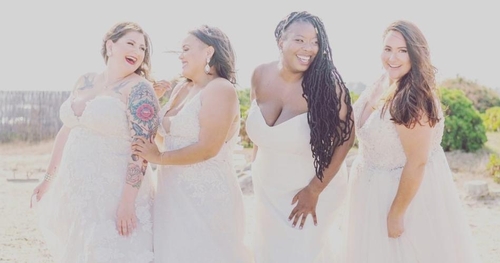 Credit: Just Curves BridalJust Curves Bridal
Telephone: 01767 834 077
Email: justcurvesbridal@gmail.com
Website: https://www.justcurvesbridal.co.uk/

Conveniently located in the small market town of Sandy Bedfordshire, Just Curves Bridal is a family-run Bespoke Bridal boutique aimed only at the fuller figure bride. With excellent samples starting at a size 18 we have plenty of excellent choices of exquisite gowns all in great sizes.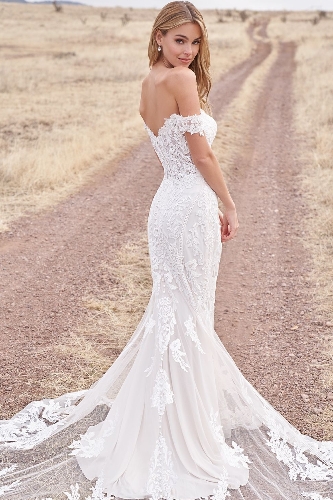 Credit: Kate Joseph BridalKate Joseph Bridal
Telephone: 01234 855537
Email: info@katejosephbridal.co.uk
Website: https://www.katejosephbridal.co.uk

Kate Joseph Bridal is a small independent boutique where you can choose your dress in a relaxed and comfortable environment.

Based in Kempston, Bedford we love helping brides from across Bedfordshire, Hertfordshire, Milton Keynes, Cambridgeshire and Northants to find their perfect wedding dress.

Our professional consultants will guide you through your wedding dress shopping experience during your exclusive two-hour appointment.

Our stunning gowns and accessories are selected personally for you based on their quality, design and structure to suit all shapes, sizes and budgets.
We have a fabulous selection of dresses in our off-the-peg range from as little as £299 - great for brides on a tight timescale.

Evening and Sunday appointments available on request.

Come and find your dream dress – just book online or give us a call.
x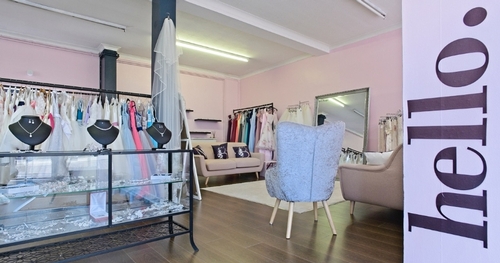 Credit: New Beginnings Bridal BoutiqueNew Beginnings Bridal Boutique
Email: info@newbeginningsmk.co.uk
Website: https://www.newbeginningsmk.co.uk/

New Beginnings Bridal is a family run Bridal Boutique based in the beautiful, historic town of Newport Pagnell.

Our aim is to provide affordable luxury and an unbeatable experience to every bride, no matter your budget, personal style, orientation etc!

You have our undivided attention for the entirety of your appointment, there are plenty of hot and cold refreshments for you and your entire bridal party, we have books and toys to entertain the little ones, and one of the biggest selections of dresses and accessories to choose from for miles around!