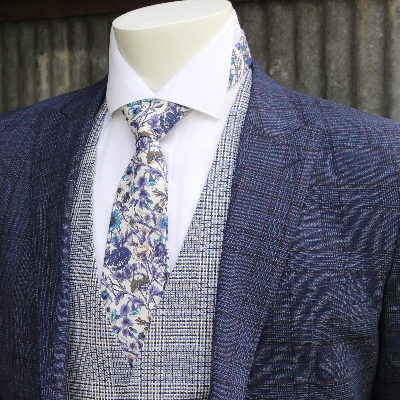 Trend setters
Q. I'm looking for the perfect suit for my wedding day, what is currently on-trend?
A. Sharon Cousans says: Grooms are becoming a little more adventurous and demanding a stand-out suit for their special day. Here at national awardwinning Chimney Formal Menswear, we find our grooms are also looking for a distinctive waistcoat to keep them as the focus, even when they have removed their jacket.

Checks are a popular trend for the discerning grooms for both the suit and the waistcoat. It can be worn successfully together, so long as one of the checks is more subtle than the other. Blue is still the most requested hue as it can work with almost any colour scheme, looking perfect with burgundy, tones of pink, blue and botanical shades.

Floral ties remain as popular as ever and, by choosing a design which contains one of the colours of the suit in the pattern, it will provide the perfect accessory to a check suit.

Tweed is still a style and texture on a groom's radar, but what seems more important is finding a style which allow him to be as much the focus of attention as the bride.
Sharon Cousans, Chimney Formal Menswear
www.chimneymenswear.co.uk