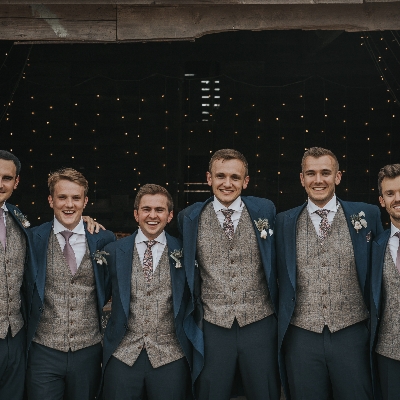 Dressed to impress
Q. I want to look similar to my groomsmen at our wedding but still stand out. How can I achieve this?
A. Sharon Cousans says: A smart and coordinated look is something ever couple wants for their wedding party, but the groom must stand out against his groomsmen just as the bride will stand out against her bridesmaids.

One way to achieve this, especially if you all want to wear the same suits, is for you to choose a very distinctive waistcoat. To help keep the groomsmen a little more in the background, choose waistcoats that either match their suits or ones that are plainer or darker.

A similar effect can be achieved with neckwear by wearing a cravat whilst they have a tie in the same colour - or wear a patterned tie whilst theirs are plain.

Try giving them a pocket square that matches your patterned tie to look coordinated but still maintain your style.

If you're feeling confident, choose a check or patterned suit for yourself and then a plain but similar colour for your party. This works even if you all wear the same tie and waistcoat.
Sharon Cousans, Chimney Formal Menswear
www.chimneymenswear.co.uk