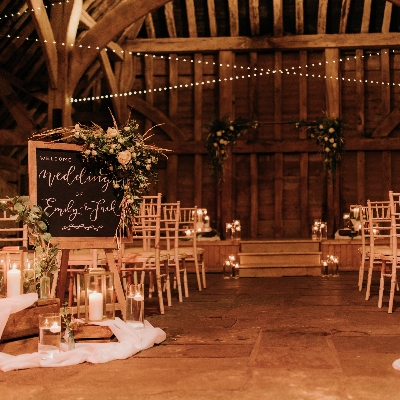 Styled to perfection
Q. I'm having a rustic-themed wedding and I'm looking to transform my venue. How can I achieve this?
A. Lauren Jones and Sam Woodside says: When working with brides to achieve their dream wedding and desired aesthetic, we love to see both their venue and moodboards to ensure we're all on the same page.

At Victoria + Claire, our interpretation of a rustic style when translated into wedding terms is a rural countryside blended with a timeless, romantic and intimate feeling. We use our props to create a mood, not just a setting, that also complements the venue.

We use crate boxes to add depth and various levels to flowers and objects and then add ivory drapes to soften and give an elegant and sophisticated vibe. Our cylinder vases and gold lanterns with candles provide an intimate and romantic atmosphere to any room.

Our wooden arbour is a big feature display; the natural wood works great with barn beams and allows blooms to be wildly placed.

Unless a bride requests an entirely bespoke approach to signage, our standard font and signs are both soft and delicate – the devil really is in the detail!
Lauren Jones and Sam Woodside, Victoria Plus Claire
www.victoria-plus-claire.co.uk