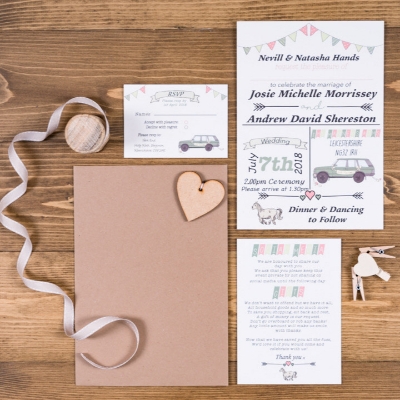 Setting the tone
Q. I'm so excited about our wedding and want to ensure everyone can make it. When's best to send out invitations and what tips can you share when it comes to creating a bespoke design?
A. Kelly Simmons says: Sending wedding invitations at the right time can be a tricky business! At Pink Peony Weddings, we recommend approximately four months before your wedding date. This allows guests enough time to make accommodation, childcare and travel arrangements but doesn't give them too much time that they think to themselves 'oh we have loads of time to return RSVP, I'll do it another day' and then completely forget! However, if you're planning a wedding at a peak holiday season time and on a Saturday, you may want to allow a little more time, somewhere between four to six months. This is where save the dates sent approximately nine to twelve months before can save some worry as gives people lots of time to avoid booking any clashing events!

When creating a bespoke design, we always advise our couples to think carefully about their personalities and style of wedding, such as glamorous and sophisticated or fun and quirky. Invitations are the first thing a guest receives and gives a suggestion of what the wedding will be like, so we believe it's important it reflects the couple. Knowing what you don't like is as important as knowing what you do. Do some research of the style you're after to help guide the designer, but ultimately remember they're experienced, and you should trust them to create a design you'll love! We particularly love creating individual designs for couples and get very excited when asked to include things like their horse or the groom's car! So, think if there are any particular defining and recognisable characteristics to you as a couple for a truly special design.
Kelly Simmons, Pink Peony Weddings
www.pinkpeonyweddings.com