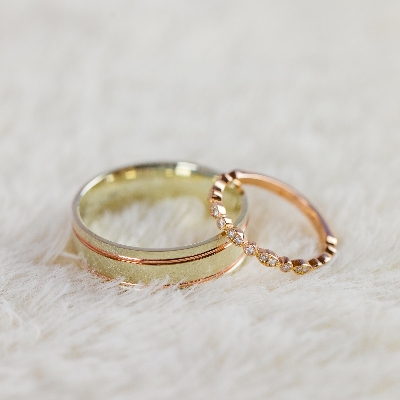 Bridal bling
Q. What types of wedding bands are currently on trend? 
A. Jodie Gearing says: Wedding rings can seem like a daunting item of jewellery to choose or design, which is why a simple band can seem like a sensible option. I'm excited to see more couples who want something a little bit different for their rings, something that's personal to them and their style. Here is a quick rundown of some of the trends I'm working with for my clients...

- Tiara wedding rings are sparkly crown-shaped rings that can be the perfect accompaniment to a classic solitaire engagement ring. This style can work with fitted wedding rings as well as straight bands and the silhouette can make a lovely engraving on a groom's band to tie the two rings together.

- Vintage-style pavé set diamonds and mill grained edges are a style classic that refuses to go away and looks spectacular next to an engagement ring with plain shoulders to add some definition between the two. I have made several diamond-cut rings recently, which are a gorgeous way to achieve some sparkle and texture without adding gemstones. 

- Diamonds have always been a classic addition to wedding jewellery, but more of my customers opt for colour using stones like sapphires, rubies and tourmalines. 
Jodie Gearing, Jodie Gearing Jewellery Design
www.jodiegearing.com