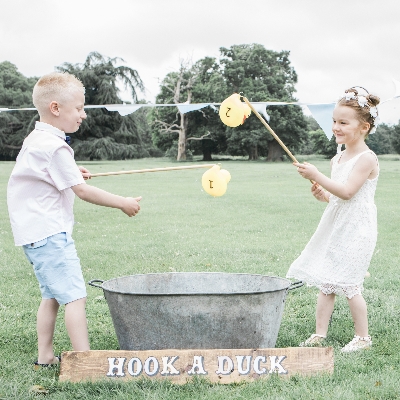 That's entertainment
Q. We have a lot of children coming to our summer wedding and I'm worried they'll get bored throughout the day. What can you suggest to keep them entertained?
A. Annabel Hopkinson says: Happy kids equal happy parents and if the children are thought about, even just with little activities for them like colouring books at the tables, you're onto a winner. Keeping children entertained at a wedding can be a daunting prospect – especially if you haven't got kids yourself but think of your inner child, and most kiddie activities keep the big kids entertained too like a bouncy castle and garden games. Colouring books and pencils are a super cheap and easy way of helping the adults out during the wedding breakfast and can keep the kiddies entertained for ages. Little pots of bubbles can help too and really add to the atmosphere, or even a bubble station with an unlimited supply and mixture to keep them going. Lego is also an epic way of keeping those little minds busy, putting a small bowl on each table enabling them to build as you enjoy your speeches. And think glow sticks for the evening party – they're great for all ages and look fab in photos.

Want to make it that much better and create the wow factor? It is your special day after all. Why not add in some funfair stalls and attractions, such as a coconut shy, buzz wire, tin can alley and hook a duck? They're just some of the many games you can have on your big day. Hearing all your guests laughing as they beat each other over a game will really add to the atmosphere, and it keeps lots of guests entertained at one time. The perfect ice breaker and a massive décor element to your day – you could even tie in your wedding favours as the prizes.
Annabel Hopkinson, Dolly Dimples Weddings and Events
www.dollydimplesweddings.co.uk