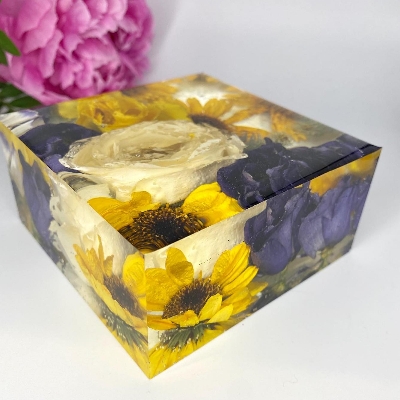 Blooming marvellous
Q. I'm so excited about our winter wedding, but I hate the thought of parting with my flowers. Is there anything you can suggest to help?
A. Samanth Oakes says: Resin preservation is the perfect way to save your beautiful-wedding flowers and turn them into keepsakes to treasure for years to come. Resin has a crystal clear and glass-like finish, which offers endless possibilities when it comes to preserving florals. The process involves drying the blooms in a special way that retains their original shape and vibrancy; it's then preserved inside resin and deep-casting moulds.

Customers can choose from various shapes and sizes when it comes to moulds; this includes hearts, blocks, arches, tea light holders, letters, numbers and more.

I work very closely with my clients from the moment they book my service to ensure they receive the best possible outcome. The result is your very own piece of art, which allows you to remember the special day for years to come!
Samanth Oakes, SO Resin Ltd
www.soresin.co.uk