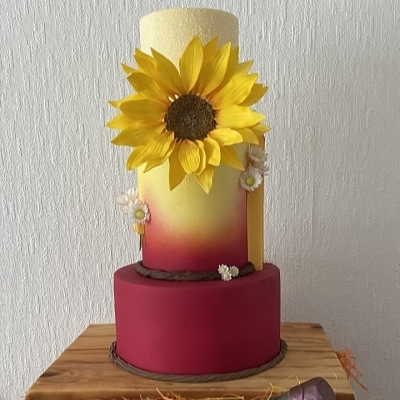 Scrumdiddlyumptious
Q. We're currently planning our big day and we've decided against a traditional cake. Do you have any alternative suggestions?
A. Lynda Trembling says: Traditional wedding cakes typically mean white or ivory tiered bakes adorned with pastel-coloured blooms, usually roses or peonies. If you mention an alternative cake design to me, my mind goes into overdrive as there's so much you can do.

Think about using bold colours such as black, blues, reds, yellows and purples. You can play around with textures and have a concrete, bark or wafer paper design. Why not consider having a square or rectangular-shaped tiers to create a showstopping design? You could even have structured or carved cake in the shape of an animal, suitcase, bag, castle and more. Add statement blooms such as flowers, poppies, anthuriums, protea and large roses with plenty of foliage for those flower lovers. Your cake should reflect your personality and interests – the list is endless!
Lynda Trembling, Sculpt & Bloom
sculptandbloom.co.uk