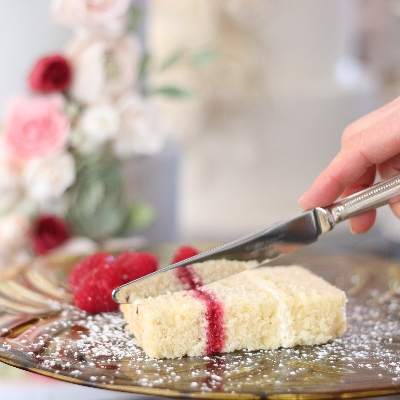 A slice of the action
Q. I'm looking for a cake for the big day, but I'm struggling with what flavours will suit our glamorousthemed day. Is there anything you would suggest?
A. Claire Festa says: There are so many flavours that you could choose for your wedding cake, provided of course you have a stable cake as the base. Some couples like to have their favourite flavours while some prefer to take the wedding breakfast dessert and their wedding guests' tastes into consideration. However, if you just want to amaze your guests with something unusual and delicious, why not think about a theme – say cocktails and have a champagne and raspberry cake using a vanilla bake with a champagne syrup flavoured with framboise and with a fresh raspberry compote. Or, why not opt for an expresso martini cake with a rich chocolate and coffee cake with Kahlua drizzle and a chocolate mousse like buttercream? Alternatively, simply jazz up a zingy lemon cake with a limoncello curd and Swiss meringue buttercream. You could choose your favourite desserts – key lime pie, chocolate cherry trifle, strawberry pavlova or banoffee pie!
Claire Festa, At Your Wish Cakes
www.atyourwishcakes.co.uk