Ask the experts
Here is a selection of Q&As from Your Herts and Beds Wedding magazine. If you would like your question answered by our experts, please email it to editor@yourhertsbeds.wedding.
To view more Q&A's on a different topic, please select one from the list below.
Hot topic: Seasonal style
Create a winter wonderland with the help of our experts
---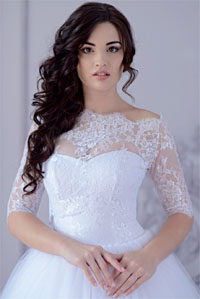 Stylishly snug
Q. We're planning a November wedding so it's going to be cold. Can you help me decide what I should wear that'll keep me warm without sacrificing style?
A. Sam Newby-Ricci says: Whilst temperatures plummet, brides need to remember one thing – adrenaline. This naturally occurring phenomenon means that in the majority of cases, the near freezing weather will have no bearing on your style because you won't feel it!

That said there are some clever cover ups which work well to give you a hint of warmth. Lace toppers on strapless dresses give you the option of having two looks and those with longer sleeves are even better in terms of warming you up. You can never go wrong with a fur wrap and adding one in a natural colour can provide a real vintage vibe for your gown. Then, of course, there are the brides who favour a leather jacket. This looks totally awesome with a traditional gown and gives a more urban edge to your style. Finally, don't forget to stash a simple pashmina in the wedding car for wearing discreetly as well as an ivory umbrella.
---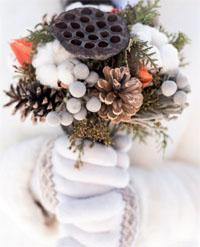 Fairytale blooms
Q. I'd like my bouquet to complement our winter nuptials. What flowers should I opt for and are there any other elements I can add into the mix?
A. Kelly Jeffies says: Winter bouquets are all about texture and I like to design them based on the bride's gown and theme of the wedding to make sure it all ties together. You can choose between winter wonderland white and silver or warm rustic reds and burgundy. Foliage is key as it adds a different element to your bouquet and can turn the simplest arrangement into a stunning design. Opt for small pine cones, winter berries and ilex (a holly leaf but without the prickles). Add woodland textures such as bark and twigs along with hessian rolls that look like roses for something unusual and pretty. You could even use copper keys or cogs if you're going for a theme punk winter wedding. An all-succulents bouquet using just plants is also lovely at Christmas.

If you do want flowers I'd suggest opting for winter blooms such as rich red dahlia, trailing amaranthus, hypericum and anemone or stick with the good old romantic red rose.
---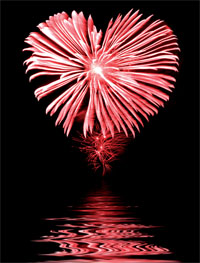 The grand finale
Q. I'd like to surprise my other half on our special day and was considering a firework display. Does it matter if it rains and what can I do that's a little different?
A. Chris Theobald says: Fireworks at weddings are an amazing way of helping to make your day stand out. Displays can be fired in snow or rain, in fact it's only tornado-strength winds that'll stop them. Winter displays can be great to watch because the clouds and ground reflect the effects being produced, giving an extra aspect to the show.

If you want to do something different I'd suggest having a sequence in your wedding colour or heart shaped shells. You could even have your initials or a message in fire writing that burns for one minute, creating a fantastic photo opportunity. To surprise your husband you could fire the display to his favourite song and to enhance the whole experience you can give the cue to start your display. After this, your guests will be all fired up and ready to party.
---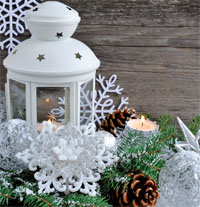 Set the scene
Q. We've chosen a venue that's a blank canvas so we can create our winter wonderland. Can you give me some inspiration for creating the perfect backdrop?
A. Katie Pickin says: I'd suggest using white voile drapes with fairylights and a starlight backdrop to add glimmers of light and a snowy warmth to your venue. Silver and ice blue or lilac adds the perfect colour scheme to complement crisp white and delicate decorations. Adding glitter to your table with silver sequin or sparkle organza table runners and sashes on white table linen and chair covers will create the illusion of a snow-covered landscape. For your elegant centrepieces fill tall glass vases with water beads and LED lights and top them with white flowers. I'd recommend timeless white roses with pastels, metallic and diamanté crystals and iridescent glitter on your table stationery. All of this will combine with the fairylights to glisten and glow in your perfect winter wonderland.
---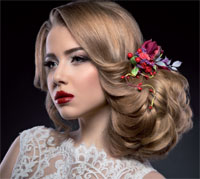 Style it
Q. My hair's naturally dark but I'd love to try out a new colour for my big day. What do you suggest would be a good winter look and have you got any ideas for styles?
A. Kate Atalay says: Having always been a great fan of colour I think having your hair dyed for your wedding's a great idea, however, unless you're a person who embraces drastic changes maybe now isn't the time for experimentation. For a soft winter look either adding rich warm tones or a soft ombré in gentle caramel hues would be great to emphasise whichever look you decide on for your big day. As for style, you need to take into account the design of your dress along with how well your hair holds, for example, if you wear it down and it has a tendency to look unkempt after a short period an up-do would be better.

Find a stylist that specialises in wedding hair and be open to try a few of their ideas – remember they're the experts and might have a style in mind that'd be perfect for you that you hadn't even considered. Also, try to plan your hair and make-up trial on the same day as a dress fitting so you can see exactly how it will all look together.
---
Contact our experts...
Chris Theobald
Fireworks expert
Katie Pickin
Décor expert
Sam Newby-Ricci
Bridal Boutique Owner
---