Ask the experts
Here is a selection of Q&As from Your Herts and Beds Wedding magazine. If you would like your question answered by our experts, please email it to editor@yourhertsbeds.wedding.
To view more Q&A's on a different topic, please select one from the list below.
Hot topic: Do it in seasonal style
Local pros answer your winter woes
---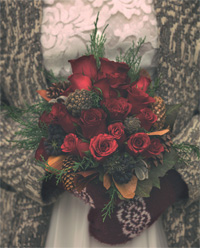 Seasonal stems
Q. What sturdy flowers should I opt for that'll withstand the wet and wind and are there any other elements I can add for that perfect finish?
A. Shane Maple says: I'd recommend fewer flowers and more foliage at this time of the year. Wintery red roses look gorgeous and are very hardy. I'd suggest surrounding them with berries to protect them from the wind. Alternatively carnations seem to be back on trend at the moment – not only will they cope with harsh weather, they're more affordable too! Christmas is a great time for foliage. You can use blue spruce, ivy or berries and silver or gold twigs bent around to work with the shape of the bouquet look striking. Baby pinecones look cute in your bouquet and they can also be used throughout your décor. Don't be afraid to go all out at this time of the year – you don't have to stick to the traditional red and white.
---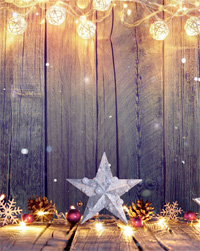 Starry night
Q. We've chosen a venue that's a blank canvas so we can create our winter wonderland. Can you give me some inspiration for creating a magical backdrop?
A. James Norgate says: Why not surprise your guests with cool white and blue tones, elegant fairylight draping, Christmas trees adorned with hanging crystals, warm candlelight and themed centrepieces, co-ordinating every aspect of your decor to entice your guests into a magical land of winter! For your first dance I'd suggest a low-lying glow with shimmering white lights from the dancefloor below helping create those unforgettable moments and stunning first dance photos. After the formalities party the night away surrounded by white and blue ice-themed up-lighting, a starlit DJ booth and magical snowflakes dancing around the room, all of which help provide that perfect finishing touch.
---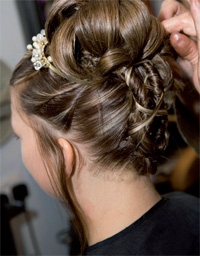 50 shades
Q. My hair's naturally dark but I'd love to try a warmer shade for my December wedding. What do you suggest would be a good look?
A. Sophie Davenport says: A good way to add warmth is with some gorgeous caramel tones. A drastic colour change just before your wedding might not be the best idea so remember less is more! We tend to be a bit paler in the winter months so hair colour that's too dark can wash us out whereas warmer tones can help brighten your complexion. Fine caramel highlights will break up your natural colour without covering it completely and enhances an up-do making plaits and twists stand out more. Balyage or ombre techniques are very on-trend, with the colour focused more towards the end of your hair meaning you can leave your natural colour on top and have the warmer tones on the end with a few lighter pieces around the face. Your stylist will be able to advise on the best tones to suit you.
---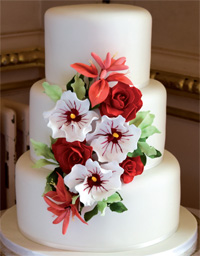 The icing on the cake
Q. I can't wait for our festive-styled day. Do you have any tips on creating a seasonal showstopper of a cake?
A. Susan Halil says: Create a white Christmas theme with silver accents or pale tiers that are lustred to give that frosted effect. Add silver leaf for further glitz and if handpainted cakes appeal then a seasonal deer in a snow laden woodland scene would look spectacular!

By contrast, you could go for rich shades of burgundy, gold or tartan. A clean white cake styled with mistletoe, holly and ivy and finished with large red or white roses could be complemented with seasonal berries, holly and maybe a few hellebores. If you're on a budget or a rustic style is more you then you can't beat a naked cake piled high with fruit and berries with a sprinkling of icing sugar.
---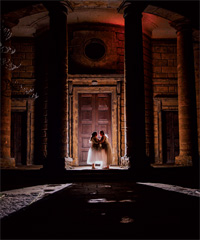 Through the lens
Q. I'm worried that the weather might ruin our photos and there'll be less time for posing in the daylight. Can we still have gorgeous pics at this time of the year?
A. Maya Kemp says: Of course you can! I always recommend bringing your wellies as they're great for getting some really quirky shots. I also bring my wedding umbrellas too – a white one for the bride and groom and clear ones for everyone else.

Not all beautiful photos require glorious sunshine or amazing sunsets. Sometimes the 'wow' shots happen at night. A little bit of creative lighting and a beautiful couple can bring anything to life in the dark. A touch of wind also creates some romance – the bride with her windswept hair and veil blowing gracefully in the air, engrossed in a passionate kiss with her new husband.

Most venues have gorgeous indoor spaces and whatever the weather, your photographer will make sure that you
---
Contact our experts...
James Norgate
Entertainment specialist
Sophie Davenport
Wedding hair and make-up artist
---