Ask the experts
Here is a selection of Q&As from Your Herts and Beds Wedding magazine. If you would like your question answered by our experts, please email it to editor@yourhertsbeds.wedding.
To view more Q&A's on a different topic, please select one from the list below.
Hot topic: Summer lovin'
Create a seasonal spectacular with our stellar advice
---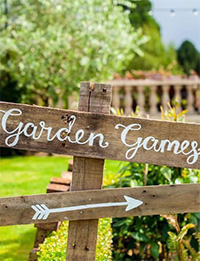 Fairground frolics
Q. We want our day to be full of fun and laughter and our venue has lots of outdoor space that we can use for entertaining our guests. Do you have any suggestions?
A. Annabel Hopkinson says: If the sun's shining and there's lots of land at your venue it's the perfect opportunity to create a fun element to your day. Think summer fete with garden games, an ice cream van, face painting, a bouncy castle, popcorn, candy floss and even marshmallow toasting in the evening surrounding a firepit.

Garden games create the giggle factor and create some amazing pics. We've even had the odd bet placed between the lads on our coconut shy! As a supplier of a complete garden games package we've attended some pretty epic events and our brides are always relaxed and looking for fun. We offer a pretty pastel-coloured array of handmade fairground games – no longer do you have to opt for a beige Jenga tower.
---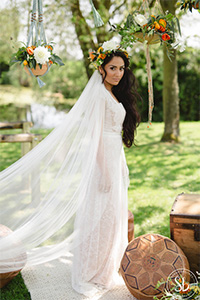 Boho-bridal
Q. We're planning a relaxed outdoor wedding so I'd love a whimsical dress. Which designers and collections would be best for me to consider bearing this in mind?
A. Joanna Southwell says: Look for materials that are soft and move freely around you, such as silk, chiffon or a lovely soft lace. For a more boho-chic choice, Katya Katya London creates dresses in feather-light lace that'll be comfortable for your outdoor nuptials and will look relaxed but stunningly beautiful. Poppy Dover's silk pieces will keep you cool and her exquisite detailing will ensure you look anything but plain. Style either dress with a flower crown and a soft see-through veil for the ultimate romantic style or with a flowing plait and cascading bouquet for a more bohemian-vibe.
---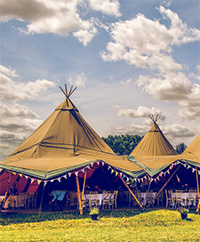 Set the scene
Q. The ultimate must-have for a festival wedding's a tipi, but how can I make it look gorgeous and will it be too hot or cold?
A. Lucy Blackwell says: Tipis can be used all-year-round. In the summer the sides can be opened for extra breeze and this also creates more space. When the sides are open you can put fairylights or bunting along the edge, which looks gorgeous into the evening as the sun goes down. If you're planning a winter wedding I'd recommend a heater – your tipi supplier will be able to help to provide one of these. We also have fires that can be used indoors and outdoors that are not only a great feature but they also provide added warmth too.

Tipis are so versatile. You can opt for a casual set up with long tables and benches to super formal backdrops with round tables and chairs. There are so many options for your décor, Pinterest is great for added inspiration and we also post images on our social media pages to help with ideas.
---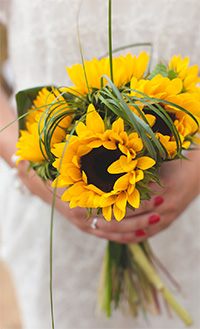 Blooming gorgeous
Q. Can you advise on the best flowers for summer weddings? I want a seasonal look and blooms that won't wilt in the heat.
A. Shane Maple says: There's no doubt that flowers make a summer wedding. I love bold and bright – what better season to play around with colours. Flowers don't like too much sunshine but if you're just using them for the one day you should be able to get away with most types. Bigger blooms such as sunflowers should stand up to the heat and mixing them with plenty of foliage will help to keep them upright. I'd suggest staying clear of hydrangeas in hot weather as these will wilt unless your florist knows how to work with them. Please don't panic, most flowers will last the day if they're made the correct way.
---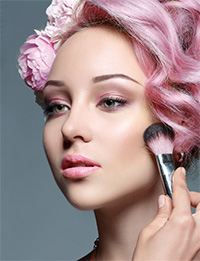 Bridal glow
Q. I'd love a bright, fresh look for my big day. What shades would you suggest and can you advise on a good base that'll hide my shine if it's warm?
A. Ali Kynoch says: To hide your shine, always wear a primer before applying foundation. You need to hydrate your skin without the oil coming through so be sure to use products that suit your skin type. This will keep your make-up fresh all day and into the small hours. When it comes to choosing a colour I'd opt for uplifting pinks to freshen your complexion. There are lots of shades out there but if you go for a bold lip, use a nice neutral palette on the eyes with a subtle hint of metallic. These shades will uplift your tone and look gorgeous for a spring or summer wedding.

It's always lovely to match your nails with your lips so if you're wearing brights, add a similar shade to your nails too. Lots of brides are opting for a little gem on their wedding finger to add a pretty finish – this could also look great for a festival-themed day.
---
Contact our experts...
Ali Kynoch
Make-up artist
Annabel Hopkinson
Entertainment expert
Joanna Southwell
Boutique owner
Lucy Blackwell
Tipi expert
---