Ask the experts
Here is a selection of Q&As from Your Herts and Beds Wedding magazine. If you would like your question answered by our experts, please email it to editor@yourhertsbeds.wedding.
To view more Q&A's on a different topic, please select one from the list below.
Hot topic: Keep calm and carry on
Local pros answer your big-day woes
---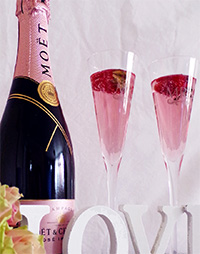 Where to start
Q. I'm finding the whole wedding planning process quite stressful and don't know where to start. What should we do?
A. Julia Jennings-Hatt says: Planning your day can be a daunting process, with many aspects to take into account. Start by asking these key questions to help with the process:

• What is your budget? Set a realistic budget that you can afford and work around it.

• How and where will you be married? This should include the type of ceremony, date, venue, time and location. If you're flexible you'll have more choices available to you.

• Can your budget accommodate the number of guests? Some venues are limited to capacity so it's best to check with them before booking.

You should include essentials for your day that are important to you. Finishing touches help to personalise and set your theme, from the outfits through to the smallest details such as the itinerary.
---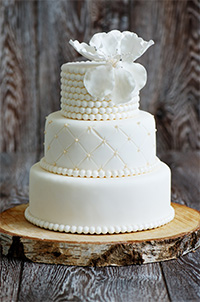 Big bake
Q. We have a huge guest list and I'm worried that to have a cake large enough it'll be way over our budget. What can we do?
A. Susan Halil says: The first thing to do is work out how much cake you really need, as it might be less than you think. Assuming it's being cut in the evening rather than for your wedding breakfast dessert, I'd advise to cater for two thirds of your guests. It's usually served on platters and not all guests will partake – especially as the evening entertainment will be getting in full swing.

The next thing to consider is how generous you want to be. If you serve oneinch finger sized portions then a standard three-tier cake can serve up to 110.

If you really do need a lot of servings, then consider an additional cutting cake. This is a simple slab covered in the same icing as your display bake but without any decoration. Remember, much of the cost of a wedding cake is in the finishing touches rather than the cake itself.
---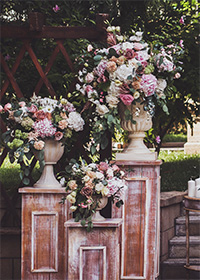 Set the scene
Q. I adore flowers and want them everywhere! As well as my bouquet, how else can we incorporate them into our big day?
A. Shane Maple says: Who doesn't adore flowers? I think they make a wedding so having them everywhere will look amazing. When it comes to using blooms in your décor, the sky's the limit and it can be easy to do. You can have pew end blooms attached to your ceremony chairs to create a nice affordable touch and use flowers to decorate your cake to tie in your theme. Set the scene at the entrance to your venue with urns brimming with blossom or a floral archway for that wow factor and use them throughout your reception room in jars, hanging from the ceiling, in tall vases for your centrepieces and more. I'd suggest speaking to your florist for inspiration as they will view your venue and come up with some fantastic ideas to help you achieve the look of your dreams.
---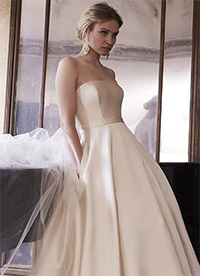 Dramatic designs
Q. I'd love a princess dress but I'm really short and I'm worried I'll be swamped. What style should I steer toward to suit my tiny frame?
A. Joanna Southwell says: If you want to wear a full skirt, my advice is to keep it simple. Avoid fussy patterns and lace and go for a clean material from top to bottom that will elongate you and create height. A silk mikado strapless dress would give you a full skirt and plenty of drama but you'll avoid looking like the dress is overwhelming you. A long veil would not only look great, it'll also draw the eye vertically and make you look taller. A design by Sassi Holford would fit the bill perfectly.
---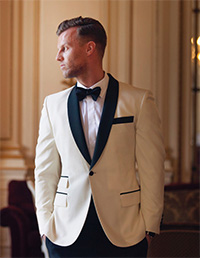 Camera shy
Q. My hubby-to-be is so camera shy and hates having his photo taken. What can we do to help him overcome that so we get the best version of him on our pics?
A. Esme Robinson says: I'd strongly recommend a pre-wedding or engagement shoot for you both! Find a photographer who you feel comfortable with and who has experience of working with camerashy couples and then book a session with them prior to the day. These are usually done outside and can even be somewhere special to you as a couple if you prefer. It might sound like unnecessary torture, but it's actually a fantastic, pressure-free way to get some photos taken of you both and allow him to become much more at ease with the whole situation.

Most photographers include some images as prints or digital files after the session and often my own clients use the images on their big day in a signing frame. Also once you both see your images, you'll hopefully love them and he can feel much more at ease with the whole thing.
---
Contact our experts...
Esme Robinson
Photographer
Joanna Southwell
Boutique owner
Julia Jennings-Hatt
Wedding planner
---